Making Mobile Personalised, Contextual & Frictionless: A Recap of Our Paris & Berlin Mobile Growth Workshops
At our latest Mobile Growth Workshop events in Paris and Berlin, a diverse group of French and German companies came together to talk about all things mobile growth.
Here's a recap of the insights and key takeaways from the event from attendees and from our guest speakers from Starbucks, AppsFlyer and App Annie.
Push Notifications are a Privilege
For every notification sent, it's imperative that brands carefully consider whether or not it's valuable for the users. (See our blog post 5 Things the Best Mobile Notifications Have in Common for more on this theme.)
"I have an Apple watch, which means I literally gave my wrist to brands. That is a major privilege that brands need to get right," said Jad Rahme, Senior Marketing Specialist – Loyalty at Starbucks EMEA.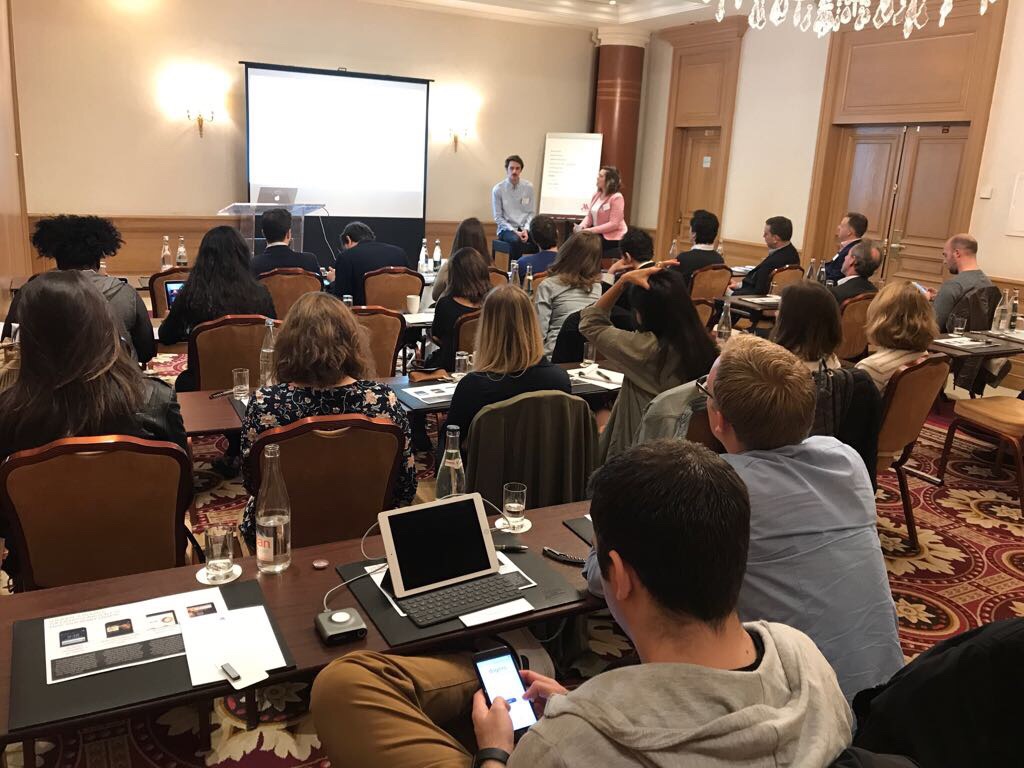 Jad Rahme, Senior Marketing Specialist – Loyalty at Starbucks EMEA and Emily Buckman, Global Strategic Consultant, Urban Airship and a roomful of mobile marketers at our Paris Mobile Growth Workshop.
Personalised and Contextual Notifications are Imperative — So Is Connecting Them Across All Channels
Regardless of where you're reaching them, it's essential that your messages make sense given what you know about your customer — no matter what channel they're using at the time. Making personalized messaging a seamless, omnichannel experience is core to building trust and loyalty.
"We might email members of our MyStarbucks Rewards program prompting them to download the app," said Rahme, "but we wouldn't want to email the users who already have it. Imagine if a customer joins the loyalty program through the app and then 10 days later we ask them to download it? That shows that we know nothing about them. A customer won't give a brand a break because it's complicated — to them, it's just a bad experience"
Nele Wollert with App Annie said a recent study they did underscored the need for brands to get it right: "We found that on average, people with smartphones are spending over two hours of their day inside apps — and they're using an average of 10 apps per day and 30 apps per month. To fully harness this considerable opportunity, you need to understand what your users are interested in and want to interact with."
Today's Consumers Expect a Frictionless Mobile Experience
More and more, brands that create a less-than-stellar experience on mobile risk losing customers.
In one vivid example during the workshop, an attendee shared that they'd left their bank because of its bad mobile app.
"Customers want value that they don't have to ask for or work hard to access," said Emily Buckman, Global Strategic Consultant, Urban Airship. "Take for example loyalty programs. Urban Airship's recent study found that 82% of consumers are more likely to join a loyalty program if there are no forms to fill out."
For Starbucks, which recently expanded their mobile ordering capability of their app to the UK, frictionless is the name of the game.
"The idea of mobile order is that you order your drink as you are getting out of your metro station and by the time you get to your Starbucks location it's ready and waiting for you," said Rahme. "We started this in the US and it grew very well, so we launched in the UK a year ago. Two or three years ago we had no idea that mobile ordering would be so big. It's working because the experience is completely easy and convenient for customers. You don't have to queue or exchange money at the till. It is the definition of frictionless."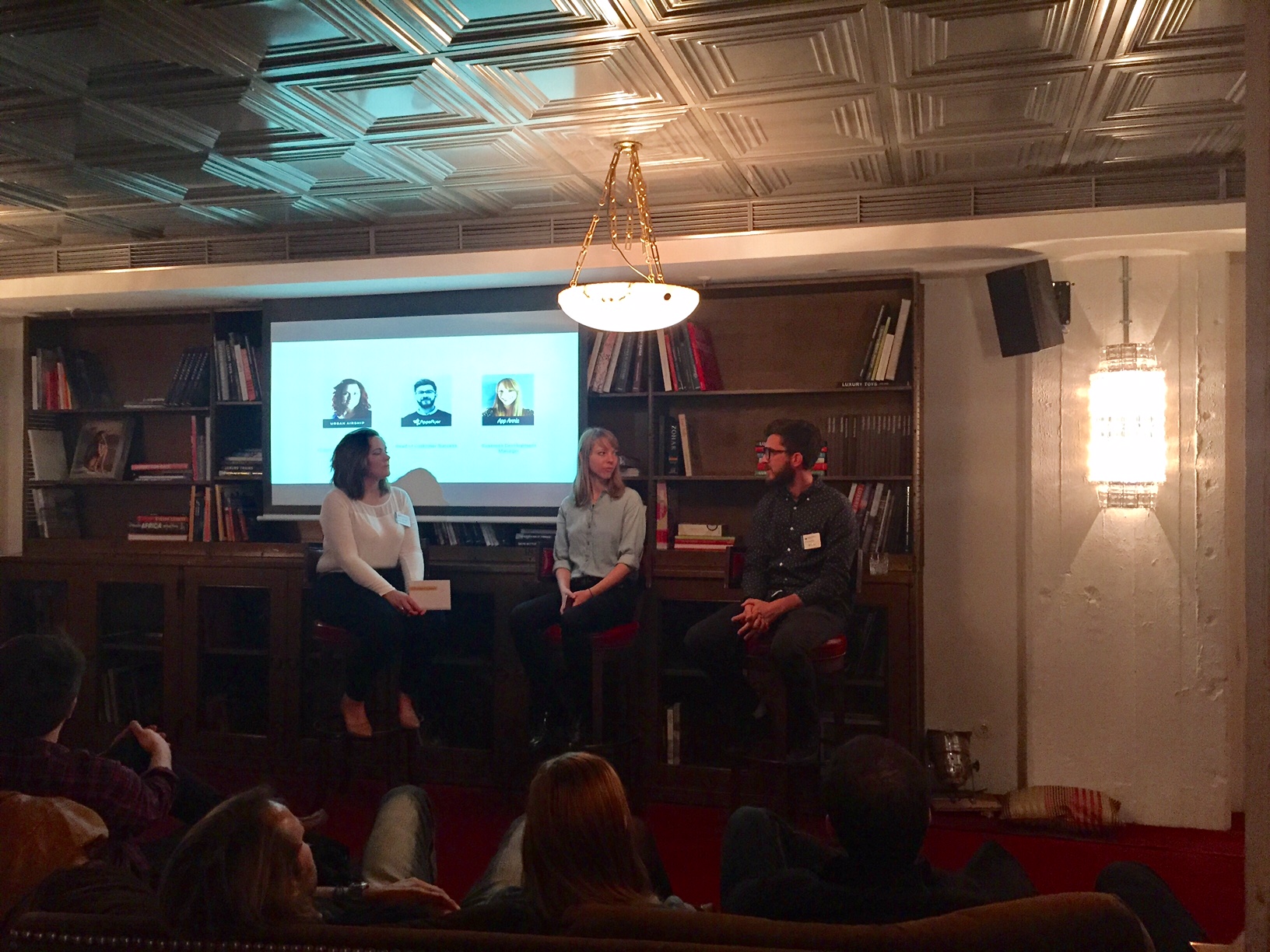 Emily Buckman, Global Strategic Consultant, Urban Airship, Nele Wollert with App Annie and Benno Hamann with AppsFlyer present in Berlin.
The Right Way To Measure App Success Begins with Retention
Retention was a hot topic with some lively audience participation: it's clear that app or loyalty program retention rates are data points that you need to effectively measure app success.
"Acquisition is an important milestone in your user lifecycle, but you can't go to the bank with installs alone," said Reda Larabi, AppsFlyer. "Tracking retention rates & uninstalls is key to getting the full picture. Once you have a handle on these metrics you can build a plan for re-engaging with users you have lost."
Starbucks considers tracking loyalty program retention rates to be a critical metric to watch, said Rahme.
"Loyalty program retention rates are hugely important to us because we know that if a customer is part of the program, they are a more reliable customer. And if they use the app to access their loyalty program — and use mobile order — they're even more reliable. So if a member of our loyalty program has stopped buying from us, we then look towards re-engagement strategies."
For a front row seat at the next Mobile Growth Workshop near you, register today!
Can't make it to any of the events? Subscribe to our blog so you'll be sure to see our recaps.

You can also follow us on Twitter and look for the hashtag #UAGrowth for live insights during each of the Workshops.
Subscribe for updates
If the form doesn't render correctly, kindly disable the ad blocker on your browser and refresh the page.
Related Posts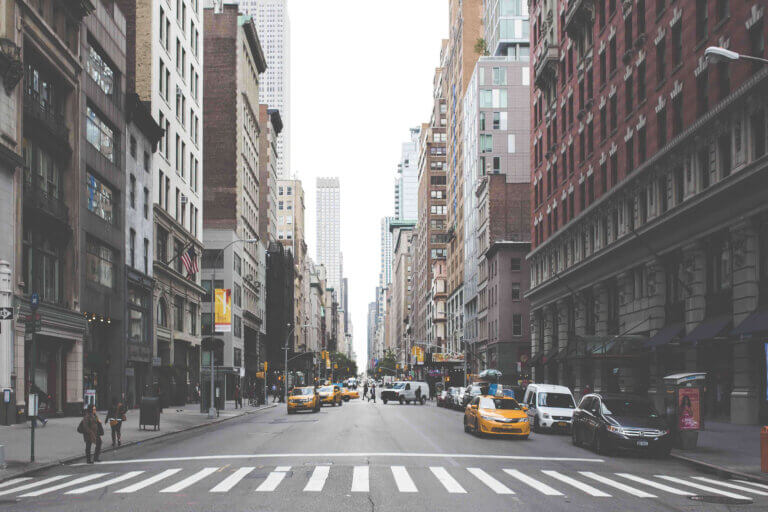 Connect With App Users, Tame Your Data, Personalization Best Practices & More: NYC Mobile Growth Workshop Recap
Categories