Marketers & Mobile Wallets: 3 Ways Things Just Got More Interesting
Great marketing must transcend every channel and medium to engage the consumer seamlessly, in the exact instant in which they are most receptive to something a brand offers — information, help, a discount, etc.
Fortunately, mobile wallets can now do exactly that.
Here are three ways that new advances in mobile wallet marketing are making this channel a whole lot more interesting for marketers and consumers alike.
1) The Mobile Wallet is Now an Entry Point for Connecting with Customers on Mobile, Outside the App
What if, every time your customer went to make a transaction, your brand could be right there, ready, willing and able to assist in adding value and convenience?
The ability to do so begins with identifying moments where something in the consumer's wallet — a digital coupon, a boarding pass, a loyalty card, etc. — can add value.
Here is where the mobile marketer's skill around one-to-one personalization kicks in (Urban Airship's adaptive pass management solution can make it easier to connect the dots between personalization and mobile wallets).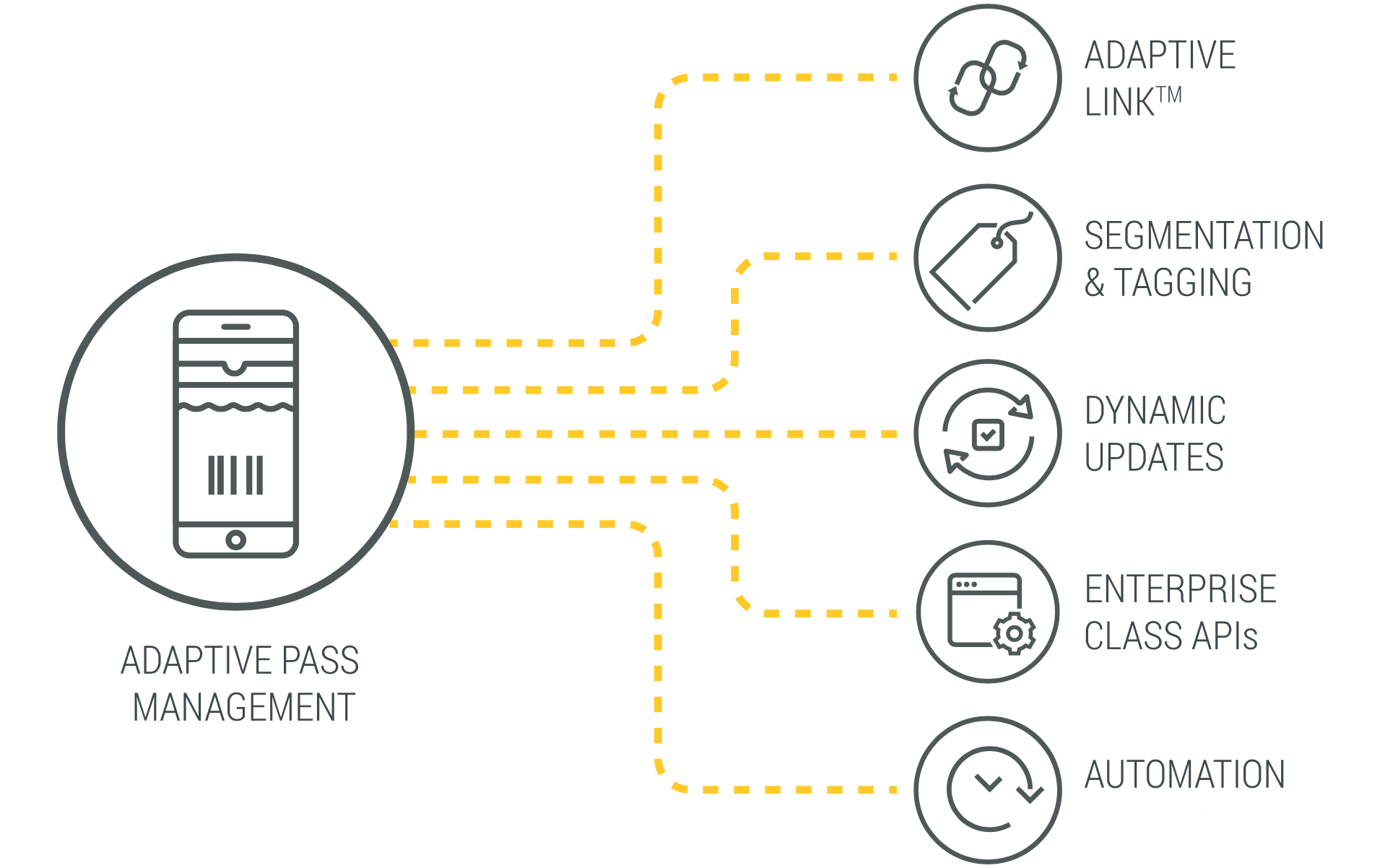 Once the essential connections are made, creating brand engagement and distinct value for the consumer as they move through their mobile journey becomes a matter of studying behaviors and promoting opportunities across channels — in essence building a bridge between the desired experience (e.g. buying red shoes) and the opportunity to add value to that experience (with an auto-presented mobile loyalty card or coupon).
Get your strategy for the initial download of a mobile pass correct, keep things conversational, and you're set to deliver meaningful value for the long term. That will deepen your relationship with consumers and ultimately drive desired campaign metrics around redemption, conversion, foot-traffic or whatever else you're aiming for.
Want a few examples of how to create powerful mobile wallet campaigns? Keep reading.
2) Marketers Can Use Mobile Wallet in More Ways Than Ever
Because mobile wallets are a go-to utility in moments of committed action, they present a unique opportunity for brands to engage consumers both directly and when it matters most.
This opportunity can be found in an endless array of use cases, for example:
Acquiring and enrolling customers
Let's say I'm visiting a Panera Bread retail store in my local area and I haven't previously signed up for their loyalty program.
When I make my purchase using Apple Pay, I am pushed a lock screen notification with an invitation to join the program. I swipe right to check out the offer and am immediately presented with pre-populated form and a single button to click in order to join.
Panera has just acquired a new program member in an ideal context, while also gaining my consent to future engagement.
Learn more about how to create frictionless, one-tap loyalty enrollment >>
Removing friction from common tasks
In another case, let's say I am already a balance rewards member with Walgreens and I swipe my card to collect points while also tapping to pay. I receive a lock screen notification asking if I'd like to convert to a digital pass to make payment and collect rewards in a single step.
From Walgreens' side, they've just eliminated the expense of producing that plastic rewards card and can now notify me directly through my mobile wallet whenever there is a special offer for cardholders.
For all parties, there is less friction encountered in accomplishing our goals.
Facilitating better experiences for live events
Let's say I just flew into Las Vegas for a conference we're both attending and your company wants to give me a couple tickets to a show as a thanks for doing business with you. As I'm in a cab heading towards the venue, I get a notification to download a mobile wallet pass that will act as my ticket.
While I'm queued up for entry, you realize that someone else has cancelled, meaning you still have VIP passes available, so you decide to upgrade me. You're able to update my mobile wallet pass to a VIP version, update my seat info – and let me know exactly what perks I'll get, right on the pass – then notify me about the upgrade with a lockscreen notification.
This all happens instantly, and right in front of me. You've reached out live, improved my experience and added real value — and I'm going to remember you for it.
In each of these cases, it is the underlying utility of the mobile wallet platform that ultimately powers the personalized engagement the marketer can offer.
3) Everybody's Barrier to Entry is Lower
Brands don't need an app to make mobile wallet marketing work, and setting up a personalized mobile wallet campaign can be accomplished in as little as a couple of weeks (longer if you want something more complex).
Consumers will get a much smoother transaction experience that includes not just payments but also coupons, loyalty rewards, admittance and boarding passes — in other words, all the stuff that people actually keep in their wallets now.
These are giant leaps forward for marketers seeking to create engaging mobile wallet experiences for consumers. If you're interested to learn more about Urban Airship's adaptive wallet pass management solution, please just contact us — we'd love to hear from you!
Subscribe for updates
If the form doesn't render correctly, kindly disable the ad blocker on your browser and refresh the page.
Related Posts
Categories