Everything You Missed at Mobile Shopping EU
The Urban Airship team has been attending WBRs Mobile Shopping EU event for four straight years and it's amazing to see how much it has changed in that time. For one thing, it has doubled in size as retailers across Europe try to stay ahead of the mobile curve.
This year, one subject dominated the sessions and almost every speaker covered it in one way or another: measurement.
In short, now that retailers are fully bought into the mobile channel, they want to know more about how it is performing — and how they can use their mobile data to improve conversions.
Related Content: Watch a webinar with Forrester Research principal analyst Brendan Witcher on retail trends and predictions for 2017
Here are some highlights from our three favourite sessions:
Measure Your Way To An App Shopping Bonanza
"Mobile is the most measureable channel ever created," said Paul Wright, Country Manager at AppsFlyer.
The infrastructure exists to measure mobile in all kinds of ways— the challenge is making sense of the data and turning it into actionable insight that your team can use to make decisions.
Paul emphasized the importance of tracking app data after the install. So many businesses fall into the pitfall of only paying attention to what sources new users are coming from, rather than the quality and LTV (lifetime value) of those users. It's all about what actions the user carried out after they downloaded. Did they play your game? Register for an account? Make a purchase?
These are the data points that matter to your business and they can be used to adjust advertising spend or to strategize an effective communication strategy — music to our ears!
Paul concluded with a challenge to attendees:"Measure or get left behind."
Retail Trends Data Study: Results & Recommendations for 2017
Our own Emily Buckman covered the key takeaways from our recent Mobile Retail Trends Report. The report highlights the mobile engagement data surrounding the 2016 Cyber Week. She covered the importance of integrating custom events into your mobile engagement strategy so that your tracking can become more granular.
She demonstrated how custom events allowed us to track the success of one UK department store's mobile engagement strategy from Cyber Week 2016. The results showed that 39% of sales made in the app on Cyber Monday and the five days before were influenced by a push notification or in-app notification. (Get all the details in our report, here.)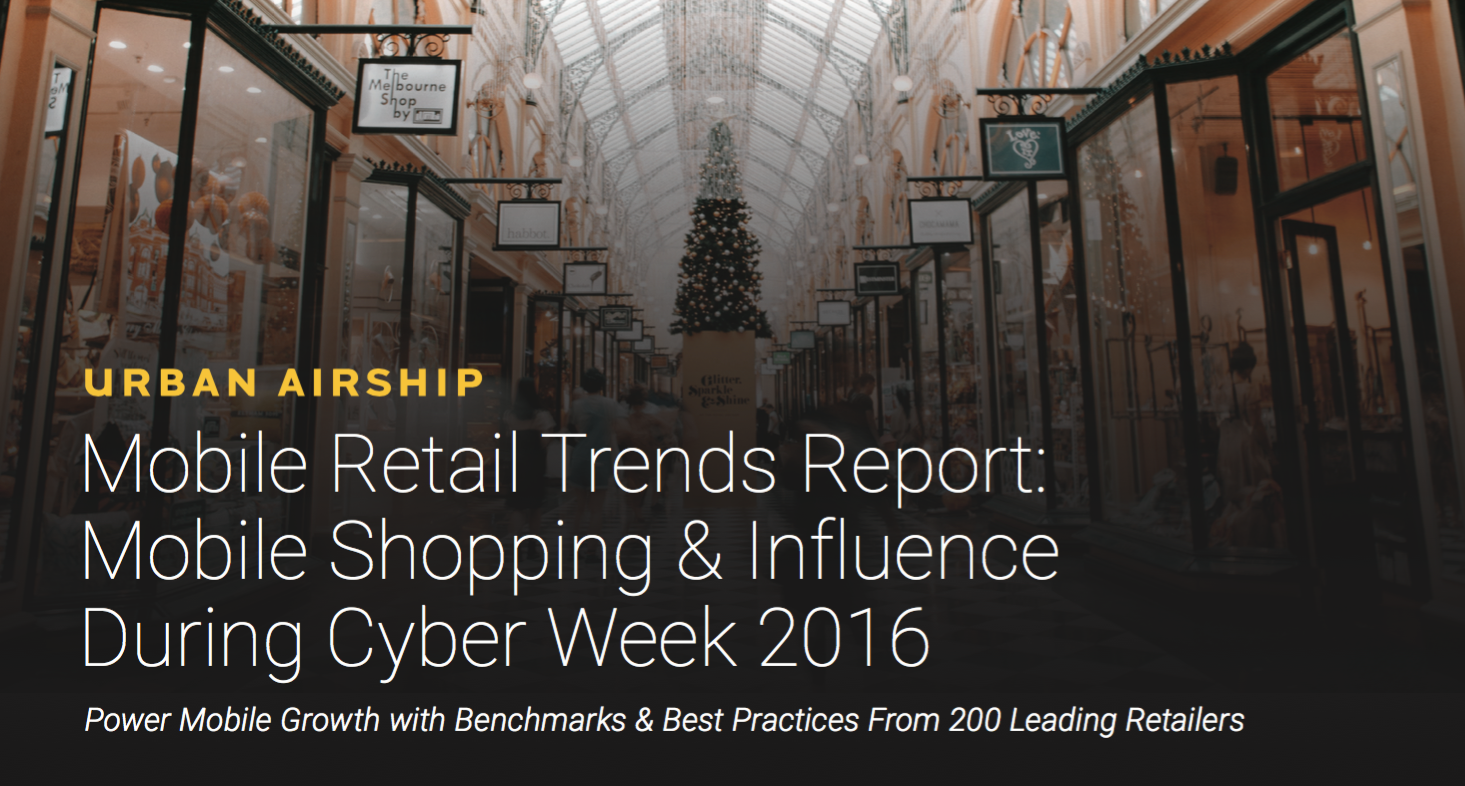 Additionally, the shoppers who were influenced by a mobile notification spent more money. This is valuable information if you are trying to justify the cost of your next app update or mobile engagement campaign.
Connecting Retail: 10 Things We've Learned About Mobile Shopping
Finally, we loved the keynote presentation by Tom Rooney, Mobile Product Manager at John Lewis. It was incredibly insightful to hear the key learnings of a company that now sees 50% of its digital sales coming from mobile devices.
Tom emphasized the importance of measuring and paying attention to the highly complex and rapidly changing customer journey that is happening both online and offline.
For example, John Lewis has historically noticed a significant difference in the way users behave on tablets vs. smartphones — with smartphones having higher conversion rates during mornings and business hours, and tablets converting better in the evenings. However, they have recently noticed a shift with smartphone usage increasing in the evenings.
Staying on top of these changes means that companies like John Lewis can adjust their communication strategies — and ensure they don't miss potentially lucrative opportunities to connect with shoppers.
Measurement is a topic we love to talk about. If you would like a complimentary consultation on your strategy, feel free to reach out to us today!
Subscribe for updates
If the form doesn't render correctly, kindly disable the ad blocker on your browser and refresh the page.
Related Posts
Categories