Rich Push, Thinking Outside the App & Driving Customer Loyalty with Mobile: Insights From Our Chicago Mobile Growth Workshop
At our Mobile Growth Workshop event in Chicago, mobile pros discussed what's working (and what's not) in mobile marketing today. As promised, we're sharing a recap of the key insights from our guest speakers at Ulta Beauty, Redbox and SitterCity.
We hope to see you at the next Workshop! Check out our event page for more details, and register today for the next event, coming to a city near you!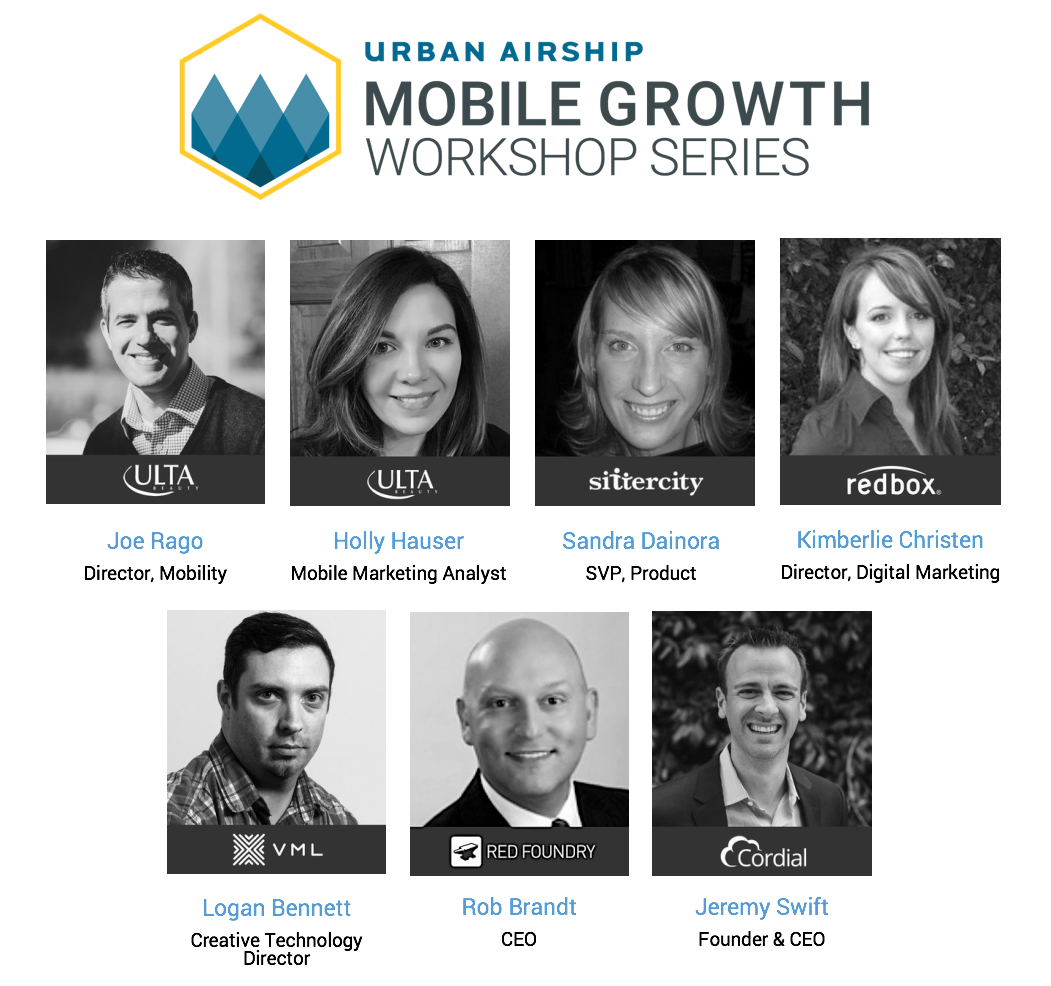 Understanding Your User is the Basis for Great Mobile Experiences
Mobile first is customer first. Successful apps build utility and habit into the features of their app, and provide messaging that supports customer needs.
"Sittercity has been trying to reimagine the caregiver experience through the eyes of millennials who are having kids now and are so used to doing everything through their phones. In this role — and really in every role I've taken — it's all about understanding your users. Figuring out: How are they are interacting with us? Where are we most effective? From there, you learn and iterate." – Sandra Dainora, SitterCity
"Recently, we did a '21 Days of Beauty.' event. Instead of just sending a daily push notification, we decided to take a more conservative approach. We asked our users, 'Do you want daily notifications for this event?' If a user said yes, they got a daily notification for all 21 days of the event. For everyone else, we chose the offer we thought would be most popular that week, and sent them that one. We actually found a lot of customers did want to get that daily push message. For us, it's about understanding our users, and letting them decide for themselves." – Holly Hauser, Ulta Beauty
"Because we're focused on the end consumer, mobile is a given. Everything that we do is mobile-focused. Frankly, if you're not working inside of mobile, then you have a much bigger problem to tackle than how much more you're going to sell." – Logan Bennett, VML
"Every Friday, we send our weekend picks so it's the best of. It's just a great reminder to let people know what's in the box and get them thinking about movies before the weekend. We've been doing it for about three years now and consistently have really high open rates. Our customers have come to expect it as a recommendation for that week. It's been really good for us and for customers." – Kimberlie Christen, Redbox
Our recent data study shows a significant correlation between more frequent push notifications and app retention. Get the app retention stats in this blog post.
Capturing, Tracking & Using Data — From Everywhere
Getting data out of silos and putting it to use to create better customer experiences is on everyone's wishlist. It's getting easier to bring data together, but it's still a significant challenge.
"Every Monday as part of team meetings, we start with a key metrics dashboard review to have a dialog with our strategic team and see where we need to course correct. But data is still in lots of different places, so we're working on how we centralize things to see the complete picture." – Sandra Dainora, SitterCity
"We're in the process of bringing together all the different data points we have about customers from all of the teams that have data. We're looking to not only get a true digital view of the customer, but also get to that holy grail of tying together digital actions with in-store actions. I think that's still a significant area of opportunity for everyone in all companies." – Joe Rago, Ulta Beauty
"We use analytics tracking with our push notifications and app interactions. But it's not centralized, so we do struggle with how to connect the systems that support kiosk data, desktop data, and mobile data systems together." – Kimberlie Christen, Redbox
"When it comes to data, speed is the name of the game today. The bits and the bytes of the data are really important for the understanding what data you have to work with, but it's the speed at which we get an understanding of that data that can make a big difference." – Jeremy Swift, Cordial
Creating Visual Mobile Experiences
Whether it's rich content delivered to an in app message center or rich notifications lighting up app users' screens, our panel saw value in adding visual content to mobile experiences.
"We don't send push notifications without a rich image. It's standard practice for us." – Kimberlie Christen, Redbox
"Anytime I can leverage a visual in a push notification, I do. If you have ever interacted with a rich push, you know how engaging it is. You are much more likely to open it and actually click through to the content." – Holly Hauser, Ulta Beauty
Spanning Mobile Touch Points
The mobile experience spans mobile notifications, mobile email, SMS, and mobile web — and each channel brings different value to the consumer experience.
"SMS is a great channel, but push takes it to another level. We can develop our content further, engage more frequently at a deeper level, and provide a richer guest experience. SMS is about driving revenue; mobile notifications push engagement." – Holly Hauser, Ulta Beauty
"We've been trying lots of different activities across platforms to determine what the most effective channel is, such as testing simultaneous email and push. Push doesn't always have to be a broadcast message with a specific ask — that's the power of the different forms of communication." – Sandra Dainora, SitterCity
Driving Customer Loyalty Through Mobile Experiences
Because mobile can connect with customers one-to-one, it can also deepen customer relationships and loyalty.
"It sounds simple, but the key, I think, to an engaging experience is creating something that people want to keep coming back to. They get value out of it. It's enjoyable. It's easy and it makes sense. That's what we try to help our clients deliver on mobile and in apps — and make sure that mobile experiences are connected to their entire ecosystem of customer interactions." – Rob Brandt, Red Foundry
"At Redbox, we have a great CRM and analytics team that's just constantly mining through the data. Something that shows up consistently is our customers who download the app transact more frequently and are stickier. Because we know that's the case, we're putting more and more resources into developing our app, adding features, acquiring new users and continuing to engage them." – Kimberlie Christen, Redbox
"To really build loyalty, we need to constantly be looking for ways to improve the user experience. So whether it's tickets coming through Zendesk, app store ratings, inbound replies to emails or Net Promoter scores, we're really committed to understanding who our detractors and promoters are. That feedback not only makes the experience better, but also helps us drive loyalty." – Sandra Dainora, SitterCity
Getting Strategic With App Store Ratings
App store ratings are critical — app users decide whether to download an app based on ratings, and mobile product teams can get customer feedback to identify areas of improvement. So it's important to be strategic about how you handle getting those ratings.
"We have now essentially an internal point based system where if you do certain actions in the app, it's a point. If you make a purchase, it's five points. You try on makeup virtually, it's five points. When you get to a certain level you get a prompt to rate the app — but if you say, "no," we reset it to -20 and you have to do even more to get back up to that point. We've seen great ratings returned when we introduced that — but also a lot more actual relevant feedback. Bottom line, if you don't actually ask for ratings, the only people who rate your app are the small number who are disgruntled." – Joe Rago, Ulta Beauty
"Every time we release a new version of our app, the app rating resets. We weren't actually going out and asking people to rate our app. That created a situation where, when anyone was upset about their experience — they didn't like a movie they saw, or couldn't find a movie at a kiosk — they would rate our app negatively. So we added a triggered message about two weeks after someone first uses the app asking them to rate us. Our rating was going up to four and five stars because now we were getting ratings from people who had actually engaged with our app and had a really good experience." – Kimberlie Christen, Redbox
Finding the Right Approach to Personalization
"The perspective I keep hearing is that nobody's quite figured it out just yet. For me, I'm always thinking about how can we test and learn, no matter what phase of the process we're actually in. Sometimes you can have a very personalized experience, and sometimes you can't. The important thing is continuing to test, regardless of the limitations, to gain insight for future personalization enhancements." – Holly Hauser, Ulta Beauty
"We've gone from not doing push when I got here about six years ago to having this really personalized segmented experience. We have a great CRM and analytics team at Redbox who really dives into customer data and serves up one-to-one personalized messaging that we were never able to do before. And now, we have 32 million people that are getting push notifications from us. Personalizing that many individual messages is not a small task. We'd love to serve up 32 million unique promo codes or 32 million unique recommendations on content. That's where we're going. We have the data and we have the infrastructure in place. We're working really closely with Urban Airship to get there, and we're figuring it out." – Kimberlie Christen, Redbox
"We've done everything from very simple personalization — putting users into categories and segments — to hyper personalization, which is based on back-end data concepts and infrastructure like graph engines. The behind-the-scenes approach is a more expensive, more esoteric way to achieve personalization where there's no relational database. It's a matter of using the right approach for the right projects." – Rob Brandt, Red Foundry
"Our clients are different — some care a lot about personalization and some don't. Our approach in either case is a lot of personalize everywhere as much as you can, whenever you can. But it's important not to forget about the people that you might be missing when you're hypertargeting. That's where mass messaging comes in, because it gives you the chance to reach people you don't already know." – Logan Bennett, VML
Can't make it to any of the events? Subscribe to our blog so you'll be sure to see our recaps. You can also follow us on Twitter and look for the hashtag #UAGrowth for live insights during each of the Workshops.
Subscribe for updates
If the form doesn't render correctly, kindly disable the ad blocker on your browser and refresh the page.
Related Posts
Categories