Apple Taps Consumer Demand and Broadens the Mobile Opportunity for Developers
In what has essentially become an upfront showcase for many consumers' holiday wish lists, Apple didn't disappoint today, unveiling new devices including iPhone 7, iPhone 7 Plus and the next generation of Apple Watch designated as Series 2. Performance stats galore showcased how these latest-generation devices are faster, stronger, brighter and better, and notably now water resistant.
There was a lot to love from a consumer's perspective, much of which we've recapped below, but what remained a bit muted was just how much broader Apple is making the opportunity for developers enabled by new operating systems including watchOS 3 and iOS 10. And arguably, that's the larger opportunity as no matter how many of your customers want to rush out and get the latest models, they'll all have the newer operating systems much more quickly.
Today, we've published release notes for our SDK and API, as well as our latest inspiration guide for what we believe will be one of the biggest opportunities — Rich Notifications. Get the guide and read-on for additional details.

Apple Watch Series 2
Apple Watch started shipping 18 months ago, and since then we've seen it become the #1 smartwatch brand and #2 watch brand in world based on sales, just behind Rolex, despite only shipping for eight months of 2015. "It's the best way to get notifications so you don't miss that urgent phone call or message," said Tim Cook.
What is really exciting – especially for innovators looking for ways to improve life for consumers – are all the capabilities now available for developers. Starting with the activity data that can be gathered from users to improve their fitness regime, apps can now use sensor data (heart rate, accelerometer and gyroscope) to power advanced app functionality that better understands a user's context and provides additional motivation for healthy lifestyles.
For consumers who want to leave their phones at home, Apple Watch now includes built-in GPS capabilities making it possible to track location and distance without access to a cellular signal. For outdoor enthusiasts and apps with location based functionality, this is a powerful new ability to address customers in the moment and avoid a heads-down experience previously tethered to smartphone screens.
Apple's Most Powerful Smartphone Ever
Beyond the new finish and elegant design of iPhone 7, there are some powerful new capabilities that will change users' everyday experiences. The quintessential Apple Home button has been redesigned and is now no longer mechanical but force sensitive. It's more more responsive and customizable, providing unique feedbacks for actions, messages, notifications, ringtones, and other apps with its new Taptic Engine. Additionally, similar to the iPhone 6S, the Retina Display also includes 3D touch functionality which creates a dynamic, interactive canvas that allows users more control over how they experience the mobile moments of their lives.
If you've eschewed larger screen sizes of the Plus models, iPhone 7 may have you rethink the bulkier trade-off. iPhone 7 Plus includes two 12 MP cameras for wide-angle and telescopic photos capable of 2X optical zoom and 10X software zoom. For both models, the new camera system is a huge advancement with the image signal processor chip providing twice the throughput of previous versions, performing 100 billion operations every time it takes a picture and all in 25 milliseconds.
Both iPhone 7 models feature the new A10 Fusion 64-bit four-core processor chip, which Apple called the most powerful chip ever in a smartphone. Not only will this allow low-power apps to run on two high-efficiency cores that run at one-fifth the power, saving battery life, the sheer available power will enable apps that simply weren't possible before. For example, with A10 Fusion, Adobe Lightroom can offer 90% of the raw editing capability available from a desktop in the palm of your hand, and "nothing proves performance like 400 flying monkeys" in Oz: Broken Kingdom.
The Broadening Developer Opportunity
While new devices always epitomize bright-and-shiny yearning, perhaps the most game-changing capabilities Apple is enabling are at the operating system level to increase the reach, function and impact of apps. Not only will watchOS 3 apps be able to leverage the multiple sources of sensor data to provide more powerful smartwatch experiences, developers can look forward to speeds that are 7X faster.
Apple is also opening up third-party access to SiriKit and HomeKit – providing developers tools to extend their app to operating system-level functions that enable more intuitive, streamlined user experiences. With SiriKit, apps can now embed voice-enabled commands into the interface design of any app. HomeKit includes the ability to control and manage specific home automation accessories from more than 100 HomeKit enabled products expected this year alone.
This largely untapped opportunity will surely result in an explosion of innovation around how mobile serves as the remote control for the Smart Home and more broadly advance the Internet of Things (IoT).
Messa
ges Will Mean More to Your Users and Your Business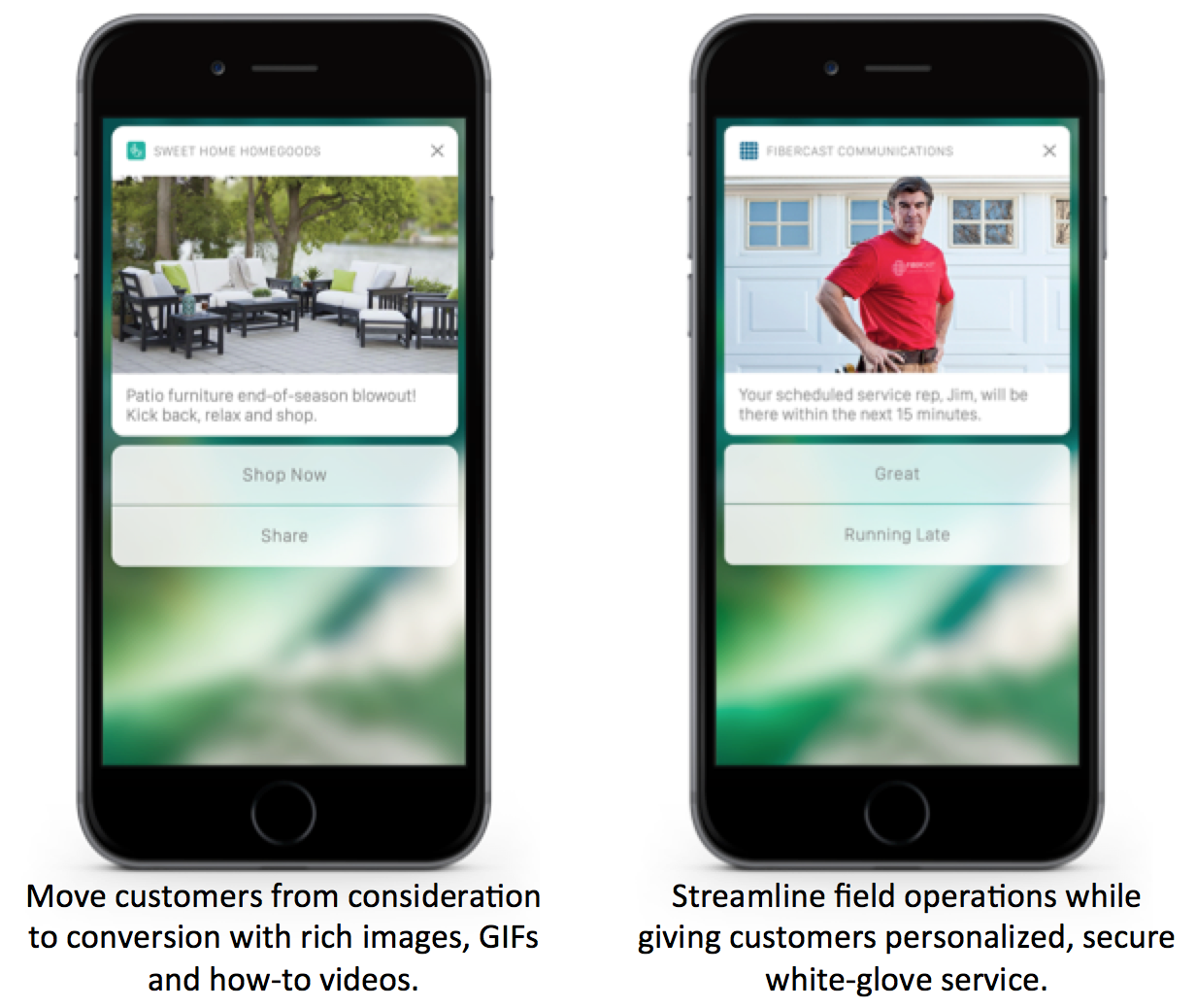 Beyond net-new opportunities to integrate your app more broadly throughout the entire iPhone experience, you may have heard how excited we are to support developers efforts to leverage Rich Notifications. Not only do we have the data to prove a substantial lift in response rates associated with this new push notification format, it is going to open up entirely new ways for developers to extend app functionality to the home screen. Don't just take our word for it:
"iOS 10's new Rich Notification capabilities will allow us to better showcase offers from retailers, brands and restaurants, while delighting customers with a richer digital savings experience and convenient functionality, such as images of purchased gift cards that can be redeemed right from the notification itself," said Marissa Tarleton, CMO, North America, RetailMeNot, Inc.

"As consumer engagement is increasingly mobile-led, it's more critical than ever for businesses to adopt the latest capabilities that help ensure better results and a first-class user experience."
To help you imagine the possibilities of how Rich Notifications can deliver a richer, more relevant and actionable experience to your app users, we've created a Rich Notification Inspiration Guide. Take a look to quickly understand how to implement Rich Notifications with Urban Airship Engage and tell us how you'd like to use these new capabilities or ask us more about what's possible.
---
We'd love to talk with you about the many ways you can leverage Rich Notifications and other mobile marketing and customer growth opportunities. Get in touch anytime at contact@urbanairship.com or give us a call at (855) 385-3155.
Subscribe for updates
If the form doesn't render correctly, kindly disable the ad blocker on your browser and refresh the page.
Related Posts
Categories