3 Ways to Use Web Push to Connect With Your Customers
Wondering how you can use web push to engage your website visitors? Get ideas in this post, and download our Web Notifications Inspiration Guide for dozens of additional ideas and best practices.
---
Web push notifications, sometimes called web push or web notifications, provide marketers a way to reach one of their largest audiences: website visitors.
It's important to have the ability to address website visitors. Why? Because your website drives volumes of visitors and this channel is likely the first touch a consumer may have with your brand.
With Airship's Web Notify solution, you can create notification-style messages for web visitors (even when they aren't active on your website). Use web push alongside your mobile app engagement strategy for an omni- channel approach, or as a standalone messaging channel.
Here are three categories of web push notifications brands can consider to deepen connections with website visitors.
Related Content: For even more ideas and inspiration, download our Web Push Notifications Inspiration Guide
Transactional: Deliver Value & Utility
If you're anything like me, when you order something you want to know where it is at every step of the way — especially when it's reached your door.
Use transactional notifications to confirm a purchase, provide shipping and order updates, notify a customer of a bump in status — even direct deposit availability or pending transactions.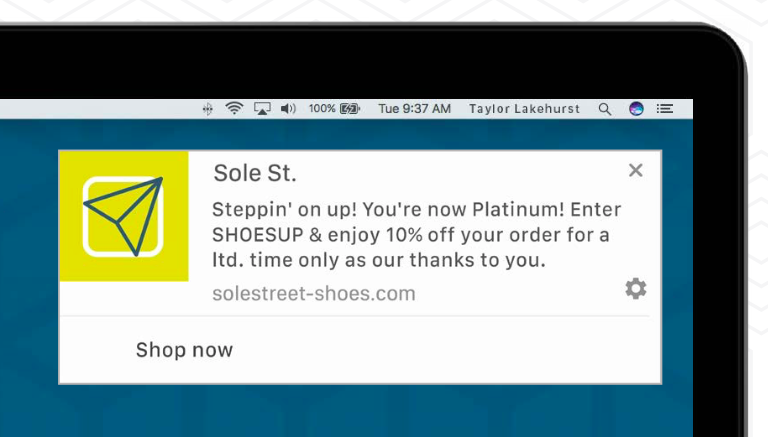 They can also be helpful during onboarding to illustrate the value of taking an action like registering an account or creating a profile.


Send a notification when a customer has reached the next level of status in a loyalty program. You can even add an interactive button to prompt immediate action. In this example, a button invites the visitor to take advantage of an exclusive discount. Bonus points for deep-linking to a specific page on your site based on their preferences.
Educational: Engage With News & Updates
Informing your audience via web notifications about key events, just released products or new features keeps them up to date and coming back for more.
For example, a retailer can share the latest lookbook or new apparel that just landed. Upon clicking or tapping on the notification, the user could be deep-linked back to a specific page, such as "men's new arrivals." This could be based on tagging (men, women, kids, etc.) or a customer's account history to see what they've shopped most in the past.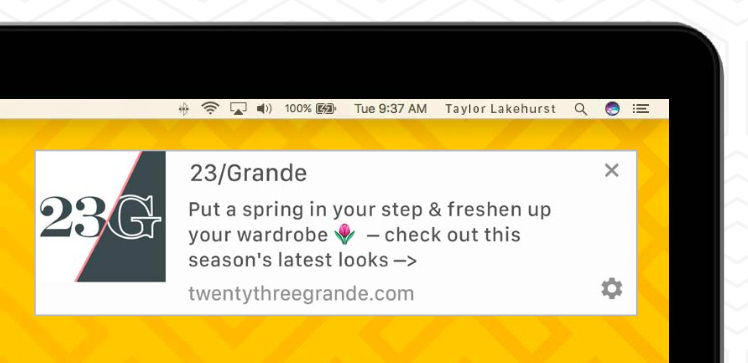 Share the latest product releases, events and features your visitor will want to know about.
Educational web push notifications are particularly relevant to organizations who want to deliver notifications quickly at scale — like breaking news, sports scores, or other time sensitive information.
Promotional: Drive Conversions
Promotional web notifications share offers and special opportunities intended to drive conversion.
For example, a brand could send a web notification sharing an in-store event or exclusive, bridging the digital and physical by encouraging a visit to the nearest brick and mortar location. Or, let a visitor know when an item in their cart is low inventory or goes on sale to increase likelihood of purchase.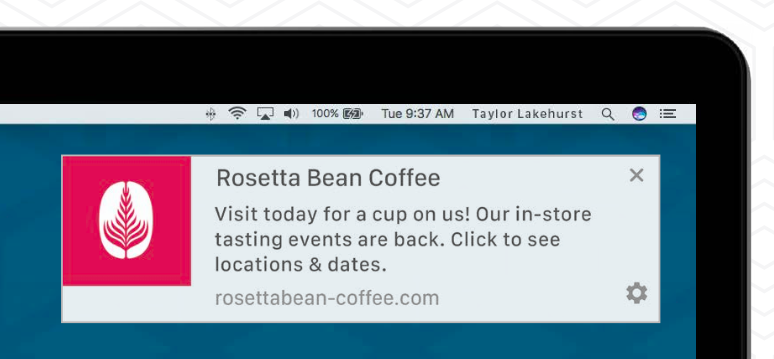 Drive conversions with promotional web notifications. You can also use notifications to prompt in-store visits — deep link to a page that allows visitors to find the closest location.
Promotional messaging needs to be a win-win for you and your customers. Consider rewarding them for their loyalty by sending, a buy-one-get-one offer or special pricing if they book within a certain window.
We recommend using promotional messages after visitors have visited your website several times and have become acquainted with your brand, and the value they'll receive.
Use Web Push to Deepen Relationships With Website Visitors
Airship's Web Notifications support many features to help you optimize the performance of each message, including segmentation, automation, personalization and A/B testing. It also provides custom events to measure ROI based on key performance indicators.
Want more ideas for using web notifications? Check out our Web Notifications Inspiration Guide. Ready to get started? Get in touch anytime!
Subscribe for updates
If the form doesn't render correctly, kindly disable the ad blocker on your browser and refresh the page.
Related Posts
Categories