10 Ways Your Mobile Strategy May Be Missing the Mark
Get highlights from the Forrester report "The State Of Mobile Marketer Tactics 2017" from Forrester VP and Principal Analyst Thomas Husson in this post, and in our on-demand webinar.
---
"Marketers are over-investing in tactics that check the box on mobile, while under-investing in key mobile tactics," said Thomas Husson, Forrester VP and Principal Analyst in our recent webinar, now available on demand. "Mobile is the face of digital transformation," Husson added. "To get digital transformation right, you have to fix your mobile foundation — and transform your overall customer experience, both online and offline."
In this post, we've pulled together highlights from the webinar, recapping 10 ways Forrester data indicates marketers are missing critical opportunities to connect with customers and grow their business with mobile.
For more insights from Husson and stats from Forrester, watch the webinar recording, or download the May 2017 Forrester report "The State Of Mobile Marketer Tactics 2017 (available for a limited time).
Whether you'd benefit from fine tuning your approach to mobile or need to leapfrog forward, Urban Airship's Strategic Services team can help you get where you want to go. Get a free 30-minute consultation anytime.
10 Mobile Marketing Mistakes Every Brand Should Avoid
1) Thinking of mobile as a channel.
There are still a lot of companies thinking of mobile as a channel — and missing its far-reaching strategic impact. This is a big problem that has to be solved by executives at the top levels of an organization.
(Our CEO wrote about this issue recently in a Harvard Business Review article, "Your Mobile Strategy Can't Just Be About Phones.")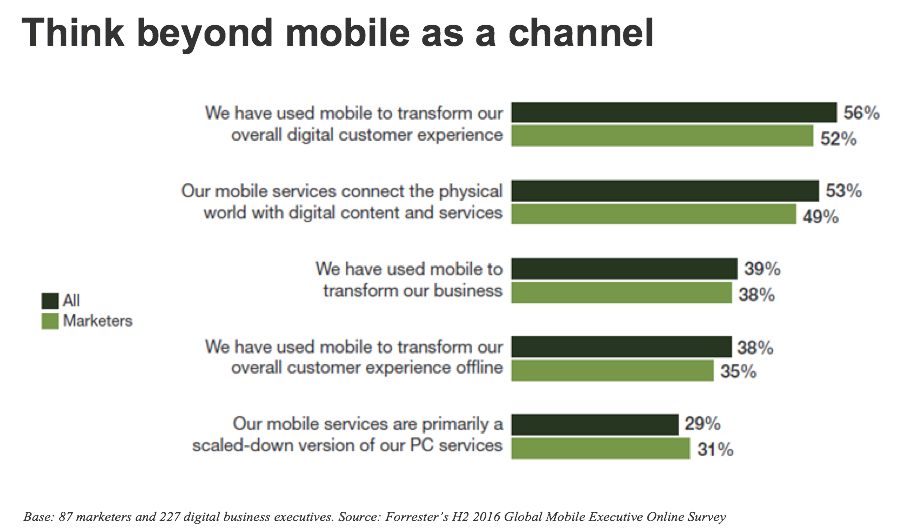 Image Source: Forrester Webinar, "The State Of Mobile Marketing Tactics"
2) Underestimating the cultural and operational changes required to take advantage of the mobile opportunity.
This issue is related to mistake number one: once a brand realizes the massive potential for mobile, it often requires some fundamental shifts in the way the business runs. Taking full advantage nearly always involves significant changes, including:
Evolving core legacy IT systems

Creating systems of insight to gather and process data quickly and effectively

Governance changes (especially in European countries)

Re-thinking the customer journey through a mobile lens to allow you to see new ways to deliver value in real time
And beware: if you're looking at your competitors and thinking you're in good shape: there may be a lot of change going on that won't be obvious until it's too late.
3) Not investing enough in mobile search.
In the US, eight out of every ten smartphone owners completes a search on their phones weekly or more — but only 52% of marketers are focused on optimizing mobile search in ways that improve the customer experience.
4) Using responsive web design as the duct tape that fixes the "multiple screen issue."
While responsive web design can improve user experience, it's often implemented as a quick fix to multiple screens. At end of the day, users do not necessarily want the same content on all screens. They want the right content and context that takes advantage of the capabilities of different devices.
5) Ignoring opportunities to message app users.
Only 44% of marketers are using push notifications, and 36% are using in-app messages. But to truly master mobile moments and engage mobile customers, you need to leverage these messaging tactics.
Forrester data also shows that only 8% of marketers are using rich push notifications (push notifications that include with images or movies). But Urban Airship's data study shows that there's a 56% increase in engagement from pushes with pictures. Learn how to create rich push notifications in this blog post.
6) Not using real-time engagement and automation tools.
Mobile has raised customer expectations: you only have a couple of seconds to convince someone to interact with you.
Not only do you need to move faster, you need to anticipate what people want to do next, and automate whenever possible to improve your speed at scale.
7) Overlooking mobile wallet as a lifecycle customer engagement channel.
While the West is still focused on using mobile wallets for mobile payments, in the East, mobile wallet is being used as a customer engagement — and re-engagement — platform with loyalty programs, coupons and much more. "Once you start adding a lot of services to wallet, it's a natural way for you to check offerings and messages," says Husson.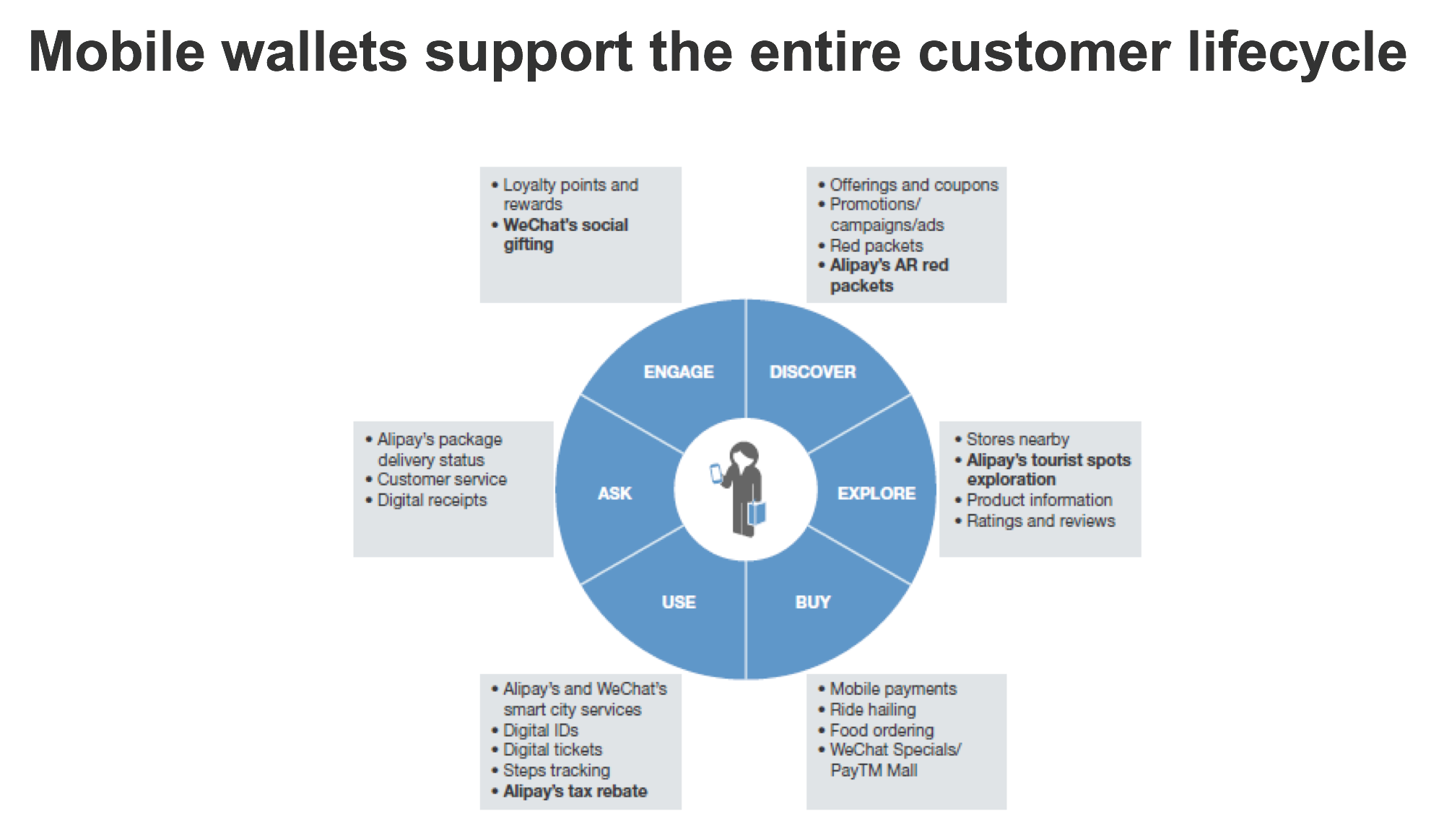 Image Source: Forrester Webinar, "The State Of Mobile Marketing Tactics"
8) Keeping data siloed.
You already have a lot of information about your customers. Connecting the dots between the data you collect throughout the customer lifecycle — including using a unified ID for customers across channels (that encompasses offline channels too) — isn't easy. Few brands are there yet, but many are starting to get close.
9) Not connecting online and offline experiences.
When, where and how do consumers interact with you? Create customer journey mapping through the lens of mobile to discover and anticipate those moments — and create deeper customer engagement.
10) Ignoring the power of mobile to create contextual interactions.
Most brands still aren't combining the full capabilities of mobile (sensors, cameras, etc.) — with public data available (weather, traffic, etc.) to create uber-contextual interactions that are so intuitive, they feel magical.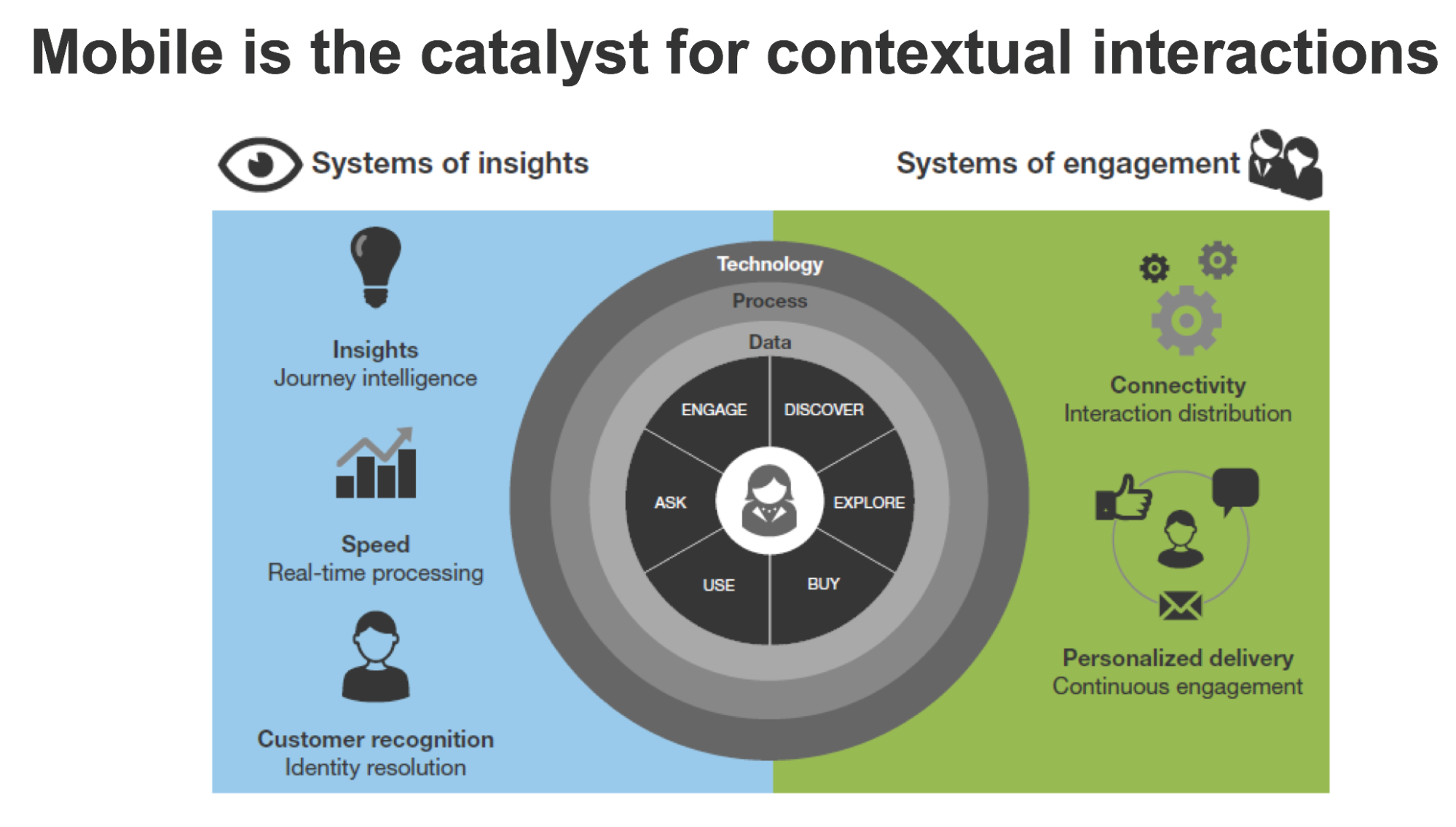 Image Source: Forrester Webinar, "The State Of Mobile Marketing Tactics"
Does your organization need help to take advantage of the mobile opportunity? Our experienced Strategic Services team can help you envision where your business could go with mobile, and help you build a roadmap to get there — culture change recommendations included. Get in touch for a free 30-minute consultation anytime.
Download the full webinar recording to get even more insights, including:

– How mobile will help brands activate disruptive technologies like VR, chatbots and more
– Forrester's mobile maturity stages — and where your brand falls on the continuum
– Key mobile trends in 2017 and beyond
Subscribe for updates
If the form doesn't render correctly, kindly disable the ad blocker on your browser and refresh the page.
Related Posts
Categories