CUSTOMER SUCCESS STORY
AccuWeather Delivers Critical Alerts Quickly & Reliably with Airship Boost
Saving lives and protecting property is central to AccuWeather's mission. The AccuWeather app helps the company fulfill that mission by delivering up-to-the-minute forecasts, real-time alerts and on-demand severe weather warnings when seconds count.
With a wealth of other weather media outlets vying for users' attention, being ahead of the storm isn't enough; AccuWeather needs to be faster than the competition.
Even when intense storms or damaging floods aren't an imminent threat, AccuWeather needs to deliver timely notifications to keep its audience updated on less critical weather news that's still a key component of their daily lives.
As a result, the company doubled down on technology to:
Rapidly push severe weather notifications at a moment's notice
Reach highly segmented global audiences — potentially at a massive scale
Deliver customizable alerts that recapture users' attention and drive app and web engagement during periods of relative calm

Founded in 1962 by Dr. Joel N. Myers, AccuWeather has grown into a leading global provider of meteorological data both to the public and, in specialized forms, to weather-sensitive industries such as construction, agriculture and energy.
Using Airship Boost, AccuWeather delivers breaking weather alerts faster than competitors over 80% of the time.
Media
Mobile App Push Notifications, Web Notifications, Boost, Personalization
AccuWeather's proprietary severe weather processing systems in combination with Airship allow for critical near-instant delivery of severe weather notifications through our mobile applications. In many cases, seconds count in getting these life-saving alerts to our users so they spring into action."
Solution
Personalized Alerts Delivered Instantly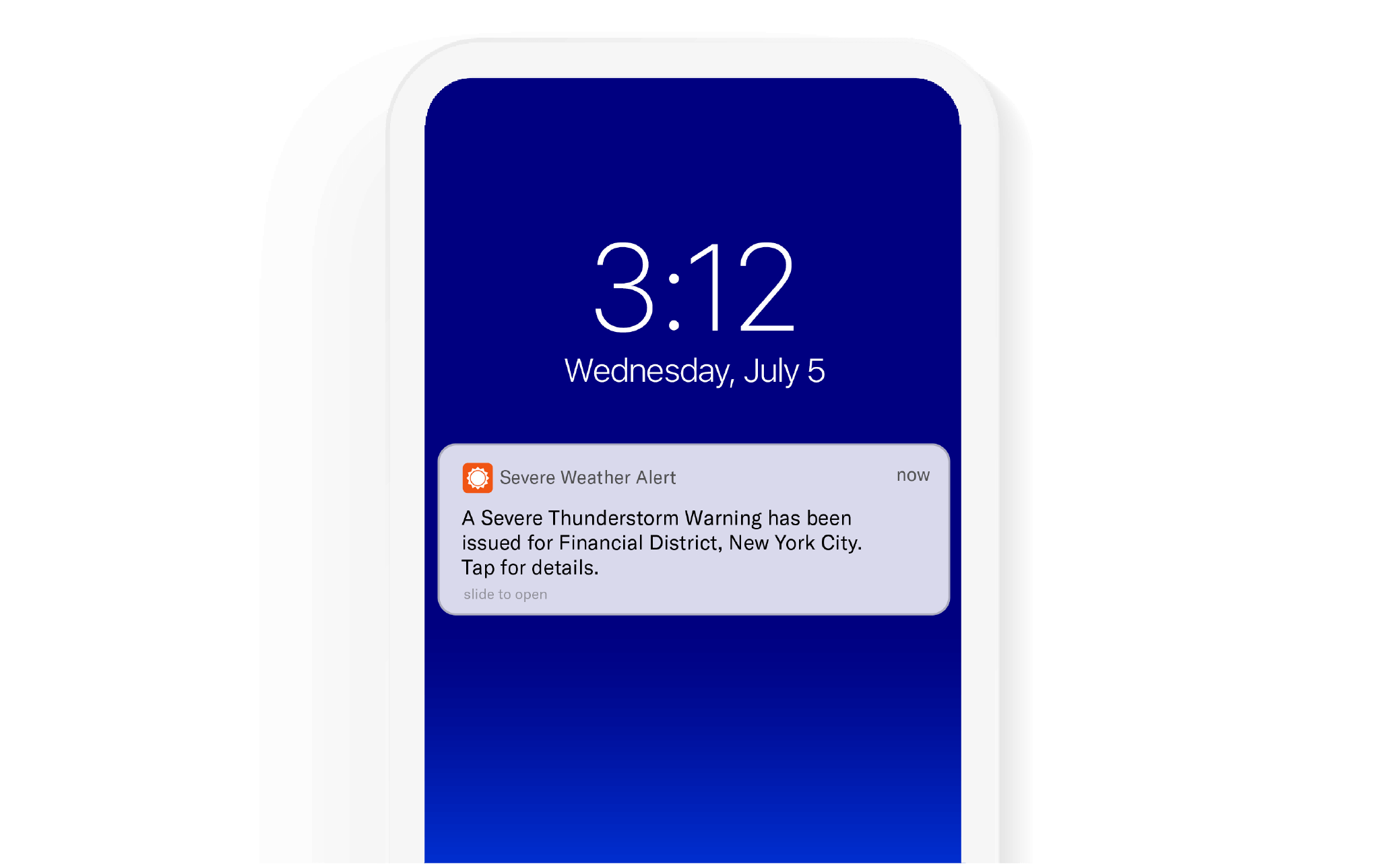 Breaking Weather Alerts Sent 2x Faster
Airship Boost eliminates any possible process delays, allowing AccuWeather to deliver alerts in record time — frequently ahead of competitors.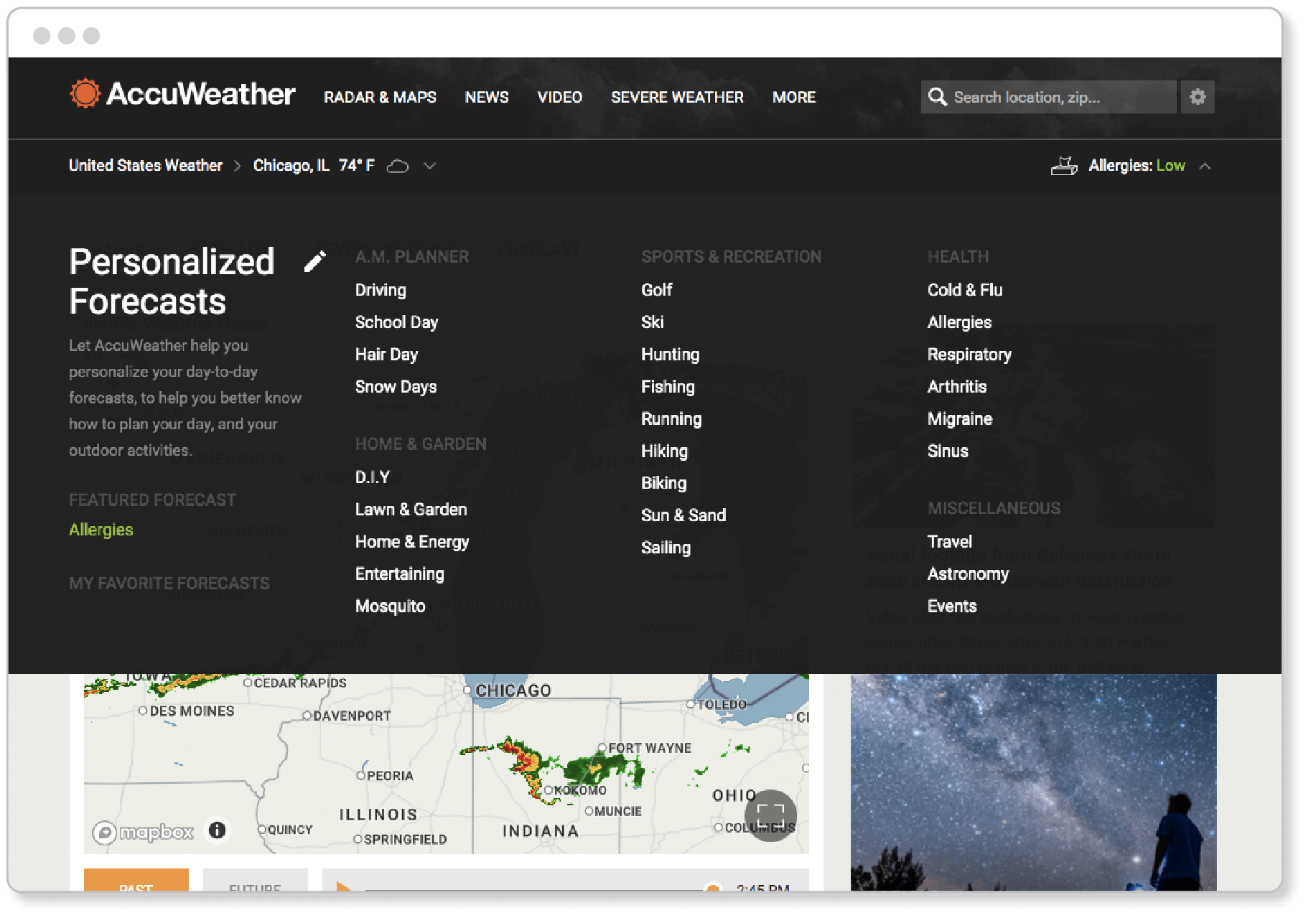 Interest-Based Alerts Increase User Engagement
Weather-related lifestyle notifications are automated using Airship Personalization Tags based on user-selected hobbies and activities of interest.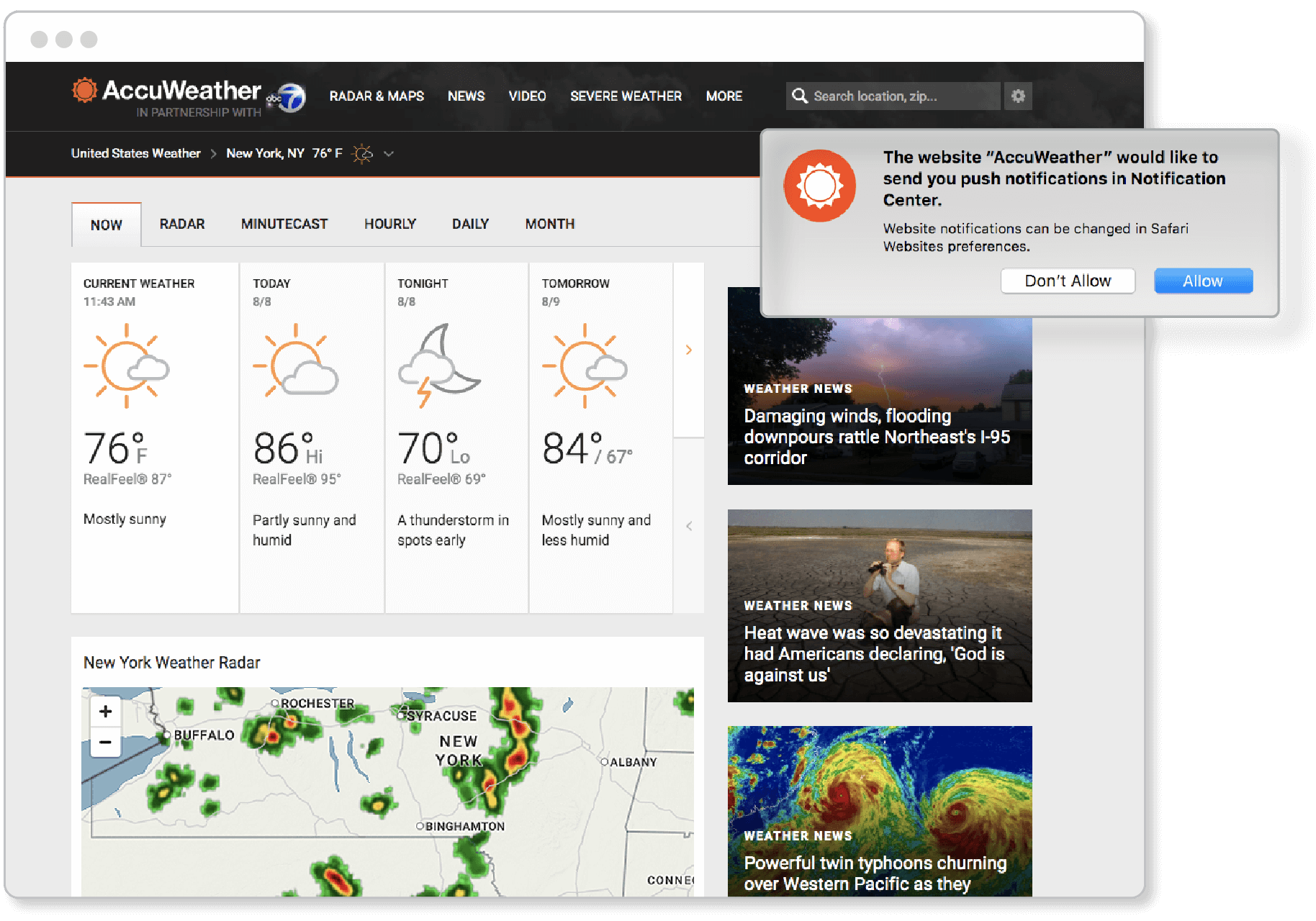 Web Notifications Expand AccuWeather's Audience
AccuWeather delivers national news and curated content via Airship Web Notifications to boost site traffic and generate more ad revenue.

By the Numbers
Airship Boosts AccuWeather's Competitive Edge
#1
in mobile alert delivery speed over 80% of the time
310M+
Unique monthly web & mobile app visitors