SXSW Taps Airship Again to Power Critical Experiences in its Official 2023 SXSW GO Mobile App
Airship messaging, mobile wallet passes and no-code app experiences will help the more than 225,000 expected SXSW attendees make the most of their time at the conference and festivals
Airship and Eventbase enable SXSW to deliver immersive mobile app experiences, amplifying the hybrid digital-physical experience for attendees
PORTLAND, Ore., March 8, 2023 — Mobile app experience company Airship today announced that South by Southwest® Conference and Festivals (SXSW®) is once again using the Airship App Experience Platform to power push notifications and in-app messaging for the official SXSW GO mobile app, presented by Showtime.
New to this year, SXSW will use Airship's new no-code app experiences for more agile app onboarding to ensure conference and festival attendees are set up to get the most value from the app the moment they arrive. In addition, SXSW has extended its use of Airship Mobile Wallet by digitizing SXXPress credentials to enable attendees to skip the lines at select sessions, showcases, screenings and parties.
The SXSW GO mobile app is the digital key to SXSW. It enables attendees to browse and build their personal schedule, get event navigation information, and discover new music, films and sessions.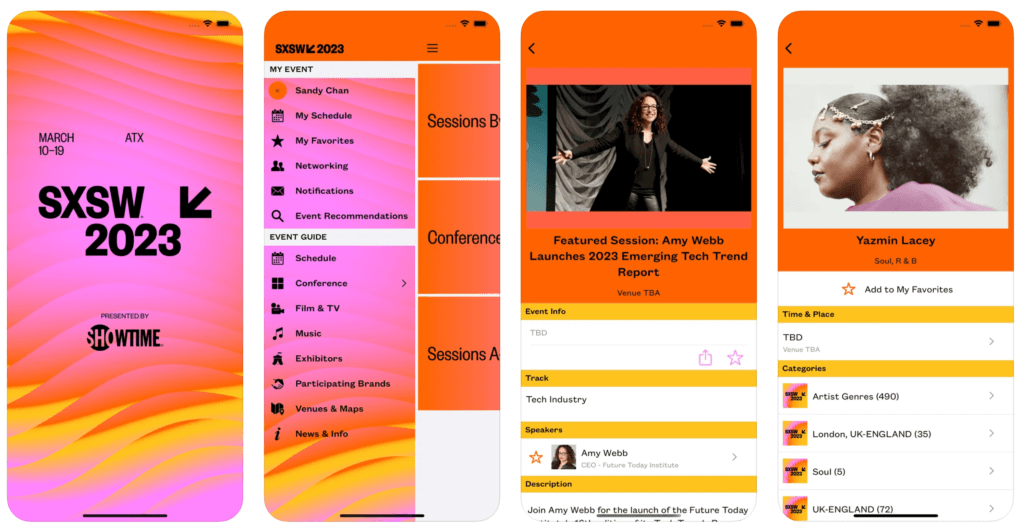 "Airship has been a creative technology partner to our team for a decade and counting, working closely with us and our other partners to deliver innovative mobile app experiences that unlock the magic of SXSW," said Michael Brown, Vice President of Innovation, SXSW. "The SXSW GO app is the best way for people to get the most from the conference and festivals, whether they're here in-person or joining from home."
No-Code App Experiences Set the Stage for Success
With Airship's AXP Scenes, the entire team at SXSW is empowered to create and optimize multi-screen walkthroughs that explain the value of opting in to notification and sharing location permissions, which are critical to digitally enhancing attendees' experiences. Other Scenes have been created to encourage app users to finalize their profile, share their favorites and fully adopt features like building their personalized schedule. All of this is tightly integrated with lifecycle messaging to guide and inform attendees throughout the conference and festivals. Organizers will also use no-code AXP Surveys to measure satisfaction and sentiment around individual sessions and showcases.
Expanded Use of Mobile Wallet Unlocks VIP-Type Experiences
This year, the SXSW team is using Airship Mobile Wallet to offer the SXXpress Pass. The digital express pass allows registered attendees to save time and skip the line for music festival showcases, film and TV screenings, comedy festival showcases, conference sessions and select parties. Festival goers will be able to request a limited number of SXXpress Passes in the SXSW GO app or SXSW Schedule starting at 9 a.m. the day before the events to which they want priority access.
SXSW began using Airship Mobile Wallet in 2016 to transition from physical guest credentials to digital wallet passes, saving valuable time for attendees and staff. In that first year, they increased credentials issued by 25 percent and reduced costs by 54 percent.
Location-Targeted Messaging Drives Discovery
The city of Austin is bustling with activity during SXSW, and location-targeted messaging can help attendees discover events as they are happening. SXSW has set up geofences around the area to trigger location-targeted push notifications from Airship featuring machine-learning recommendations based on festival goers' personalized schedules and Agenda Gaps to maximize their time and experience.
"SXSW is dedicated to helping creative people achieve their goals, and for more than 10 years they've turned to Airship to bring their mobile app to life with experiences that help conference and festival attendees discover and make the most of SXSW," said Thomas Butta, Chief Strategy and Marketing Officer, Airship. "Their constant drive to experiment and willingness to push the boundaries of what is possible has made working with SXSW very rewarding."
SXSW attendees can learn more and download the SXSW GO mobile app here.
For more than a decade, Airship has partnered with event app platform Eventbase to power mobile app experiences for many of the world's largest events, including SXSW. Airship is exhibiting at SXSW 2023 at the Creative Industries Expo, booth #416 at the Austin Convention Center. SXSW attendees can request a meeting with Airship or schedule a demonstration here.
About Airship
No one knows more, does more, or cares more than Airship when it comes to helping brands master mobile app experience (MAX). 
From the beginning of apps, Airship powered the first commercial messages and then expanded its data-led approach to all re-engagement channels (mobile wallet, SMS, email), app UX experimentation, no-code native app experience creation and App Store Optimization (ASO).
Having powered trillions of mobile app interactions for thousands of global brands, Airship's technology and deep industry expertise have enabled apps to become the digital center of customer experience, brand loyalty and monetization.
With the Airship App Experience Platform and Gummicube's ASO technology and expertise, brands now have a complete set of solutions to optimize the entire mobile app customer journey – from the point of discovery to loyalty – driving greater value for everyone involved.
For more information, visit www.airship.com, read our blog or follow us on Twitter, LinkedIn and Facebook.
About SXSW
SXSW dedicates itself to helping creative people achieve their goals. Founded in 1987 in Austin, Texas, SXSW is best known for its conference and festivals that celebrate the convergence of tech, film and television, music, education, and culture. An essential destination for global professionals, the annual March event features sessions, music, and comedy showcases, film & TV screenings, exhibitions, professional development, and a variety of networking opportunities. SXSW proves that the most unexpected discoveries happen when diverse topics and people come together. SXSW 2023 will take place March 10 – 19, 2023 in Austin. For more information, please visit sxsw.com. To register for the event, please visit sxsw.com/attend.
Media Contact
Media Kit
Follow Us