Web Push Notifications Help Grow NZ Herald's Audience Engagement
The New Zealand Herald is driving better audience engagement with web push notifications. Learn more about their strategy and their results in this post.
---
The New Zealand Herald (NZ Herald) is the largest newspaper in New Zealand, delivering quality journalism to audiences through print, mobile, and web.
NZ Herald has been using app push notifications to better connect with audiences by alerting them to breaking news for some time. With that channel working well, they wanted to expand their notification strategy to see how their audience would respond to notifications sent via web.
>> New to web push notifications? Here are answers to the top 10 questions we hear about them from digital marketers.
Setting A Cohesive Strategy & KPIs
With the overall goal of increasing audience engagement on the website, the team set a target of achieving a 2% clickthrough rate, and a 5% opt-in rate using Urban Airship's web notifications.
To get there, they decided not to replicate their app push notification strategy — which is primarily about alerting users to breaking news — but to take a complimentary approach.
"For web push content, we're focusing on stories that are more in-depth from our investigative team," says Tracey Bond, Senior Product Manager – News, NZME. "It's helping to remind our audience that we have more to offer than just breaking and spot news — and it's getting this valuable content in front of more people."
>> Wondering how web notifications might fit into your marketing mix? Consider these 3 use cases.
This approach is also a way to make sure audiences aren't getting the same notifications on web and on mobile devices, as well as getting more value from longer feature pieces that require more time and effort to produce.
"By sending web notifications that promote our feature-length pieces, we're seeing a lot of strong response to content we invest a lot in — like investigative journalism, human interest stories and science content."
So far, click through rates on web notifications are more than double initial expectations. The audience size is also growing at a rate that puts them well along on the path to hitting their 5% opt-in rate goal, with more website visitors opting in every day.
Implementing Web Push Notifications
The NZ Herald team — including a digital designer, developer and product manager — were able to get web push notifications up and running in just a few weeks. From implementing a secure bridge to designing and deploying a custom opt-in prompt, the implementation was simple and straightforward.
>> Does your site run on WordPress or Drupal? Our integration with these top platforms mean it's even faster and easier to get started with Urban Airship web notifications. Learn more.
Getting the Opt-In
Making it as easy as possible to opt-in to web notifications is a critical part of maximizing the value of this channel.
In a basic opt-in approach, brands can show the browser's standard system prompt with no custom interface at all. NZ Herald decided their audience might respond better to a branded, custom prompt.
The prompt the team designed is a great fit with the overall look and feel of their site, effectively explains the value of opting in to web alerts at-a-glance, and makes it very easy to see how to opt in. The prompt is displayed as soon as a new visitor — or a visitor who has not yet opted in to web push — arrives on the site.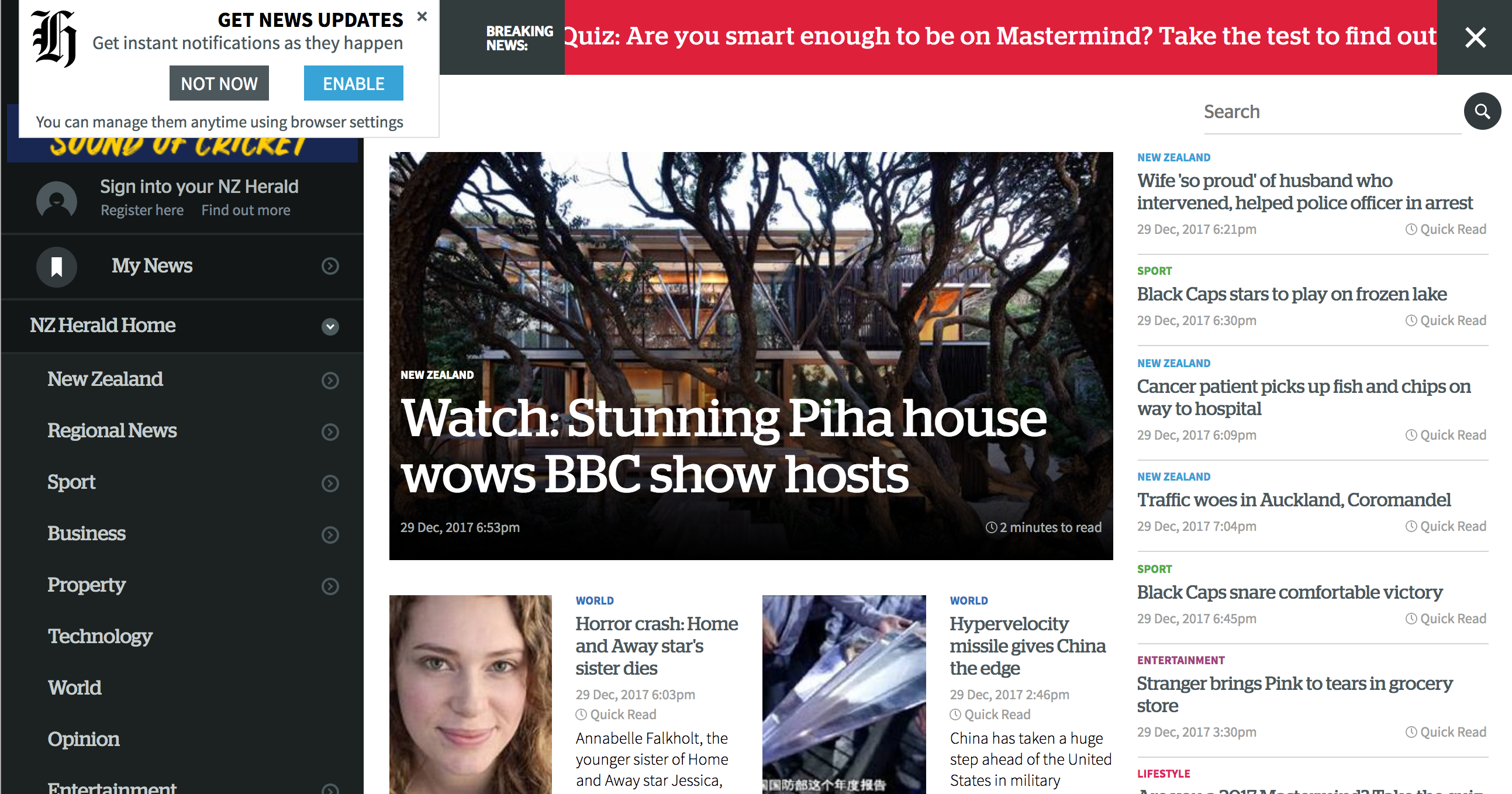 On a desktop, visitors who have not already opted in to receive web push notifications see the opt-in prompt in the upper left corner of their desktop.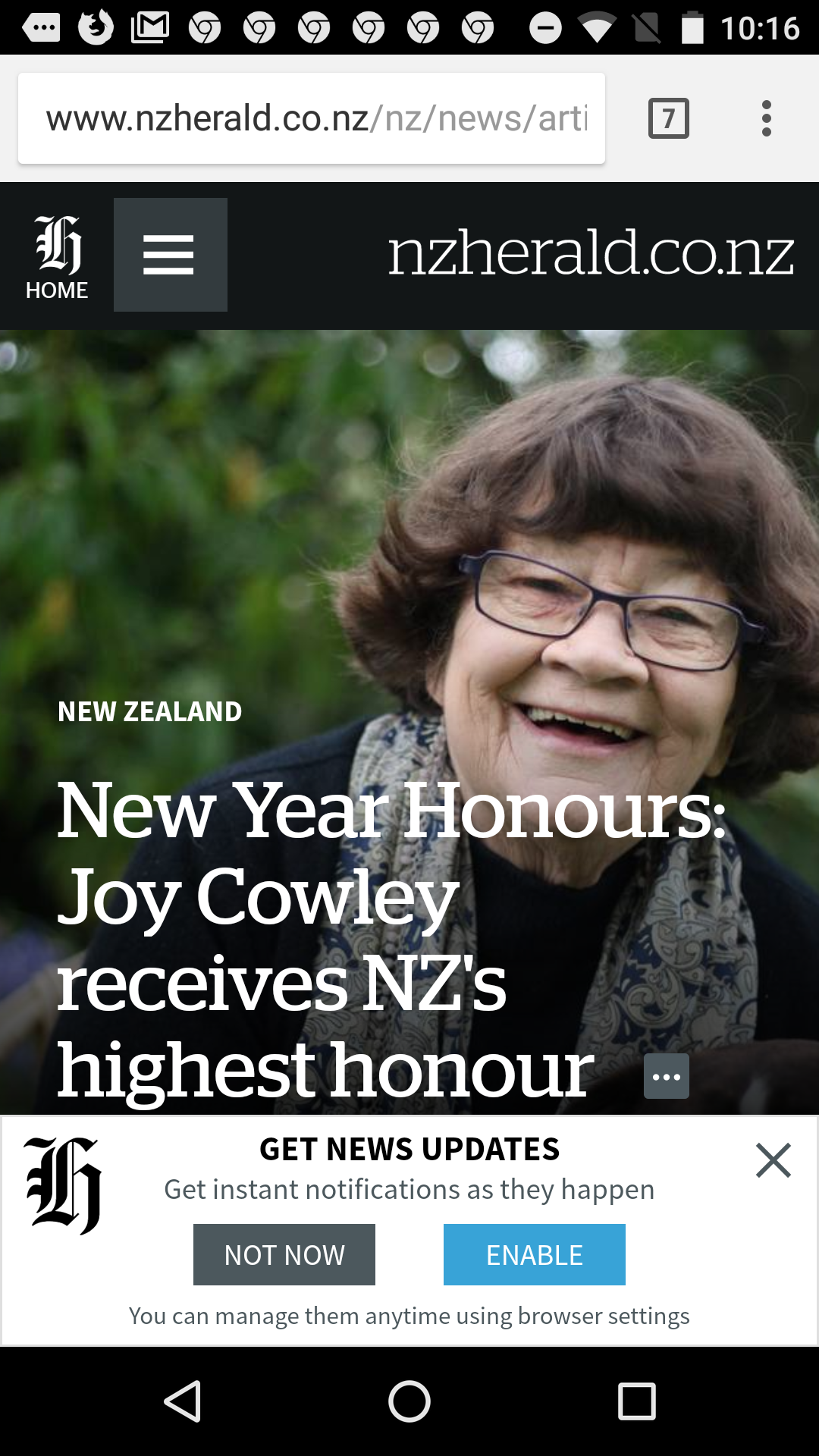 On a mobile phone or tablet, visitors who have not already opted in to receive web push notifications see the opt-in prompt at the bottom of their screen.
Once a visitor has opted in, a "thank you" page lets them know their opt in was successful, and the window automatically closes after a few seconds before dropping the user back on the NZ Herald homepage.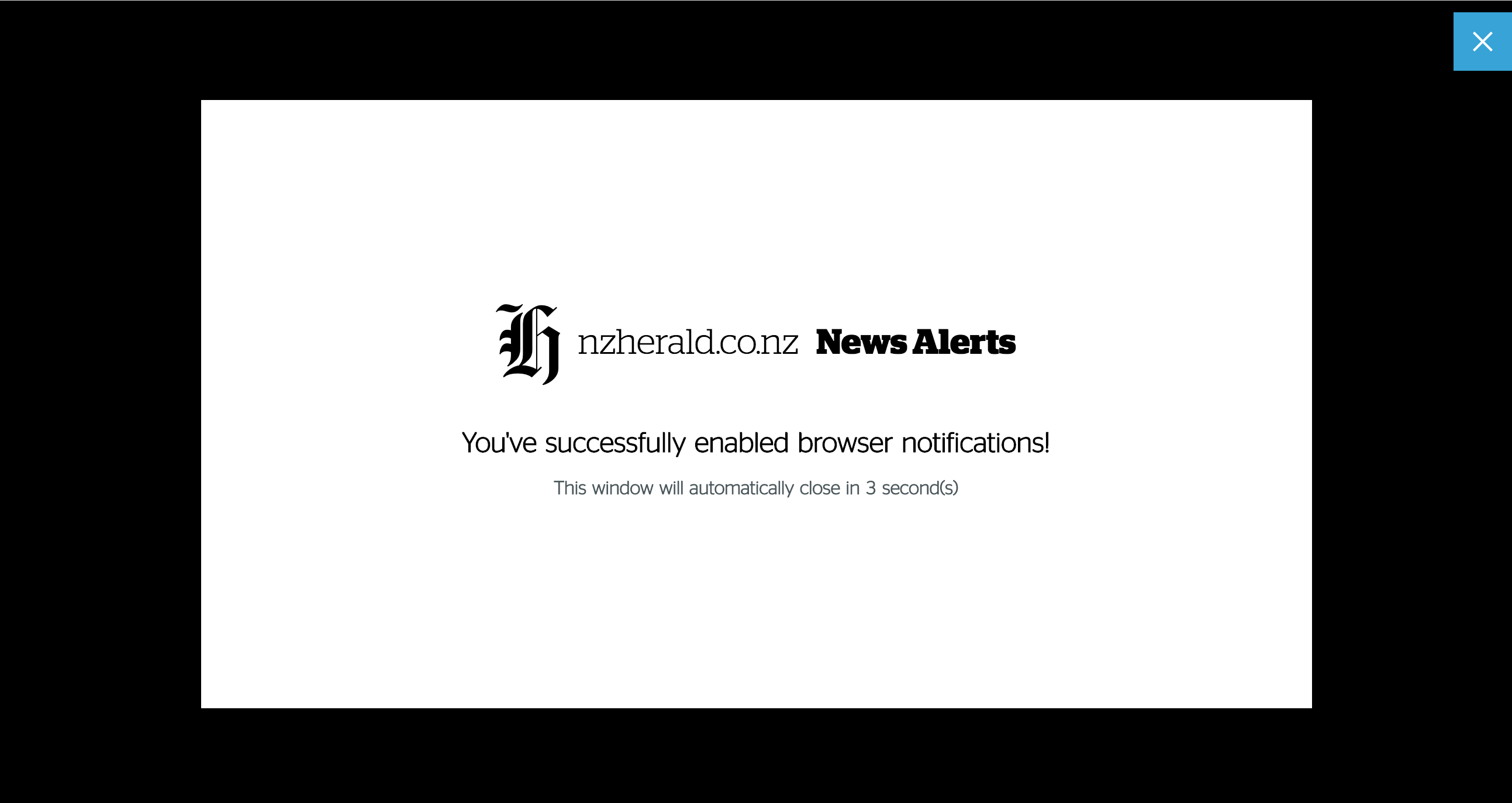 NZ Herald created a better user experience by removing clicks post-opt-in, instead taking visitors back to the page they were on when they opted in.
As their high opt-in rate indicates, this approach is really working. The team continues to fine-tune the opt-in process — applying session cookies that will give them the opportunity to re-prompt visitors who said they weren't interested initially, for example, to improve user experience.
Writing & Scheduling Web Push Notifications
"I'm working on a lot of different projects," says Bond, "so it's important that scheduling web notifications in the Urban Airship platform is easy — and it is." The Web Notify interface is built for marketers, and makes it simple to schedule web notifications days — even weeks — in advance.
Bond and her team are also watching web notification metrics carefully to see what's working best.
"We're getting a lot of interesting learnings on the best send times, the best frequency and the best stories to feature," says Bond. "Right now, we're sending three web notifications a day at times we know people have a bit more bandwidth to sit down and read longer pieces. We'll keep experimenting and iterating to find what works best."
Web Notifications Next Steps
Right now, the team is establishing a strong baseline for how well web notifications meet their goals — and so far, they've exceeded expectations.
As they continue to iterate, Bond and her collaborators will consider incorporating more kinds of stories into web push and trying some segmentation.
"As we're seeing a great response to web notifications, more and more departments want to use them," says Bond. "By showcasing the content our talented staff is creating, we're creating a win/win experience for us and for our audience. We're looking forward to continuing to evolve our web notifications strategy — and growing the bottom line benefits of this channel."
---
About The New Zealand Herald & NZME
The New Zealand Herald (part of NZME Publishing Group.) is the country's leading daily newspaper with an award-winning website, mobile site and apps. For over 150 years, The New Zealand Herald has connected Kiwis to the nation, the world, and to what matters to them and has a total brand audience of over 2.2 million. [1] NZME is a leading New Zealand media and entertainment business that reaches 3.3 million kiwis [2]. Whether reading, listening, watching, our audience gets the content they want – where and when they want it. NZME offers advertisers a unique opportunity to access its growing audience via a fully integrated multi-platform presence. NZME is listed on the NZX Main Board (code NZM) with a foreign exempt listing on the ASX (code NZM).
[1] Nielsen CMI Fused Q416 – Q317 October 2017 *AP15+, [2] Nielsen CMI, September 2017 fused database: Q4 16 – Q3 17 (population 10 years +). Based on unduplicated weekly reach of NZME newspapers, radio stations, and monthly domestic unique audience of NZME's digital channels.
---
Download our Web Notifications Inspiration Guide today to:
– See use cases you can adopt and implement
– Build smarter, more engaging campaigns
– Spark your thinking about web notification possibilities
Subscribe for updates
If the form doesn't render correctly, kindly disable the ad blocker on your browser and refresh the page.
Related Posts
Categories