Urban Airship Launches Good Push Educational Initiative
Last week we shared a series of animated films created by our friends at Wieden+Kennedy that showcase different use cases of Good Push. Today, we unveil The Pocket Guide to Good Push—a 70-page mini-booklet—to help you understand the best practices to serve mobile consumers with value-based messages that build stronger brand relationships over time.
As the newest marketing communications channel, push notifications offer the opportunity to engage directly with consumers on arguably the most valuable real estate possible—smartphone home screens—which is tremendously powerful, but also something that must be recognized and treated as a privilege.
Over the next several months we'll offer you additional Good Push educational resources, and to ensure you take the time from your busy schedule to review them, we also launched the Good Push Index, which, at the highest level, discovered that push messaging can double both mobile app engagement and user retention.
Whether you have one app or a dozen, you know how difficult it can be to get people to discover and download your app and this is only the beginning of the battle for screen time. The average app loses the majority of its audience within the first 30-days of download, and chances are you spent $1 or more to acquire each user.
Appropriate and responsible push messaging can be the savior of apps. Our sampling of customer data shows that users opted-in for push notifications are retained at much higher rates than users who do not receive push messages, enabling apps to go from losing the majority of their audience in the first month to retaining the majority of users. Longer term, the retention rate of users that continue to open your app can be doubled if they are opted-in to receive push notifications.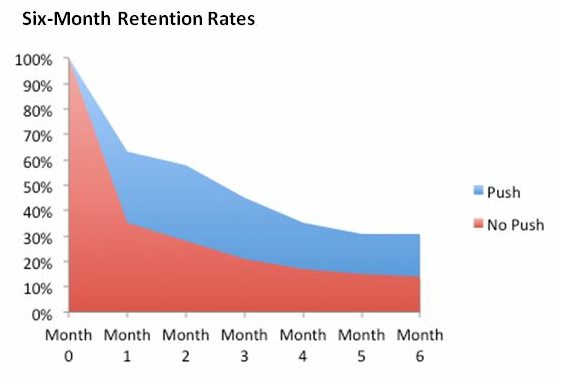 In addition, engagement (defined as the number of app opens) is doubled on average in the first month if users receive push notifications. And this greater engagement grows over time with opted-in users opening apps on average three times as much in month 2 and four times as much in month 3. For many individual apps, the greater engagement of opt-in vs. opt-out users is much higher.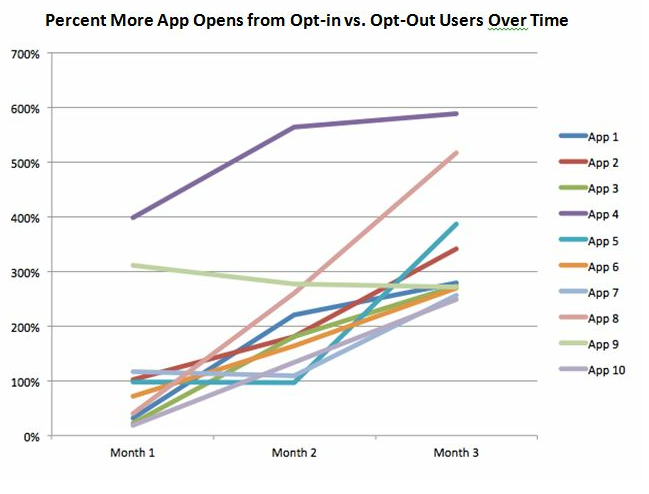 Ultimately, Good Push depends on each and every one of our customers—the people behind the apps—in addition to advanced targeting and analytics to optimize efforts over time. Because of this, we'd like you to self-select to be part of future Good Push indices, and while we won't disclose the identity of apps, you'll be part of the groundswell movement that helps ensure push notifications continue to be a welcome, and even highly anticipated, interruption in the lives of mobile consumers.
Get on the path to better engagement and retention by downloading The Pocket Guide to Good Push now.
Subscribe for updates
Categories