Three Wildly Different News Events Shaping Mobile Engagement in 2015
This week, Tommy Caldwell and Kevin Jorgeson completed what was previously thought impossible, successfully free-climbing the Dawn Wall route on El Capitan.
The few but fanatical watched along from binoculars and long cameras from the valley floor, while the world anxiously awaited social media updates from the dexterous duo to follow their 19-day ascent.
NBC's Breaking News uses mobile to connect in previously impossible ways
Many more ended up being lucky enough to see history being made live through the NBC-owned Breaking News app, which marked the occasion by debuting live video streams in the app.
As reported by Digiday, Breaking News will now offer three to six live video streams daily and leverage push notifications tied to user interest in content areas to notify specific audiences. For example, sports fans will receive notifications about the live Dawn Wall climb, while those interested in politics would be alerted about streaming congressional hearings.
"On most of the Web, the only way you'd know that something is live now is if you come in at the right time," said Cory Bergman, GM of Breaking News. "We hope this will fix that issue of missing the beginning of livestreams, because you'll be notified when they're starting."
Video ads aren't even being considered at launch or the immediate future, with Bergman stating, "If it's breaking news, people want it fast. They're not going to sit and wait through a pre-roll ad."
Independent analyst firm illustrates the opt-in hill to climb
Meanwhile, Forrester Research, Inc., released data from its Q2 2014 US 3D Panel Online Survey showing that "US smartphone owners are also selective when it comes to the apps they choose to allow push notifications; about six in 10 only accept push notifications from a select number of apps, while 17% don't accept them from any app at all."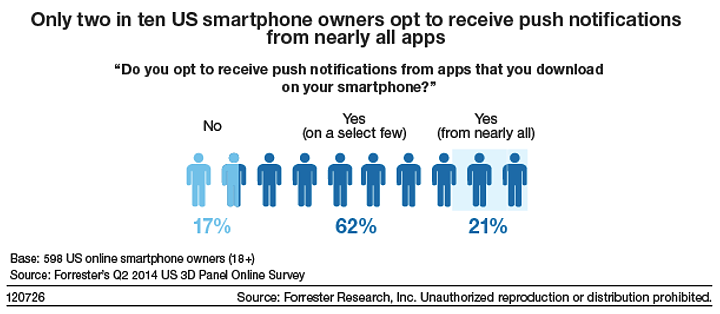 The accompanying January 2015 blog post, written by Nicole Dvorak (Push Notifications Change The Way Consumers Engage With Apps), offers great details on why consumers opt-in to push notifications, as well as the resulting impact on app usage in different categories.
Innovative brands are also leveraging in-app message centers to deliver great mobile experiences to their entire app audiences. This additional "inbox" delivers persistent, curated content to all app users, and this content can also encourage opted out users to try notifications and location in the future.
Given the vast majority of apps just serve up standard iOS language on first app open before users have had the chance to explore the value of the app or opting in, we're surprised the "Yes-from nearly all" audience outweighs those that reject all such requests.

Interactive walk-throughs and welcome message series triggered on first app open can position the value of opting in to both notifications and location-sharing, of which Victoria's Secret offers a stellar example. You can also get creative and think about other places in the app or customer journey where asking for push and location opt-in might be more contextually relevant.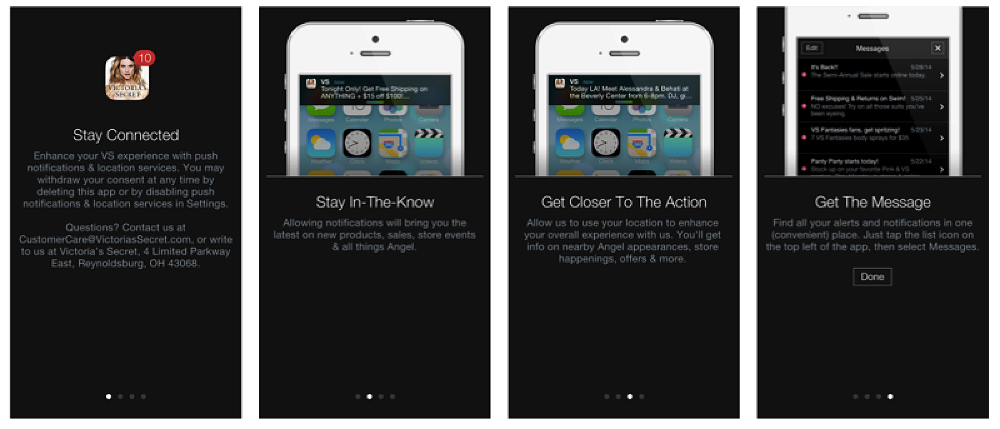 In 2015, we expect to see more sophisticated opt-in approaches as well as more apps taking advantage of in-app message centers that offer reach to the entire app audience and the delivery of richer experiences.
MyFitnessPal scales the unengaged but opted-in
Finally, in an entirely different news circle, Reddit commenters had a very active discussion around a seemingly odd notification from MyFitnessPal.

Beyond hilarious and colorful comments noting the app's passive-aggressive recognition that "hey, this New Year's resolution thing just isn't working out for you so we're not going to bother," the idea that it recognized the lack of push engagement and took proactive action was greatly appreciated.
Of course, there are now more options than the binary "on" or "off" choice. Interactive Notification buttons could enable users to confirm or decline being "turned off" or enable them to select the type of notifications they want. The messages they actually respond to and the in-app message links they click can become dynamic segments fueling future messaging.
In 2015, the most successful apps will increasingly leverage users' interactions with notifications and within apps to fine-tune their approach to sparking mobile moments. The spoils will go to those that go beyond the simple and blunt approach, to a more considered and customer-centric one. Thankfully, newer innovations in UI-driven messaging workflows, segmentation & targeting engines and automation technology means it doesn't also need to be hard.
What strategies are you using to seize more mobile moments in 2015?
Subscribe for updates
Categories