Think Global, Message Local: Introducing Urban Airship Segments
After our acquisition of SimpleGeo, many speculated exactly what we were up to. Had we simply made an acqui-hire? It's true we picked up many talented new employees and established a second office in the heart of Silicon Valley. But our ambitions are much greater than that, and today we're excited to announce the fruition of our efforts with the the industry's first location segmentation push messaging service—Urban Airship Segments.
We are taking a different approach to location. One that deviates dramatically from the scenarios we hear everyday, where someone crosses an invisible line and is somehow then super receptive to whatever offer the nearest marketer wants to jam down their phone.
Urban Airship Segments builds off of what we already know, having served up more than 17 billion push messages for 60,000 apps each of which know something about its users' interests and preferences. Now add to that the ability to know an individual's location and context, not just where they are right now but where they are over time, with the ability to easily build on that with everything else you know about the user, and you end up with a powerful combination of insight that enables you to be much more targeted and precise in your app engagement strategies.
A sports media company can send an offer to receive commentary from the Phillies dugout to users tagged 'team:Phillies' attending a Phillies/Red Sox game located in 'Fenway Park'.
A movie theater chain can send a 'Hunger Games tickets go on sale in 12 hours' message to users tagged 'customer:ClubCardHolder' and 'preference:OpeningNight', rolling out delivery based on users' time zones.
A news and entertainment company can offer a Guide to NYC Nightlife to users tagged 'hometown:seattle' and 'device:ipad' who are currently located in Lower Manhattan.
Simple conditional logic (And, Or, Not) will enable you to join location information with tags encompassing in-app behaviors, preferences and device profiles to build and save audience segments for messaging now and for later. So, targeting iPad users that were in a certain location during a certain time (now, or in the past) with preferences for particular content or product categories becomes possible.
Urban Airship Segments is an evolutionary step forward in ensuring that when you reach out to mobile users with a message, you make it worth their attention by being valuable and useful from the only perspective that matters—theirs.
Oh, and we haven't stopped there. Also announced today, we have formed a strategic partnership with Meridian for indoor location targeted mobile messaging. Combined with Urban Airship Segments, you can go from identifying audiences with certain behaviors or preferences in regions down to a neighborhood-level, to delivering pinpoint targeted messages inside buildings. So, for example, retailers could use Segments to send highly targeted offers based on audience preferences and locations, and use Meridian to direct customers to the exact aisle location, serving-up location-based special offers or content to accelerate purchase decisions.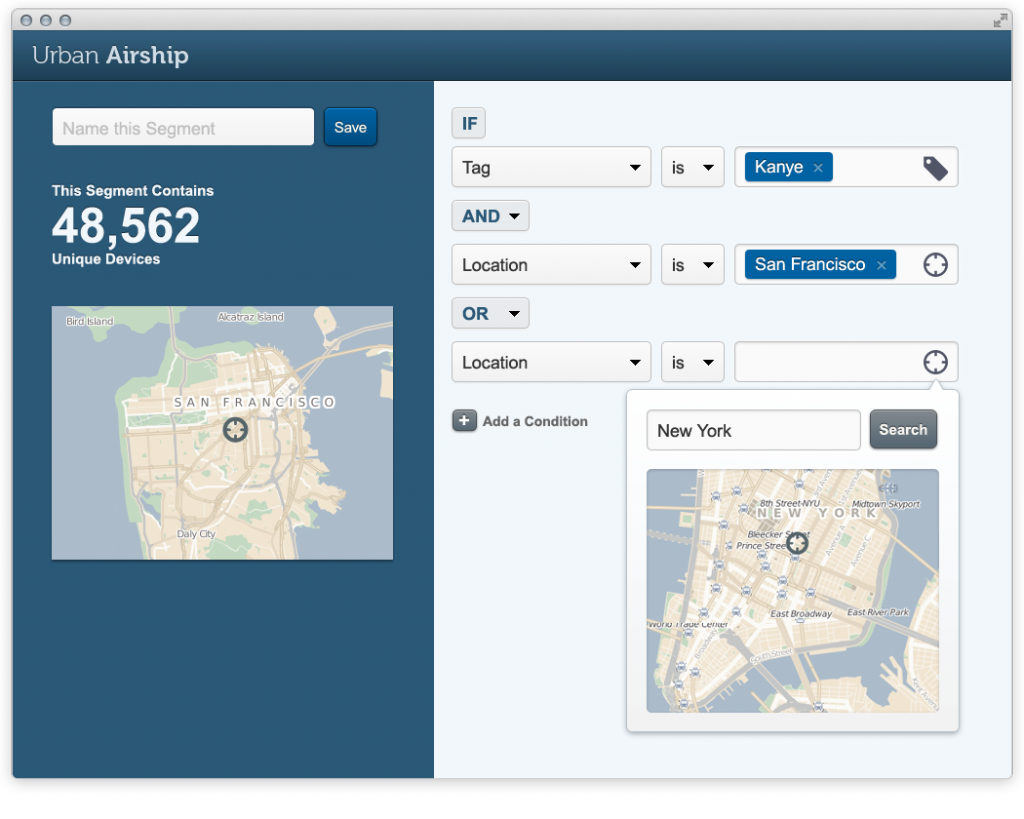 Standard iOS and Android device libraries are available today. Using these you can add location detection to apps now, and gather all the events necessary to enable location segmentation when the API and web tools launch later this quarter to all of our customers.
Subscribe for updates
Categories