SXSW 2012: Bring It (Please)
We have been talking a lot these days about Location Aware Notifications. As we have reported, we recently teamed up with SimpleGeo to deploy smart, contextual geo-aware push notifications to individuals via their mobile device. Some of the geo stuff freaks people out – we get that. The way that many people approached it with a "you walk into this spot and you get a DEAL" kind of freaked us out as well. Relevancy and intent should drive it, along with so many other factors.
The fact is that it is a little crazy, a tad awesome and a whole lot here right now. And most of the time people just like you are using it to engage in new ways with people, brands, and even things that aren't there (AR).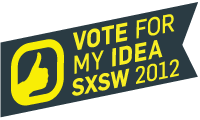 But, as we're hoping to present at the 2012 SXSW Interactive Conference, the combination of mobile + social + local is a powerful, yet misunderstood, communication channel. When people hear about it, they often conjure up a "Minority Report" world where companies track their every move to inundate them with marketing. And so they resist. The next-generation of SoMoLo, however, will delight people by providing highly targeted, context-rich communications that keeps the control in their hands. New technologies will leverage newly accessible data gleaned from user app usage, local search results, social streams and location to speak with people on their own terms, in ways that add meaning and convenience. Panelists will share their experiences with and advice on how to leverage SoMoLo data to engage mobile users in ways that personalize content to keep consumers coming back time after time.
We have assembled a kick-ass team of experts – some of the smartest people in the business, including Matt Galligan from SimpleGeo, Jeff Rohrs from ExactTarget and Chris Messina from Google (he invented the hashtag too) – to discuss in depth how companies can balance convenience + privacy concerns to help people appreciate the value in contextual mobile experiences.
Please vote for our panel. We are already planning some good stuff for our trip to Austin. This conversation is just beginning….
Subscribe for updates
Categories