Relevance vs. Privacy at Cannes Lions 2023: What Mobile App Customers Really Want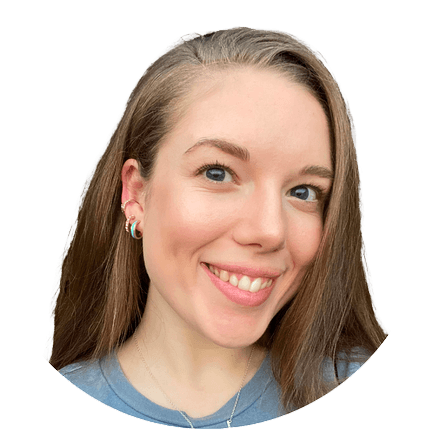 The demand for personalized messaging is on the rise, yet consumers are becoming increasingly cautious about when, how and why they share their personal information with brands. Consumers want brands to know them ("cool"), but not too much ("creepy"). As first-party data takes center stage, it's crucial for brands to strike the right balance between relevance and privacy.
The Cannes Lions "Personalization and Privacy" panel saw Airship Chief Strategy and Marketing Officer Thomas Butta, Infillion CMO Laurel Rossi, and Vayner X EVP, Zubin Mowlavi, engage in a stimulating discussion, moderated by Bain & Company Partner Maureen Burns. The panel focused on the effective tactics and approach necessary for brands of all sizes to continually optimize relevance and customer experience, while respecting privacy. The conversation also featured the unveiling of new research by Airship that delved into 11,000 global consumers' preferences regarding brand interactions — ranging from the most useful forms of personalization to the factors influencing app retention and deletion.
Here, we'll explore the evolving dynamics of personalized messaging and privacy, while considering the challenges marketers face achieving this delicate balance.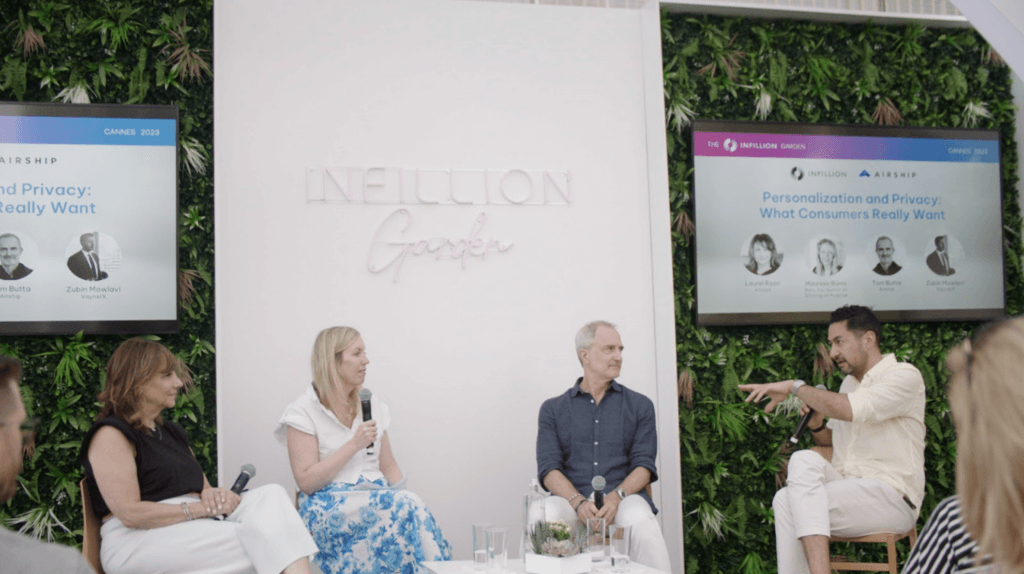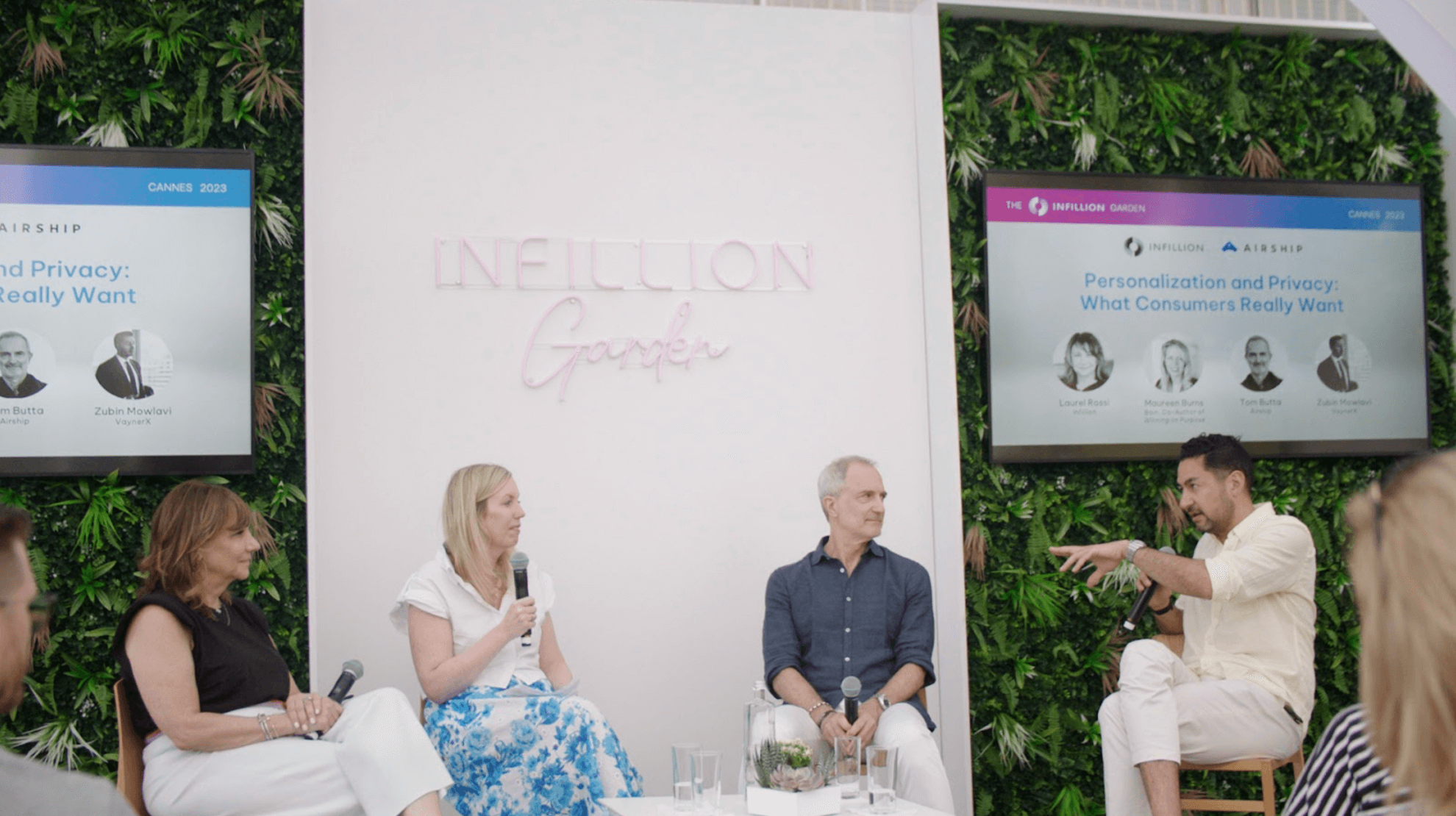 The Potential — and Limits — of AI
The realm of AI and machine learning present an opportunity to not only avoid the unsettling practice of intrusive, blunt retargeting, but also to discover individuals who share similarities with our initial target audience and may genuinely appreciate the experience we have in store for them.
Infillion's Laurel Rossi said that by engaging with consumers during the next phase of their purchasing journey and eliminating an unnecessary step, we not only save them valuable time and attention but also ensure that they receive the relevance they desire.
The untapped potential of AI is often overshadowed by its association with "creepiness" — when the consumer feels virtually "stalked" by the brand.
Creep Factor? No, You Can't.
Burns posed the question to the panel, "Is it creepy if it's really relevant?"
According to Airship's Thomas Butta, consumers are open to receiving information related to their stated interests. He emphasized, though, that potential problems arise when you cross a boundary with privacy.
Rossi argued that the concept of relevance extends beyond traditional personalization and through to deep personalization. The goal is to identify the true value-add and moments of delight awaiting consumers along their journey. The thinking goes, consumers will appreciate the means if the ends are marvelous and meaningful.
Vayner X's Zubin Mowlavi noted that it's usually desirable to be at the forefront of marketing and technology, but this particular area is an exception: here, it's crucial to align with consumer expectations and not exceed them.
When people perceive their phones to be listening to them and they receive unexpected content, that's when the unsettling aspect arises — the creep factor. As brands, it's vital to refrain from exceeding consumer expectations simply because you can, given available technology.
How, When, Where — Best Practices in Privacy & Personalization
Butta emphasized that brands that effectively implement personalization strategies achieve an impressive 30-45% retention rate from their initial app downloads. How? By focusing on the how, when and where of both privacy and relevance.
After download, brand leaders promptly query users about their interests and assist users in establishing communication preferences in terms of timing, frequency and preferred channels. By prioritizing these best practices, successful brands are able to strike a balance between personalization and privacy — ensuring a positive user experience, while respecting individual preferences.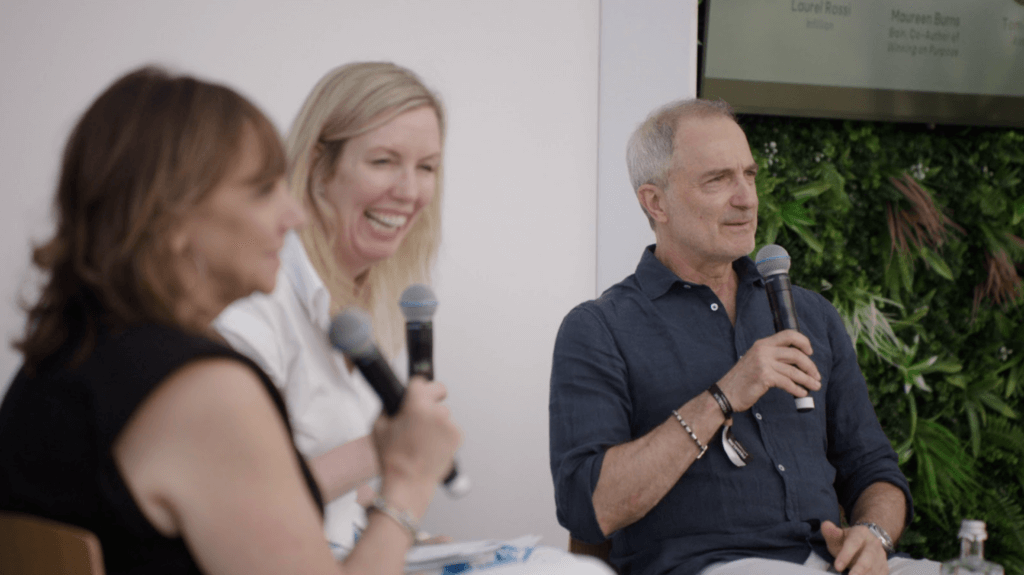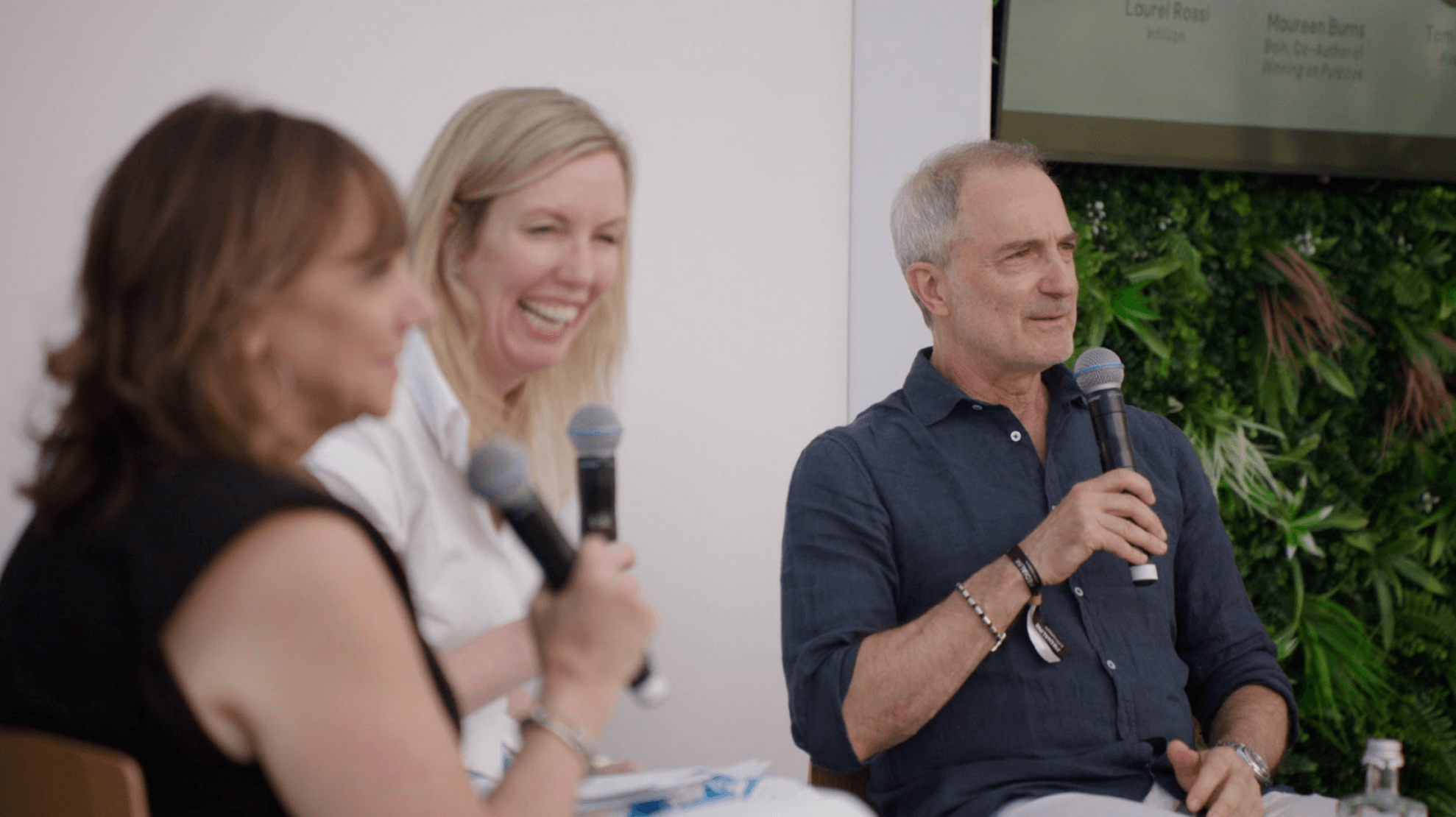 Optimizing for Conversion: Rethinking Metrics and Consumer Engagement
According to Rossi, consumers are highly vocal about their aversion to ads and go out of their way to ignore approximately two-thirds of them. As brands, our primary objective should be to capture consumers' attention. For an app, the way to do that is by providing consumers with a superior experience. If a customer genuinely does not desire ads, we should offer them the option to opt out.
In real life, practices are different. In light of deteriorating macroeconomic conditions, the industry has gravitated towards inexpensive media, overly fixated on generating clicks. And, as Rossi highlights strongly, this approach is not getting us anywhere.
Mowlavi emphasizes the criticality of optimizing for the right metrics, as many marketers tend to prioritize engagement and marketing KPIs that may not necessarily influence actual purchases. Successful brands, on the other hand, prioritize optimization that extends all the way to conversion, whether at a macro or micro level, across different channels. Simply optimizing for clicks, without considering meaningful outcomes, leads to superficial engagement. The focus should be on identifying the consumers who generate the highest lifetime value — understanding their product usage patterns and the underlying drivers. By concentrating on these cohorts and optimizing accordingly, rather than fixating on clicks and engagement on external platforms, brands can achieve more meaningful and impactful results.
According to Butta, there is a growing realization that a significant portion of email usage is wasteful. At the same time, many marketing cloud platforms rely heavily on email as a primary channel.
Interestingly, consumers are willing to share their email addresses as the most prominent piece of data. However, when it comes to communication, email is often the first to be ignored, particularly among younger generations — of whom, 81% or more ignore email marketing they've subscribed to at least half the time or more. This is partly due to the prevalence of disposable or fake email addresses. Promotional emails are typically dismissed as such, while transactional emails or those providing genuine value are considered "good" emails. The result is inefficiency and wasted effort in the realm of email marketing.
Brands are being forced to rely on internal (zero- and first-party) data rather than external (third-party) data. This is what consumers want as well. They want the relationship to be with the brand, not with third parties who are trying to get to them.
No-code Solutions Allow Marketers to Drive Moments That Matter
According to Butta, the potential of the mobile app lies in its always-on reach and the continuous conversation it fosters. Marketers — or at least, those who are eager to expand their capabilities — have historically relied on developers to improve app user experiences — and they represent a scarce resource.
However, with the shift from HTML to native and the emergence of no-code solutions, non-technical professionals can now actively create meaningful moments and accomplish much more. Drawing inspiration from the app's ability to provide continuous experiences, marketers can apply their insights without being burdened by time constraints imposed on developers. This paradigm shift empowers marketers to take charge and make a more significant impact in driving greater value creation.
Butta suggested that brands can enhance their effectiveness by reacting promptly to consumer feedback, which may be direct via surveys or app store reviews, or observed from data on their behaviors. By responding directly, rather than relying on intermediaries like developers, brands can establish a more immediate and direct connection with their audiences.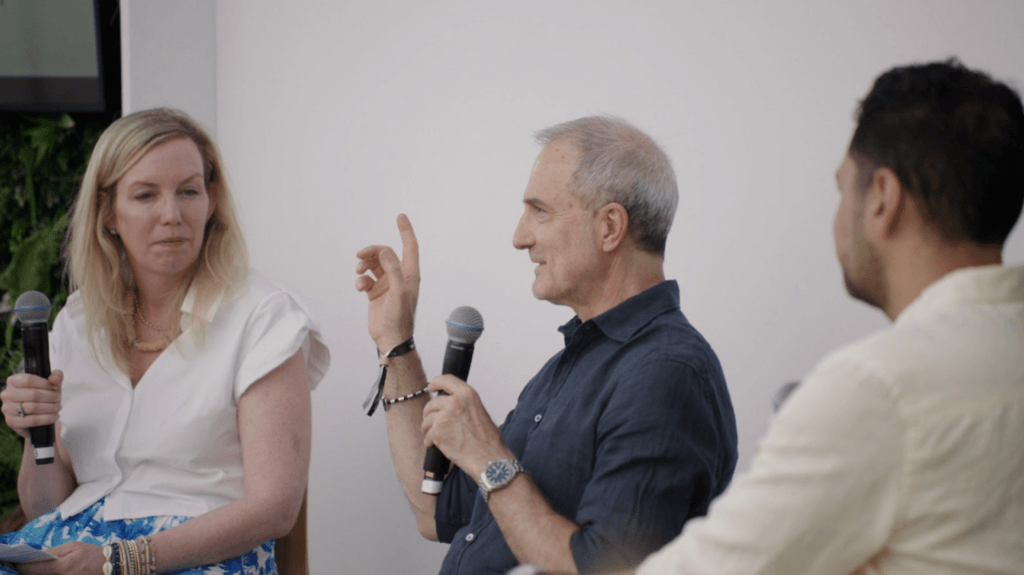 Understanding Consumer Experience and Loyalty
According to Butta, the essence of brand interactions lies in the experiences we have with them, and the app serves as the center of these experiences. We're all consumers, he reminded the audience, and our lives revolve around apps from morning to night — and for many types of apps, total time spent is inverse to value and usefulness provided. The foundation of value-exchange between consumers and brands rests upon respect and reward, and these experiences shape our expectations and preferences.
"People will never forget how you made them feel."
-Maya Angelou
By recognizing this and ensuring exceptional experiences within the app, brands have the opportunity to cultivate customer loyalty. While downloading an app is a significant step, ensuring users return to it is a whole other game that hinges on delivering relevant content that provides genuine value — from discounts to time-saving solutions.
More on Engaging Consumers
Mowlavi emphasized that, with the advent of AI-generated content, there's the danger of inundating consumers with content. 
Burns highlighted that a crucial challenge in the coming years will be creating a digital frontline within physical stores that consumers will be eager to engage with. 
Burns also pointed out that many brands are unaware of the missed opportunities and untapped potential by not utilizing apps for direct sales. 
Others noted brands need to consider how to interact with consumers across multiple touchpoints — from CTV to mobile devices to in-store shopping.

Collectively, these insights underscored the importance of leveraging digital strategies, respecting consumer preferences, and seizing purchase potential through well-designed and engaging app experiences.  Watch the full panel video here.
Learn more about global consumer preferences, across countries, generations and income levels, and what exactly brands should be doing in our latest report, The Mobile Consumer 2023.
Did you know we also have a podcast? If your goal is to deliver extraordinary value for where your best customers choose to engage with your brand, Masters of MAX is the podcast for you. Never miss an episode by subscribing on Apple Podcasts, Spotify, Amazon Music or Audible.
Subscribe for updates
If the form doesn't render correctly, kindly disable the ad blocker on your browser and refresh the page.
Categories