Red Bull TV Gives You Access To Exclusive, Live Sporting Events Around The World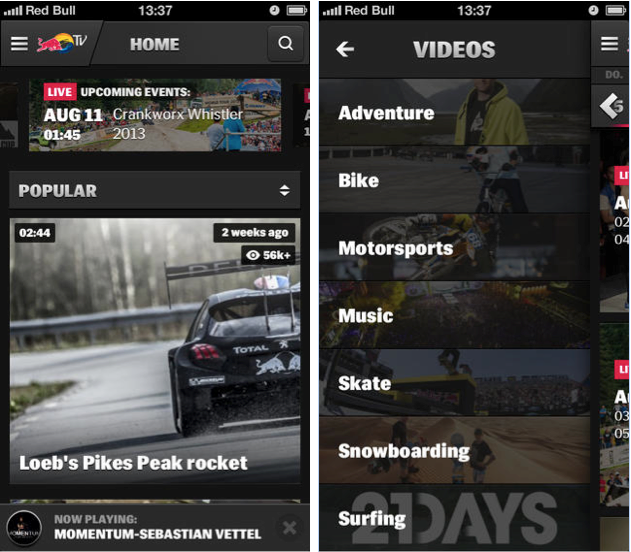 Maybe you just got into work or perhaps you just finished lunch. Either way, the middle of the week has a certain way of making people want to escape their daily routine—if only for brief moments. Luckily for you, Red Bull TV has you covered by providing front row seats for the coolest sporting and culture experiences around the world.
The Red Bull TV app offers exclusive content on your favorite athletes and let's you go behind the scenes at major sporting events. Between skateboarding, music, snow, surfing, dance, motorsports and aerial events, you'll never miss a beat even if you're chained to your desk or stuck on the bus.
Opt-in to choose the categories you're most interested in—including Adventure, Bike, Motorsports, Music, Skateboarding, Snowboarding and Surfing—and you'll get alerts when new content is available. Worried about exceeding your bandwidth? The app offers a "WiFi only" option so streaming won't eat away at your data plan.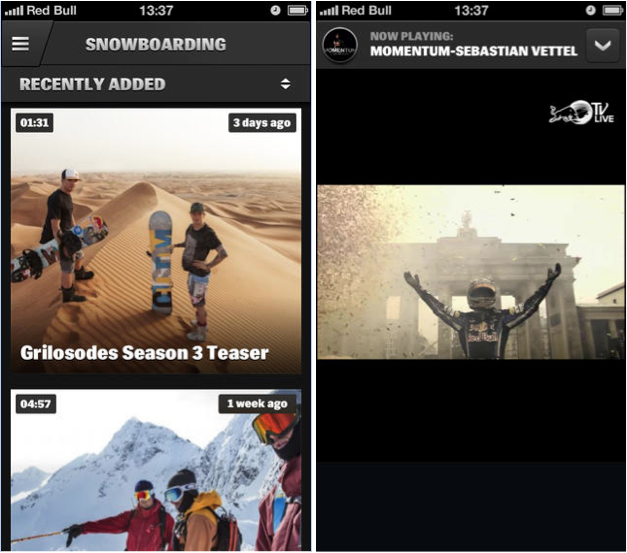 Streaming this Sunday, December 22 you can watch the Red Bulls Salute European Trophy Finals streamed live as Europe's top ice hockey clubs compete in Berlin, Germany. If you can't watch the event, don-t worry—you'll be able to watch it in its entirety once posted by Red Bull, as does for all of its live events. Previously aired events that are accessible now include the UCI Mountain Bike World Championships, the Red Bull MotoGP Rookies Cup and the Red Bull BC One Asia Pacific Finals.
The app even lets you browse through its huge archive of video clips showcasing feats of strengths, determination and adrenaline-filled, can-you-believe-it moments from international stars like Felix Baumgartner and Sebastian Vettel. Additionally, interviews from Red Bull Music Academy, sessions from Red Bull Studios and b-boy action from Red Bull BC One lets you discover the musical side of the World of Red Bull.
Furthermore, the app lets you watch full episodes of Red Bull's own shows, including the latest from "Mates in Alaska," "Ride & Seek," "Sheckler Sessions" and "Who is JOB."
With the Red Bulls Salute and Alpine Rockfest this week, there's a lot to look forward to in action sports.
Subscribe for updates
Categories