New Stats Reveal Top News Days in UK & Four Opportunities for Media Brands Everywhere
We analyzed our data from more than 350 UK-based news and media apps, and the notifications they sent during the first half of 2018 to reveal send volume trends, which news stories really resonated with UK consumers — and what it all means for marketers at media brands. Read on to learn more!
---
According to Reuters, mobile news notifications have grown significantly in the last year, particularly as more people rely on their smartphones for keeping on top of what's happening in the world.
Since we work with over 1,500 news & media apps globally, we've got a front row seat into the volume of push notifications sent each day by leading news & media apps — and the direct open rates that show which days and topics were of most interest to the public.
>> Related Benchmarking Resource: How Push Notifications Impact Media App Retention Rates
To look for trends useful for our UK media clients, we analyzed more than 350 UK-based news and media apps and the notifications they sent from January through June 2018 to take a look at trends. We looked at volume of sends as well as notification open counts — direct taps of notifications that result in app opens.
Top 10 News Days in the UK For the First Half of 2018
What we saw revealed the top UK news days in the first six months of 2018 — as well as which days had the highest overall engagement.
Compared to other verticals, media notifications often see lower direct open counts and direct open rates for two reasons: 1) they tend to send a higher volume of notifications, and 2) the notifications often don't require a tap or click itself often conveys everything the user needs to know in that moment.
However, by looking at direct interaction rates, editors can get a better idea of what resonates most with their audience.
Interestingly, audience engagement — measured by notification open rates — seen on the top news days is 4x higher than the overall average for media and news apps.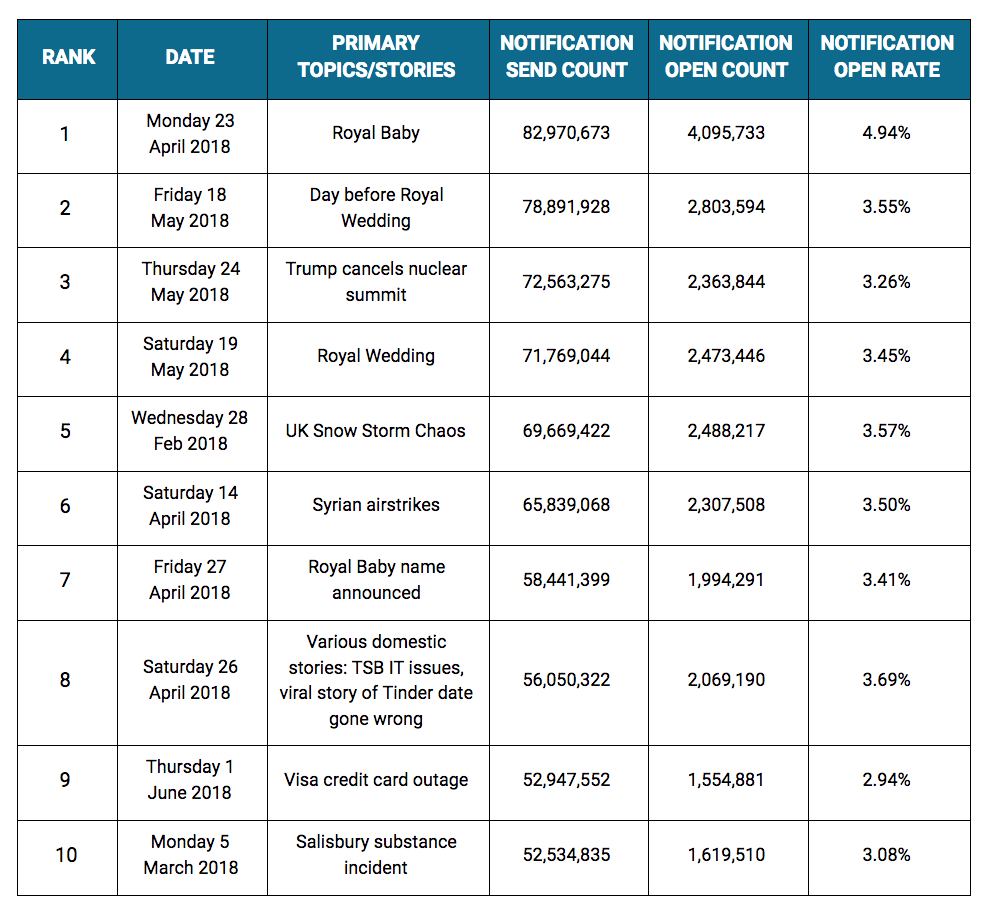 4 Key Takeaways for Media Brands
1) Engagement Analytics Offer the Chance To Learn More About Your Customers: Every story someone reads or watches; each notification they tap provides useful insight into their interests and affinities, which brands can use to enrich their customer profile. If someone has read two or more articles about the Royal Family, chances are high they'll appreciate or at least won't mind hearing more. Conversely, opt-out rates associated with different messages are also important data points, helping brands further refine messages, to further refine what's alert-worthy and for whom.
>> Want your notifications to get to your audience even faster? Learn more about our new push notification acceleration solution, Boost.
2) Your Audience Is Open to Hearing About Breaking News Through Push: The fact that some engagement rates for stories, such as the Royal Baby, are much higher than the industry average indicates growing receptivity towards using push notifications to surface breaking news – and that they are using push notifications as an alert to read, watch or listen to a story, whether it's in your app or on your website.
3) Some of the Highest Engagement Rates are on Weekends: Saturdays often see some of the highest engagement rates of the week. In fact, 40% of the top 50 most engaging news days fell over the weekend. Weekends typically provide people with more opportunity to read traditional print media, peruse social media feeds or watch broadcast news segments, and push notifications are often the catalyst to engage with a media brand — on mobile or another channel.
4) Use Smarter Push Notifications to Earn More Trust: Better stories mean more loyal audiences, which leads to more revenue. The key is making sure that push notifications are both timely and personalized based on audience preferences.
Ready to learn how we can help you send lightning fast, super-personalized push notifications to your audience? Get a personalized demo of our Digital Growth Platform today!
Subscribe for updates
If the form doesn't render correctly, kindly disable the ad blocker on your browser and refresh the page.
Related Posts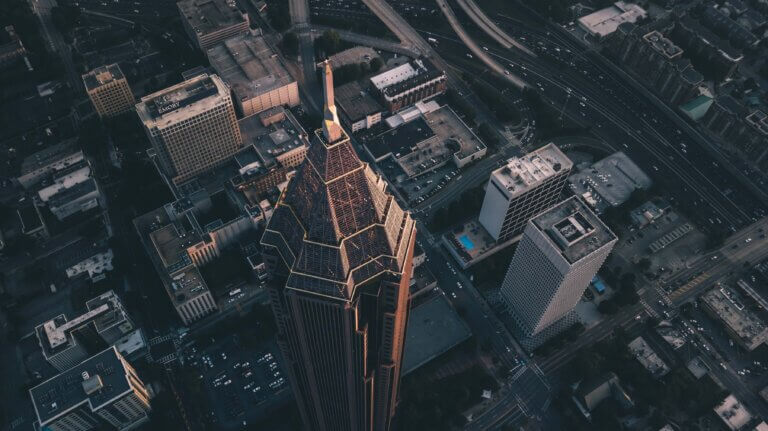 Insights from Cox Media, Turner Sports & POSSIBLE Mobile: A Recap of our Atlanta Mobile Growth Workshop
Categories