Mobile Marketing Automation: Flex Time for Your Messages
What's the best time of day to send your message? This is a question customers frequently ask us, and we know it causes marketers anxiety. Like most things in mobile, the short answer is "it's complicated," but a lot depends on whether you're using marketing automation or sending a campaign.
Flexibility & Control When You Automate Message Send Times
For automation, you need a tool that gives you flexibility and careful control over when to send a response. How you use it depends on the specifics of your use case.
For example, let's say you want to send a follow-up offer message an hour or two after the user installs your app, but you know your customers don't want to be bothered outside of business hours.
Using our new Message Composer, you can easily define scheduled days and times for message delivery, in this case between 8 a.m.-6 p.m. during weekdays, and perhaps a later start on weekends: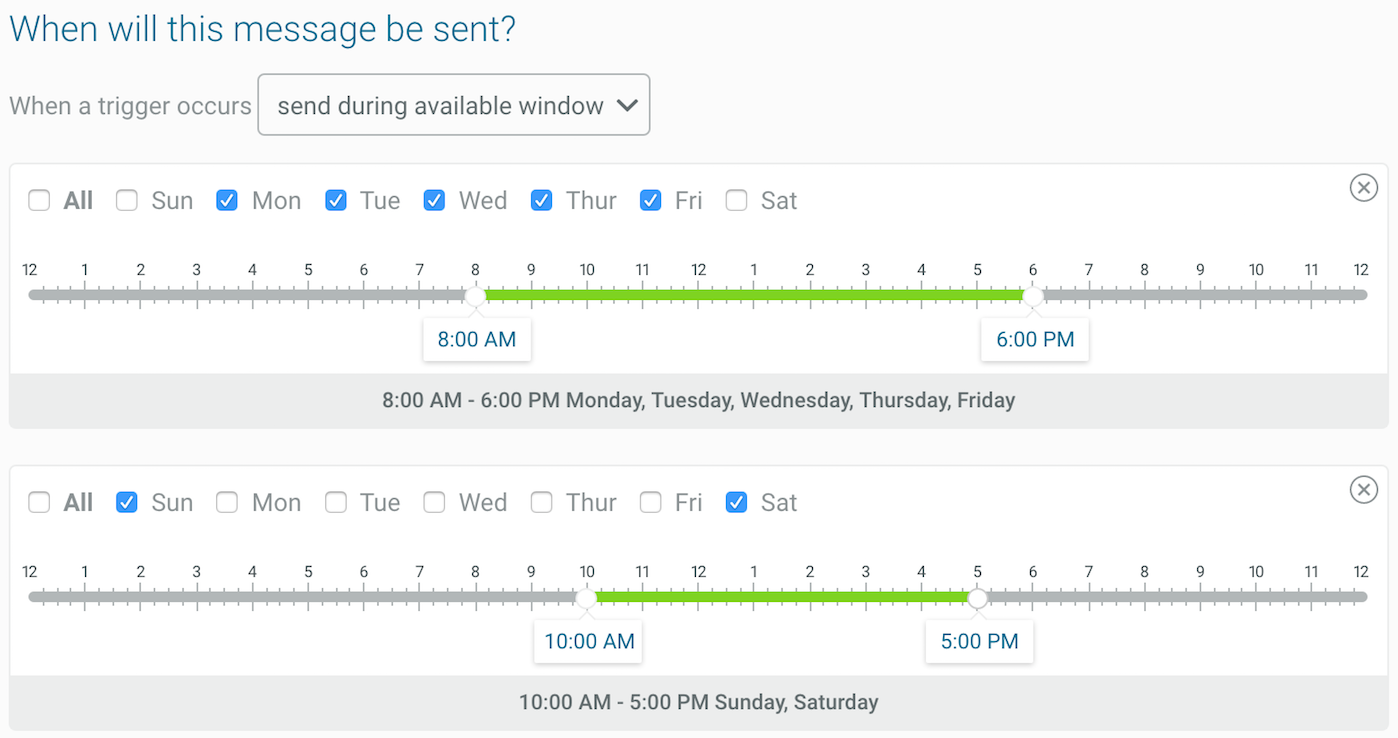 If the message trigger occurs outside one of the windows, by default you'd send it at the next available window. But you could also choose to discard the message if it's no longer relevant:

Or, for example, let's say you only want to send out a lunchtime offer that arrives at 11 a.m., when users are most likely to take action on your message.

Mobile marketing automation makes it easier on you to send messages at the optimal times for your users. Read more about how to configure Automation Timing or learn more about our full-featured API.
For Campaigns: Segment First, Check Timing Later
What if you're sending out a marketing campaign? Before jumping to the time of day question, first ask, are you already using the most powerful tool to increase your user engagement?
We know from our benchmark reports that analyze 3,000+ apps that using audience segmentation to target your users based on preferences or user behavior increases engagement 3x to 5x. Are you already segmenting your messages based on user preferences (Ex: likes shoes, watches sports videos, prefers action movies) or recent behavior?
Assuming you're already segmenting your audience, what is the best time of day to send? You may have clues already from your industry and your website visit data. You can also look at your app audience session data to see what time of day you experience the largest spike in traffic. Let's say you determine that 5 p.m. is the best time of day to reach out: you can schedule your campaign to go out at 5 p.m. across all time zones, no matter where your audience is in the world.
Next Steps to App Automation Marketing & Messaging Perfection
Want to learn more about the best ways to message your users?
We've taken insights captured from helping customers collectively deliver nearly a billion messages a day, along with feedback from our customers, and created the best version of Urban Airship Engage yet. Join us to learn how we've updated the platform and how you can use our new Composer to build messages that inspire action.
Subscribe for updates
If the form doesn't render correctly, kindly disable the ad blocker on your browser and refresh the page.
Related Posts
Categories