Life Gets Better with Mobile Apps, Literally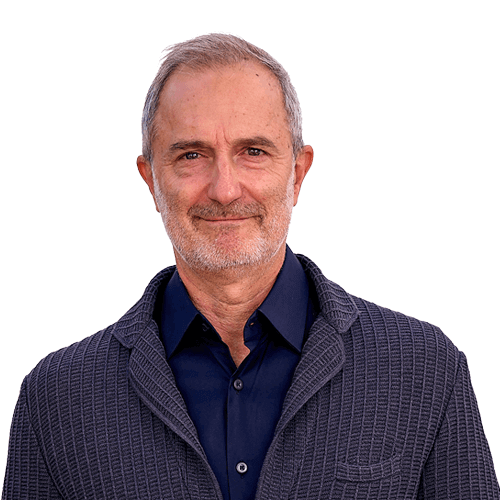 Consumers across countries, age groups and income levels are turning to apps as a primary destination for health and wellness — as they are in most other aspects of daily life. Across three countries — U.S., U.K., and France — 81% of consumers plan to use apps on smartphones and wearable devices to improve their health and well-being in 2023, according to research by Airship.
"Life gets better with better mobile app experiences, and for most people, this literally applies to their health and well-being," said Airship's Thomas Butta. "Brands that earn a place in customers' regular regimes can build enduring loyalty based on mutual respect and value."
Friends, Fitness and Sleep — In That Order
The top three ways people plan to use apps to improve their health are: connecting with friends and family more (27%), working out (26%), and improving sleep (17%).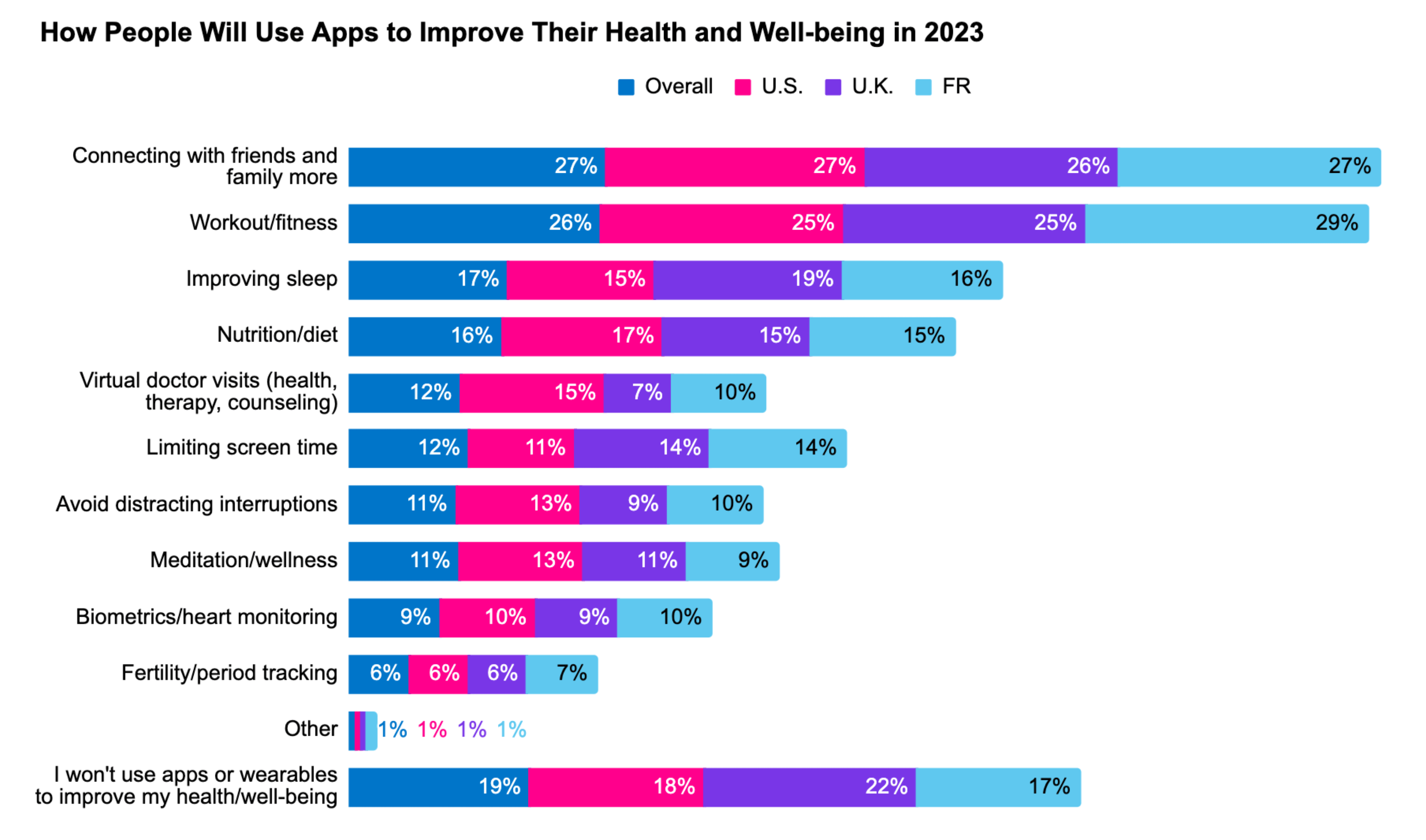 Apps Have an Age and Income Gap, But Not In The Way You Might Think
Boomers and low-income households make up the biggest segments of people who say they won't use apps to improve their health and well-being in 2023, at 35% and 23% respectively.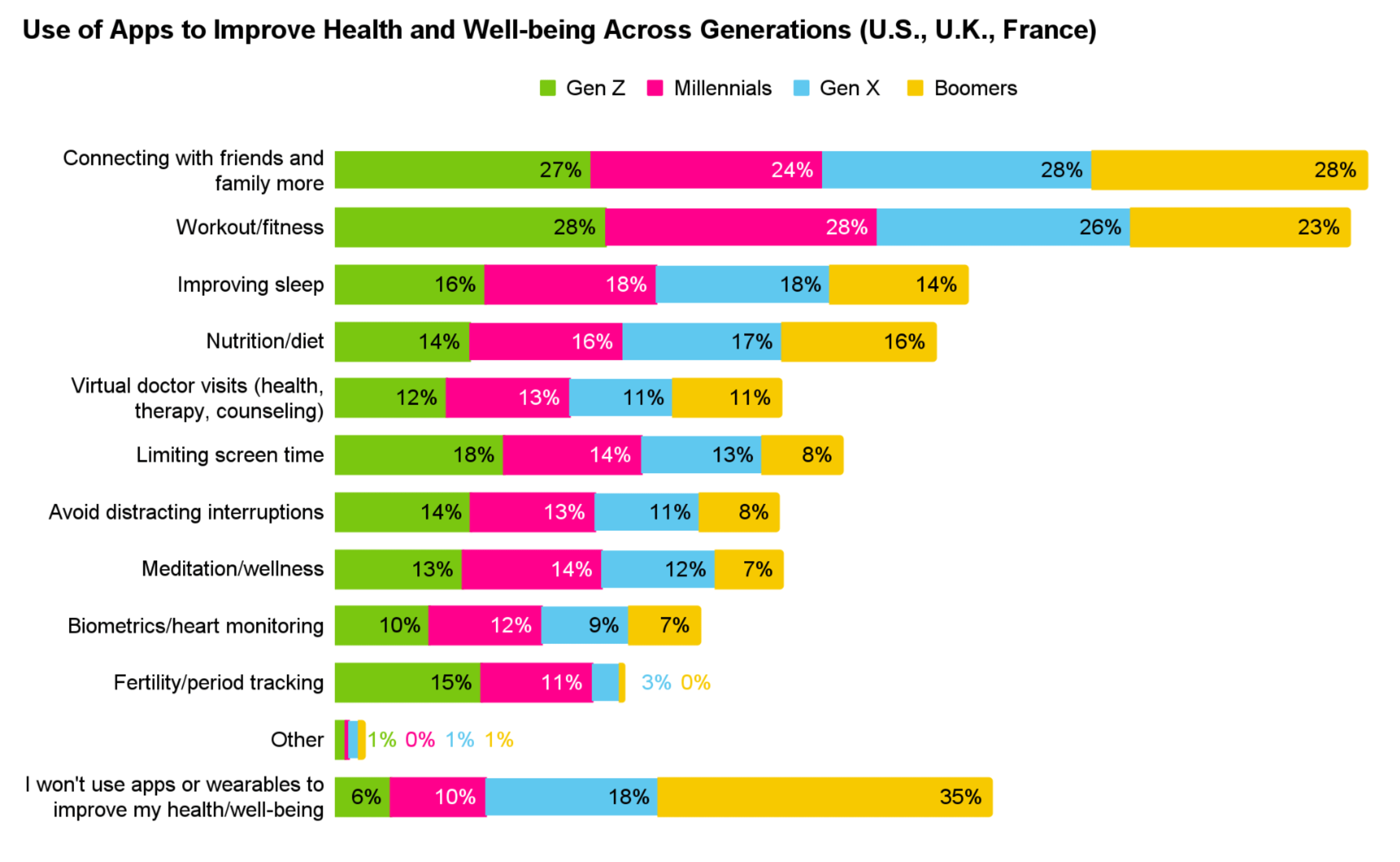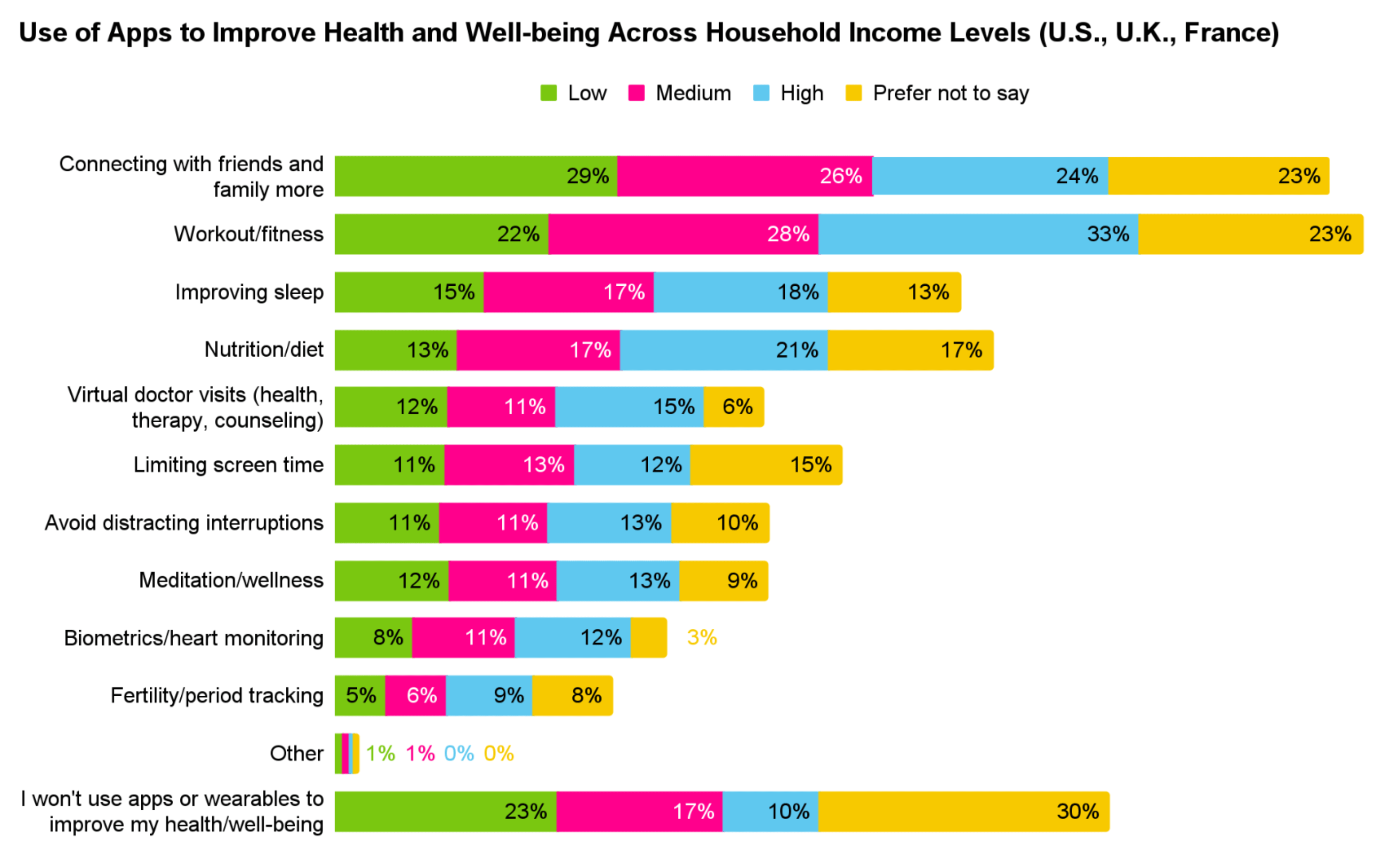 However, across the 11 health/wellness app-enabled activities, adoption rates for these two groups are remarkably similar to other age and income segments. This suggests apps and wearables have democratized access to a broad range of beneficial services. At the same time, there are significant numbers of boomers and low-income households that remain hold-outs.
Apps for Health Becoming the Norm?
Apps are being adopted across all aspects of health & well-being, from doctor visits to yoga routines, led by the youngest generations in most cases.
Americans are more apt to turn to apps for virtual doctor visits this year (15%), versus the U.K. (7%), and France (10%). With a strained healthcare system and the threat of a triple pandemic in the U.S., virtual care helps alleviate some of the pressure.
More Americans use apps for nutrition/diet purposes than improving sleep, whereas the opposite is true for the U.K. and France.
Ten percent of Americans plan to use apps and wearable devices for biometrics and heart monitoring. Boomers were least likely to use them at 7%, while millennials reported nearly double the rate (13%). February is American Heart Month, and these findings show opportunity for more education and adoption, especially among older adults that statistically face a higher risk of heart disease.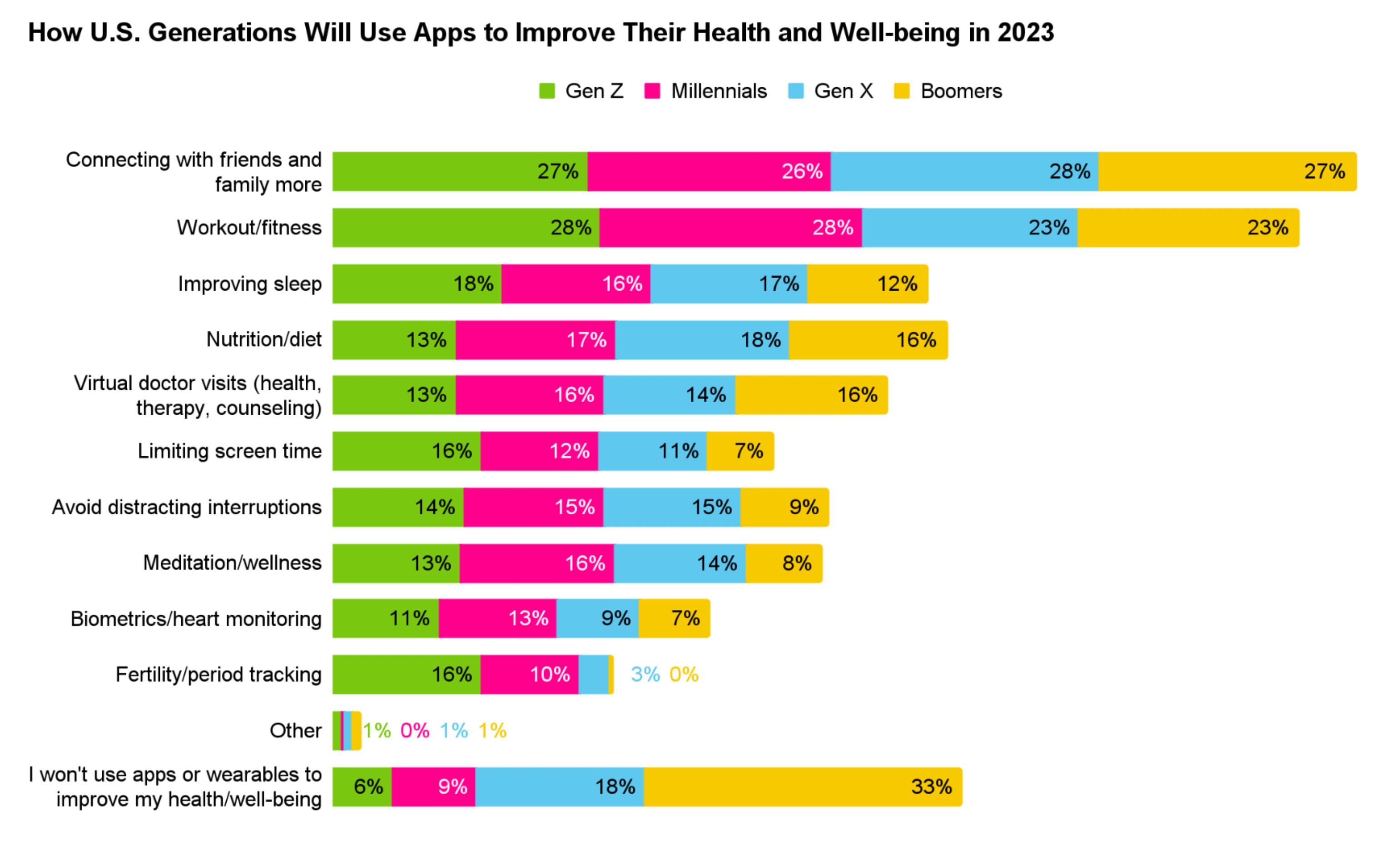 How Health/Wellness Apps Can Better Retain Customers
Brands' biggest growth opportunities are to retain more of the app customers they attract and, of course, to convert new ones. How can they do that?
More education on the value, cost-savings and convenience of mobile app experiences, particularly in environments where older and low-income customers are accessing health and wellness services, can go a long way to reducing the number of detractors and creating greater mutual value for both brands and customers.
Methodology
The survey was conducted by Sapio Research in January 2023 among 4,000 consumers, age 18 and older in the U.S., U.K., and France.
Subscribe for updates
If the form doesn't render correctly, kindly disable the ad blocker on your browser and refresh the page.
Categories