I/O 2015 Signals Google's Broader Intentions Beyond Android
Last year, Google focused on taking Android to many form factors from the small screen on your wrist to the big one in your living room, as well as laptops and cars. This year Google's focus was much more about taking Google cross-platform: from Android and the web, to iOS and IoT.

First a few numbers:
600M people have adopted smartphones since last year's I/O
8 of every 10 phones shipped were based on Android, totaling more than 4,000 distinct devices
Google Play now has 1B active users with 50B app installs in past 12 months.
Android Wear started with 2 models, now it's up to 7
700k U.S. stores accepting Android Pay

Google unveiled the developer preview of Android M, which in many ways went back to the basics, polishing end-to-end quality to improve the core user experience.
Among Android M's coolest new features is Now on Tap which extends Google Now's capabilities to use on-screen information as context to provide you answers quicker. For example, if you are looking at a text about a restaurant or movie, holding the home button will automatically bring up additional details. If you're listening to a song, say by Skrillex, holding the home button and asking, "Ok Google, what's his real name?" will automatically understand that "his" refers to Skrillex. Pretty magical, with some serious natural language processing, image recognition and context engines at work.
Android M's official release will be sometime in Q3. Some other key enhancements we liked:
Android Pay gets unbundled from NFC payment capabilities in Google Wallet and baked into standard Google services by default.
App permissions (like access to camera, GPS, microphone) are now made in context, the first time users attempt to leverage related functionality, rather than a bulk request at app install.
Chrome Custom Tabs offers developers a skinnable version of Chrome to embed in apps offering a better web views experience.
Doze, a new power management feature that uses significant motion detection to enable a deeper sleep for 2X battery life.
Direct Share makes the people and apps that you share with most frequently, automatically available within its native sharing experience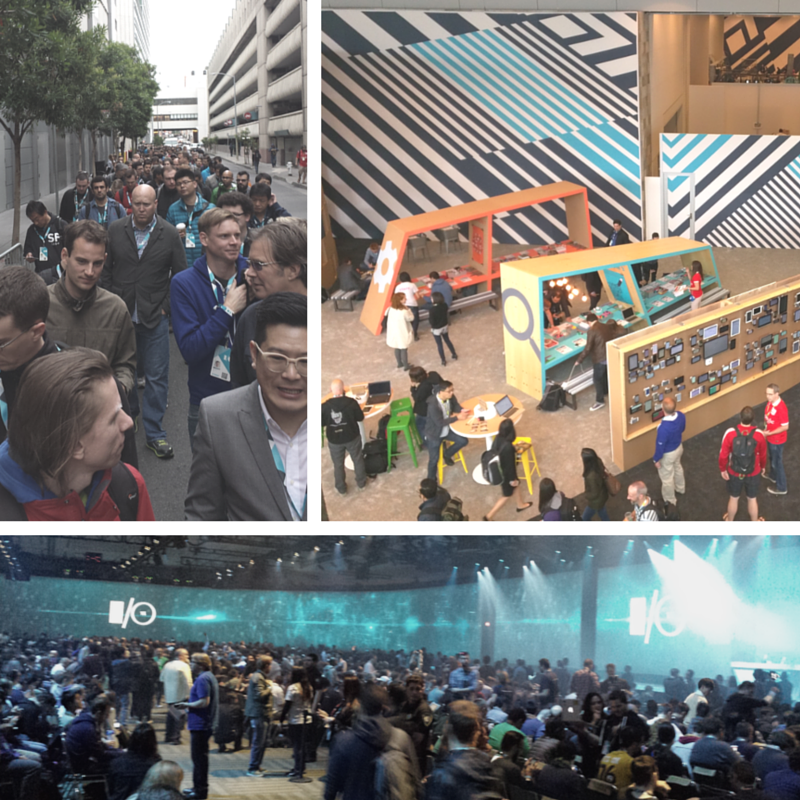 However, what was really exciting were the moves Google is making to unlock value and maximize impact across the broader market.
App indexing, which it is now piloting for iOS, enables app content to be indexed in search results with 50B app links and counting.
The new Google Photos app, available for Android, Chrome and iOS, brings automated intelligence to the organization of photos and videos based on people, places and things with unlimited free storage for high-resolution files.
Google Cloud Messaging 3.0 will enable developers to use a single messaging gateway to send notifications to Android, Chrome and iOS, while offering consumers the ability to subscribe to Topics to receive more relevant information across all their devices.
Topics are interesting as they enable simple segmentation capabilities. Topics are reminiscent of AWS SNS Topics. So, for example, a media app could enable users to subscribe to "San Francisco" or "Art." Notifications specific to Art in San Francisco would require a separate Topic subscription. While developers can't combine Topics and are limited to 1 million Topic subscriptions, this is a basic first step toward more relevant notifications and will certainly whet the appetite for even greater relevancy through more sophisticated capabilities Urban Airship offers. It will be very interesting to see how Apple and the market responds.

Google also demonstrated broad ambitions for the future of connected devices, introducing Brillo, an operating system for IoT based on Android, as well as a communications layer called Weave that provides standards enabling devices to understand each other. Availability is expected in late 2015.

We're also just weeks away from the next iteration of Android Wear and its emphasis on glanceable, actionable, effortless experiences. A couple of new capabilities include scrolling through notifications with a flick of the wrist as well as enabling always-on apps, such as a shopping list that stays visible throughout a store visit.

With WWDC barely more than a week away, it's going to be a very busy summer for those of us charged with enabling the next generation of mobile experiences that better connect us all.
Subscribe for updates
Categories