Get Shopping Deals on Your Desired Items Pushed to Your Mobile With Shopary App for iPhone
Some of us like to shop. Many of us like to compare prices and shop for deals. And everyone loves a great deal. We're happy to tell you about a deal-finding app for the iPhone we are working with.
Shopary is a shopping diary app that lets you catalog your purchases and share your deals with other users. This is a great app for finding items at great prices, especially if you are willing to wait.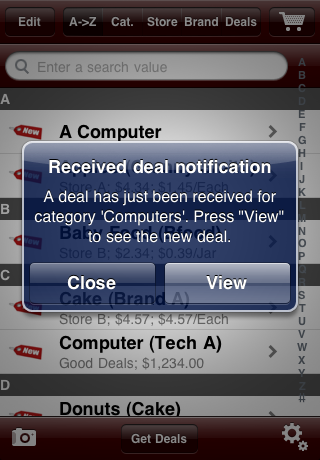 Using your mobile device, scan barcodes of items you want, compare prices and then receive push notifications when deals can be had on those items. You can get notified instantly of new deals in your area (such as zip code) or by category (such as computers / hardware / storage), so you find out about deals both online and in your local shopping zone.
When your push notification shows up, you'll be able to open Shopary and automatically download all the details of the new deal. But that's not all: when you publish your deal to the Shopary community, Urban Airship's Push will deliver deals to all the users subscribed to the type of deal (location-based or category-based).
Cool, right?
"Working with Urban Airship was a no-brainer decision for our company. It was the only company offering the functionality we needed for Shopary when we started developing our app. With their responsive support, such as their IRC channel, I would not consider another push project without Urban Airship." – David Sica, Co-Founder of Zanisoft LLC.
Subscribe for updates
Categories