Customer Expectations for Brands on Digital: Get Faster, Better & Smarter
In our recent webinar, guest speaker Julie Ask, Vice President and Principal Analyst, Forrester, discussed the changing consumer expectations that are driving the need for brands to create faster, better and smarter digital experiences. Access the on-demand webinar here – you can also access a copy of The Forrester Wave TM: Mobile Engagement Automation, Q3 2017 to learn about Forrester's take on the key capabilities brands should look for in their mobile automation vendor.
---
Today, it feels like there might be nothing our connected devices — from phones to tablets to smart home assistants and IoT cars, refrigerators, etc. — can't help us do. And we expect the brands that power our favorite digital experiences (skip the line, get a ride, see the cable guy's ETA) to deliver what we want and need — faster, better and smarter.
But, according to Julie Ask, Vice President and Principal Analyst, Forrester Research, the featured guest on our recent webinar on mobile engagement automation (now available on demand) many enterprise companies today are still, to quote another Forrester analyst, Dr. James McQuivey, trying to "do old things in new ways."
Consider these stats Julie shared during the webinar:
There are 30 billion "mobile moments" (the moment a customer consults their phone and expects to immediately get what they need) each day in the U.S. alone — that's 30 billion chances a day for brands to serve impatient, mobile mind-shifted consumers
And yet 32% of brands surveyed by Forrester still have a "shrink and squeeze" approach to mobile
Only 17% of surveyed brands use mobile to understand their customer's journey (and the mobile moments within it) and proactively engage customers during the journey
And only one-third of brands surveyed by Forrester are using context (user preferences, user behavior, user location, etc. ) to make mobile services more relevant

The Mobile Mind Shift Maturity Framework from Forrester: get additional context in our on-demand webinar Future Proof Your Marketing Stack with the Right Mobile Engagement Partner featuring Julie Ask, Vice President and Principal Analyst, Forrester
Companies That Can't Make the Shift to Creating a Mobile-First Customer Experience are Increasingly at Risk
For brands looking to deepen relationships with customers, it's increasingly critical to deliver a digital experience — on mobile or through other connected devices — continuously, and in the micro-moments customers need it.
"Mobile has forever changed customer expectations," says Ask. "This is something that Forrester calls the mobile mind shift: the expectation that I get what I want in my immediate context and moments of need."
And yet the reality is that many brands — especially enterprise brands that weren't born mobile or aren't as far along the mobile maturity curve — are still behind consumer demand for the new always-on, mobile first paradigm.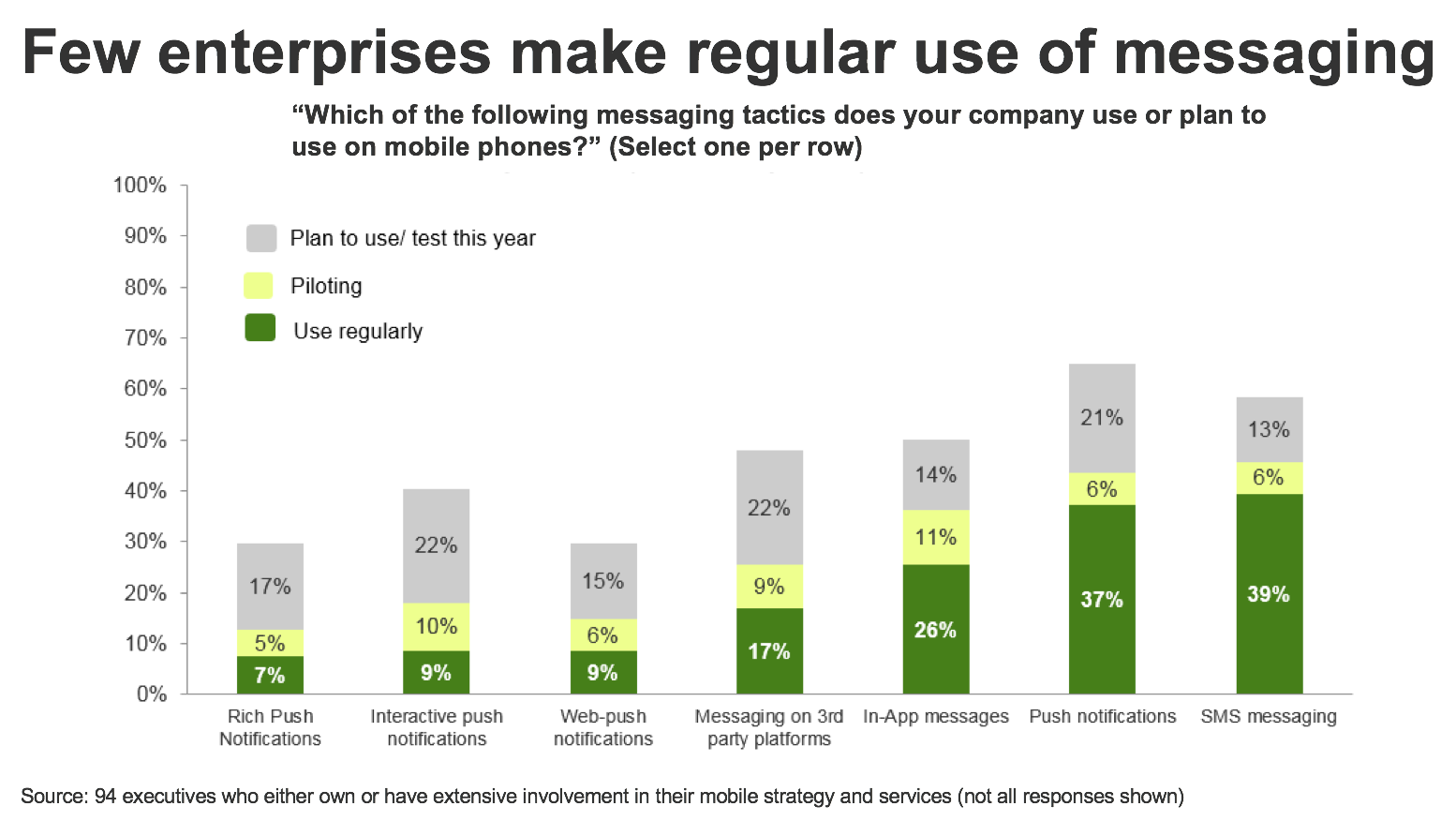 Data from Forrester Research Global Mobile Executive Survey, 2016. Additional context in our on-demand webinar Future Proof Your Marketing Stack with the Right Mobile Engagement Partner.
Julie shared these stats during the webinar:
62% of millennials say they download free apps weekly, demonstrating that they want to connect with brands on mobile
38% of Millennials receive weekly coupons or promotions from brands on their mobile phone
More than 51% of consumers read and take action on notifications they receive.
49% of consumers opt in to push notifications to stay up to date with brands through apps
41% of consumers want to get notifications on mobile when new deals are available
And yet, only 37% of brands are regularly using push notifications — a basic building block of mobile marketing — to connect with customers
What Consumers Today Expect From Their Digital Experiences With Brands
Creating a proactive experience through well-orchestrated, contextual, in-the-moment notifications is part of making a customer's experience with your brand a pleasure or a pain. Here are 10 consumer expectations brands must meet if they expect to continue to grow and thrive.
1) A Mobile-First Mindset
"Marketers have yet really to adapt to what we call some of the new use cases of mobile," says Ask. "A lot of times, when companies first adopt new technology, they tend to do what we call "old things in new ways" and it's not until they really embrace or internalize is to use technology that they start thinking about some of the new things they can do."
2) Context
Only one third of brands Forrester surveyed were using context to make services more relevant to consumers. That's a problem, says Ask. "Have I just walked into a mall? Have I just lost my wallet? Am I about to board a plane? Brands need a lot of context to not only understand what customers are doing, but anticipate it."
3) Immediacy
Customers want to be the "first to know." Whether it's keeping up to day with family, friends, news, or weather, people want timely information fast.
4) Simplicity
Brands need to focus on task-oriented design and messaging strategy that make taking action simple and easy. Your customers don't care how hard anything is from a technical standpoint, they have "an unprecedented expectation of simplicity," says Ask.
5) Speed
If you've got 30 seconds of downtime, what are you most likely doing? You're on your phone — and you probably expect to be able to complete whatever it is you were trying to do in that micro-moment — whether it's book a hotel or making a hair appointment. "Micro moments have really become the next battleground. To win, serve, and retain your customers is in these moments or in these moments of truth that happen throughout the course of the day."
6) Convenience
"Mobile has fundamentally changed consumer expectations not only of mobile services, but really of all digital services. This is something that adds up to what we call convenience," says Ask. Forrester's position is that consumers won't adopt new services unless they're more convenient than what they were doing before. It's a big change.
7) Proactive
Says Julie, "I believe consumers will spend more and more time on the home screens of their phone, and less time digging into apps, because they'll have an expectation that they'll be served more proactively when they have a need. And that's going to happen through notifications."
8) Smart Messaging
Consumers increasingly expect that you proactively engage them with messaging, and send actionable messages that save them time and taps. When messaging is actionable, customers take it. Fifty-seven percent of customers take an action after they receive notifications.
9) Channel Intelligence
Your customers want the right kind of help at the right time, appropriate for the device they're on, where they are, and what they need to do. Driving? I need audio help. Checking my watch? I need a glanceable notification.
10) Me-Centric
The old approach to marketing is to roll out campaigns based on what's imperative to the business: managing occupancy rates, getting rid of old inventory, etc., said Ask. The new approach needs to be way more relevant for customers, and based on their preferences, behaviors and context.
No matter where your brand is in the mobile maturity curve, we've helped brands of all sizes all over the world create digital experiences customers love. Get in touch and let's talk about how our digital growth platform can help you get closer to your customers.
Access the webinar "Future Proof Your Marketing Stack With the Right Mobile Engagement Partner" featuring, Julie Ask, Vice President and Principal Analyst, Forrester today.
Subscribe for updates
If the form doesn't render correctly, kindly disable the ad blocker on your browser and refresh the page.
Related Posts
Categories