Crowdfunding Gets Serious with JOBS Act: Mobile Will be the Great Connector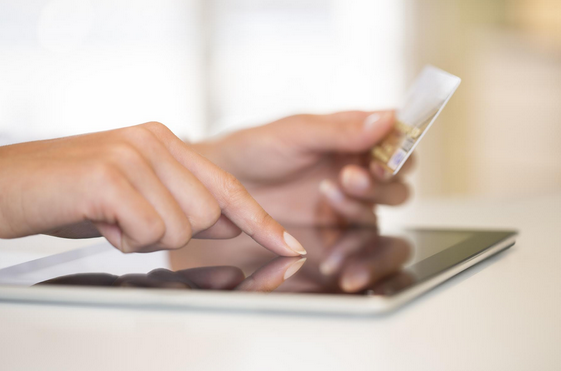 If you haven't heard by now, the SEC's recent loosening of equity investment rules now allows non-accredited investors to invest in projects and startups they see having the potential to thrive. The Jumpstart Our Business Startups (JOBS) Act expands the number of potential equity investors from 10 million to over 130 million and just as in crowdfunding's first incarnation, mobile will play a central role in connecting potential investors to opportunities and driving sustained engagement.
Outside of financial services, Airbnb uses push notifications to connect hosts and renters with bookings completing 8X faster than when coordination is done over email. Now imagine applying this increased engagement and immediacy to a massive pool of new potential investors.
Getting Into the Game
There are two crowdfunding models. The first is what's called donation-based funding, which gave birth to crowdfunding. Funders donate to projects based on a collaborative goal in return receive products, perks or rewards.
The second and mostly untapped model is investment crowdfunding, where businesses seeking capital sell ownership stakes online in the form of equity or debt. In this model, individuals who invest become owners or shareholders and have the potential for financial return, unlike the donation model.
The JOBS Act was passed forever ago in 2012, but it was just recently in June that Title IV came into effect, opening up Regulation A+ equity crowd investments from non-accredited investors—folks that don't have +$1M in net worth beyond their homes. For businesses raising money, that's another 130 million adults in the U.S. alone!
Fundraisers still need to go through the regular filing gauntlet to get investment rounds started, which can be designated as Tier 1, for up to $20M in a 12-month period, or Tier 2 for up to $50M. Check out details from the SEC.
The number of new investors at-the-ready is staggering.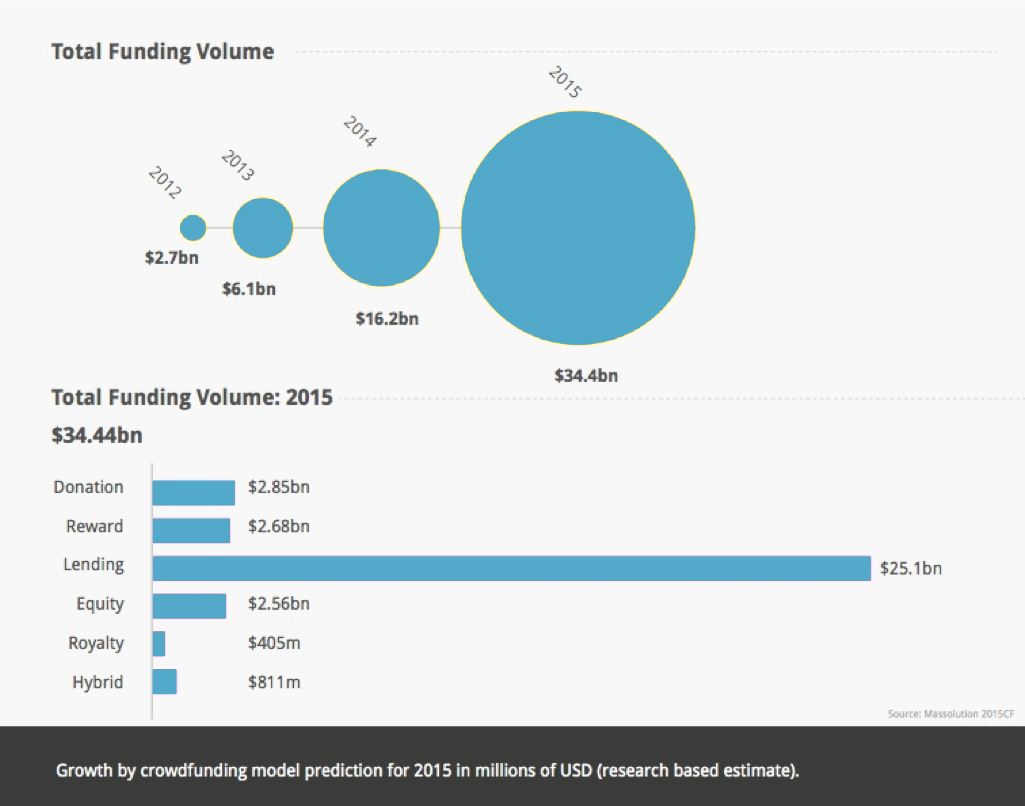 The World Bank estimates that crowdfunding will reach $90 billion by 2020. If the trend of doubling year over year continues, we'll see $90 billion by 2017. To put that in perspective, venture capital averages roughly $30 billion per year and in 2014 accounted for roughly $45 billion in investment, whereas angel investors average roughly $20 billion per year. Projections show investment crowdfunding on a trajectory to surpass both VC and angel funding. In addition, the motivations of non-accredited investors go beyond financial returns. One study finds high percentages of reasons to invest go beyond money.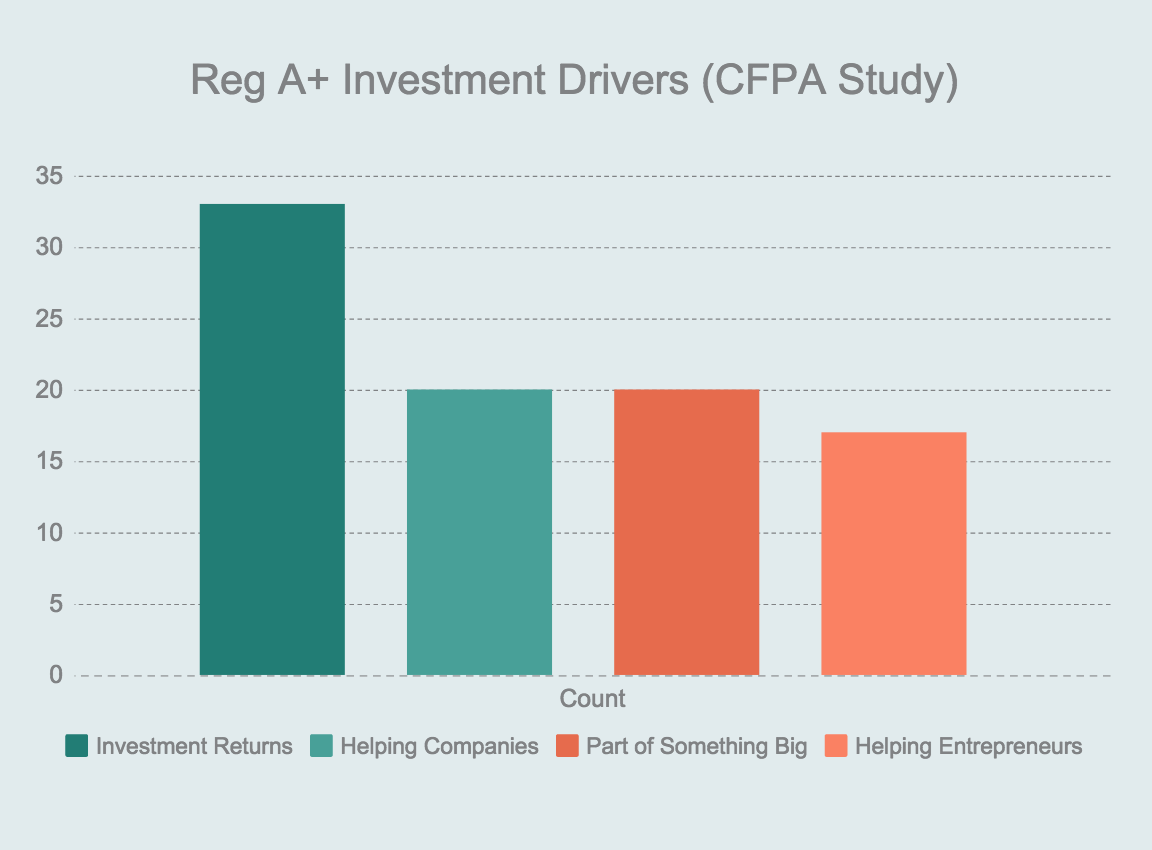 SOURCE: CCA
So how can a smart marketer or app developer such as yourself get a lead in the game?
Mobile will connect the investor masses to opportunities
Like we saw with donation-based crowdfunding, mobile will prove to be the great connector. New marketplaces and clearinghouses will spring up, enabling investors to learn about and choose equity investments, in addition to staying up to date on their progress. All types of financial organizations are realizing the benefits of mobile engagement, offering unparalleled immediacy and relevancy to their audiences.
Investors will be able to opt in for personalized investment updates, with additional content and new investment opportunities targeted to both their explicit and implicit preferences, including projects they've browsed, businesses they've invested, markets of interest and their location. Businesses can also create their own apps or leverage existing ones to promote investment rounds. Existing apps, such as those designed to sell their goods or streamline business operations, can take advantage of in-app messaging solutions to alert their audiences to investment opportunities. Apps specifically created for investors can leverage push notifications to engage people on their device home screens and solicit simple button taps that can fuel additional automated messaging tailored to their interests. There is a whole new world of mobile engagement possibilities, and as these changes in investment regulations clear the way for an absolutely huge potential investor audience, you'll want some inspiration for how to better connect and serve them. Check out the following mobile engagement resources and give us a call if you'd strategic consulting or technical implementation help in conquering this new opportunity.
Interactive Notifications: basic push notifications are proven to multiply app engagement by 4X and user retention by 2X, while offering the most immediate form of communication in the mobile age. Interactive notifications extend even more functionality to the home screen, enabling users to tap buttons that can drive multiple actions and provide insightful fuel for ongoing messaging. Click-to-call a licensed broker or to follow a specific investment opportunity are just a couple of examples of how this new capability can offer nearly effortless experiences to app users. Master this approach with our how-to webinar.
In-App Campaigns: new capabilities enable business users to reach most all app users, whether or not they are opted in to push notifications. These messages can include interactive buttons that can direct people to rich landing pages with more detail, and all of this can be done without developer assistance. Get the In-App campaign inspiration guide or watch the webinar here.
Smartwatches: keep people in the know on important information like financial returns or rounds that are about to close. It doesn't get easier for the recipient than seconds-long actionable glances to the wrist. Gain some inspiration for a new world of wearables.
The preparation of the information contained in this blog posting involves assumptions and analysis, and there can be no assurance that the information provided is error-free. The contents of this blog posting are not intended, and should not be considered, as legal advice or opinion.
Subscribe for updates
Categories