Chatbots, Mobile App Engagement, Mobile Wallets and More: An Apps World London Recap
I've been attending Apps World shows all around the world for the past five years, so I guess you could call me a bit of a fangirl. At the latest event in London, it was interesting to see how much the show has changed over the years and the way this mirrors the constantly evolving app industry.
At my first Apps World event in 2011, it was all about the basics as businesses tried to figure out how to make apps work for them. Now, Apps World has grown up, and even created its own subevents like Bot World, which brought together some of the big players including Facebook, Microsoft and Uber to discuss the opportunities and trends in chatbots.
I'd say we've come a long way — from "what is an app and how do you build it" to an entire track about artificial intelligence apps that answer complex questions in real-time!
Here's a recap of the key themes at Apps World, in case you missed this one.
All About Mobile App Engagement
With as many as 70% of users deleting an app within the first month of download, it's understandable why brands and mobile experts are so focused on getting more meaningful app engagement.
Session topics ranged from getting started in mobile app engagement through push notifications to more advanced methods for optimization through mobile analytics and segmentation.
Our own fireside chat, "Samsung's Mobile Engagement Strategy" hosted by Emily Buckman with Samsung's James Keady was themed around engagement.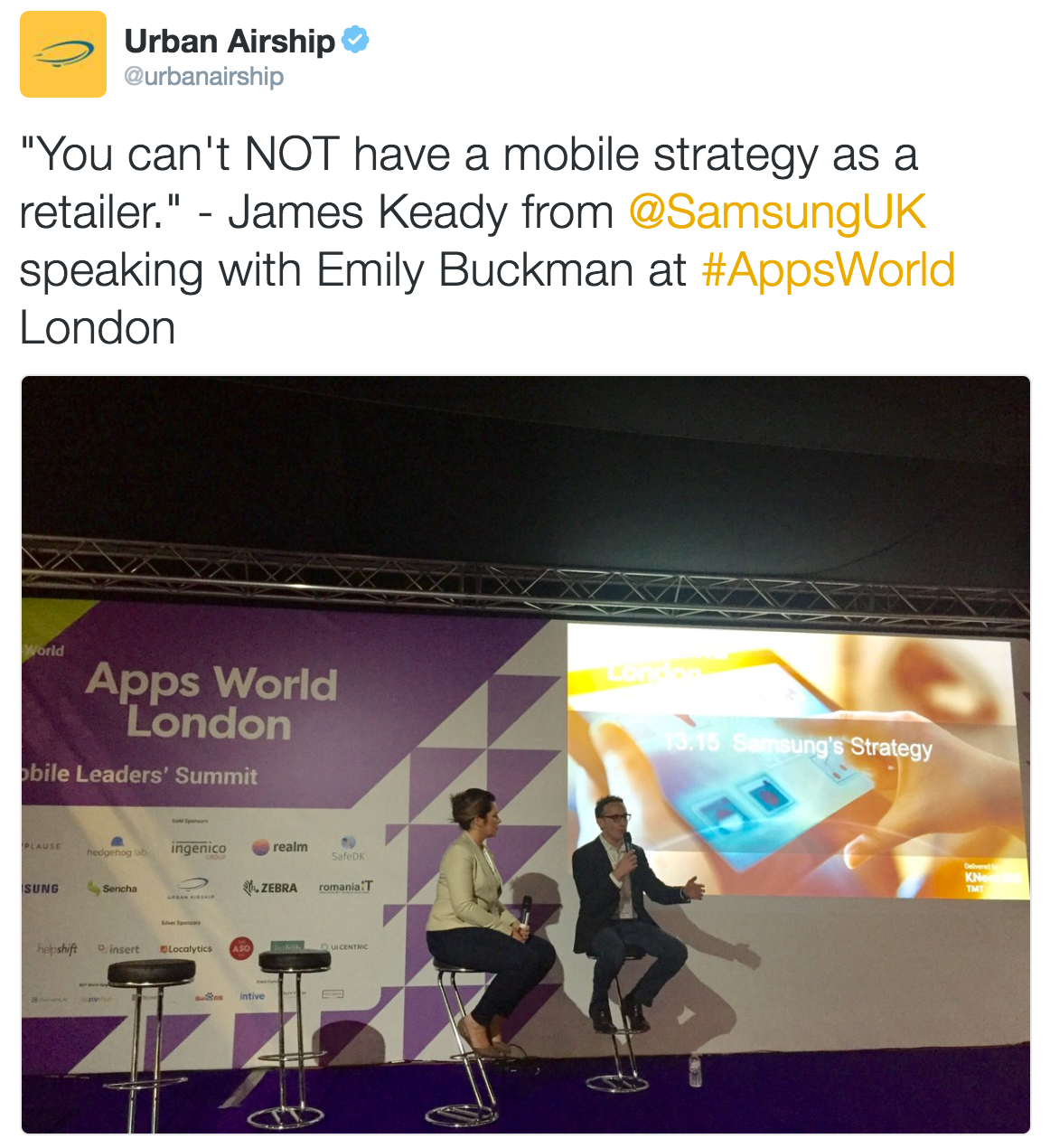 James noted that Samsung's MyGalaxy app is one of the only direct consumer touch points they have, so getting it right is crucial.
Additionally, Samsung makes use of the data they collect from users on mobile to inform their decisions across multiple marketing channels with the goal of improving customer interaction.
Tune In To Your Users
How do you ensure you're reaching users in the highly relevant and personalised ways they want? Ask them! From developing an intuitive UI to creating a feedback mechanism for users to report problems, a positive customer experience works in tandem with better engagement and ultimately app success.
Brands such as Ikea, RBS, and Dominos all discussed their different methods for ensuring that the customer voice is being heard. A combination of direct customer feedback and close monitoring of mobile insight analytics seem to be the favoured strategies.
Mobile Wallets On the Rise
Our data shows that 45% of people in the UK have now used a mobile wallet pass. And more and more and innovative use cases for mobile wallet are popping up as marketing, strategy, and product heads in various industries look to expand their mobile portfolio and reach users beyond the app. (See our Mobile Wallet Inspiration Guide and imagine the possibilities for your brand.)
Additionally, the unique opportunity to dynamically update and use the pass as an ongoing engagement channel with extremely low churn was discussed as a huge plus for mobile wallet marketing campaigns.
Chatbots, the Calm After the Storm
It seems we're in the calm after the storm with chatbots: brands and industry experts have moved past the initial excitement, and begin to hone in on the keys to success with chatbots: relevance and utility for users.
Striking the right tone for ai conversations seems to be more of an important factor than first thought, with the need for the right balance between human and robot — creating a natural experience for the user without trying to act like their best friend.
Whilst chatbots have no doubt had the limelight in recent press it's clear they are a fantastic complement to apps rather than a replacement. With 70% of total smartphone time spent in messenger apps, the opportunity is unparalleled in offering the user a simple way to reach out making chatbots the perfect tools for immediate service and support.
Virtual and Augmented Reality, the New Frontier?
Also co-located with Apps World this year, VR & AR World showcased the innovation happening in virtual and augmented reality.
Similar to Apps World's early days, VR & AR World was focused on basic themes like exploring use cases for industries such as retail, automotive, education and real estate.
Businesses are still trying to decide whether and how they will work VR and AR into their plans, but speakers from Jaguar, Ikea, BBC and the British Museum proved that these technologies are serious methods for customer communication and not just a fad.
Want to accelerate your mobile marketing strategy? Schedule a consultation with our Strategic Services Team today, and we'll share the latest ideas and use cases we're building for brands – and help you see new possibilities. Get in touch anytime!
Subscribe for updates
If the form doesn't render correctly, kindly disable the ad blocker on your browser and refresh the page.
Related Posts
Categories