Urban Airship's Mobile App Retention Study for Key Industry Verticals Finds a Major Reason New Users Churn is Not Receiving Push Notifications
Across Android and iOS, opt-in users who receive no messages have lower retention rates than opt-out audiences and make up a large portion of every vertical's app audience
Study offers app publishers insights on optimal messaging frequencies to improve new app user retention, while Urban Airship's new Predictive Churn Analytics fuels preemptive action
Las Vegas — March 20, 2017 — Today at Shoptalk, mobile growth company Urban Airship detailed industry findings from its mobile app retention study, spanning new users' first 90-days of app usage within Retail, Media, Sports & Recreation and Utility/Productivity. By analyzing the frequency of messaging users received and their corresponding retention rates, Urban Airship provides a deeper understanding that dispels common push notification myths and misconceptions and offers practical guidance to app publishers seeking to improve new user retention.
How Push Notifications Impact Mobile App Retention Rates, is available for download.
Opt-in audiences don't have greater affinity for apps — they have greater expectations.
A long-held belief, especially for iOS apps where opting in to notifications requires explicit permission, is that opt-in users are simply more inclined to be retained longer. Data based on averages certainly backs this up. Retail apps see opt-in users retained 40 percent longer than opt-out audiences on iOS and 90 percent longer on Android — some of the biggest gains for any vertical.
However, users who have made the effort to opt in and receive no messages have lower 90-day retention rates than opt-out audiences across both platforms and all verticals — the one exception is iOS Utility & Productivity where opt-outs retain one percentage point lower. For most verticals this difference is significant, like in Retail where opt-out users' 90-day retention rates are 50 percent higher on Android and 36 percent higher on iOS than opt-in users who receive no messages. Further, these zero-send users represent a large share of every vertical's opt-in audience.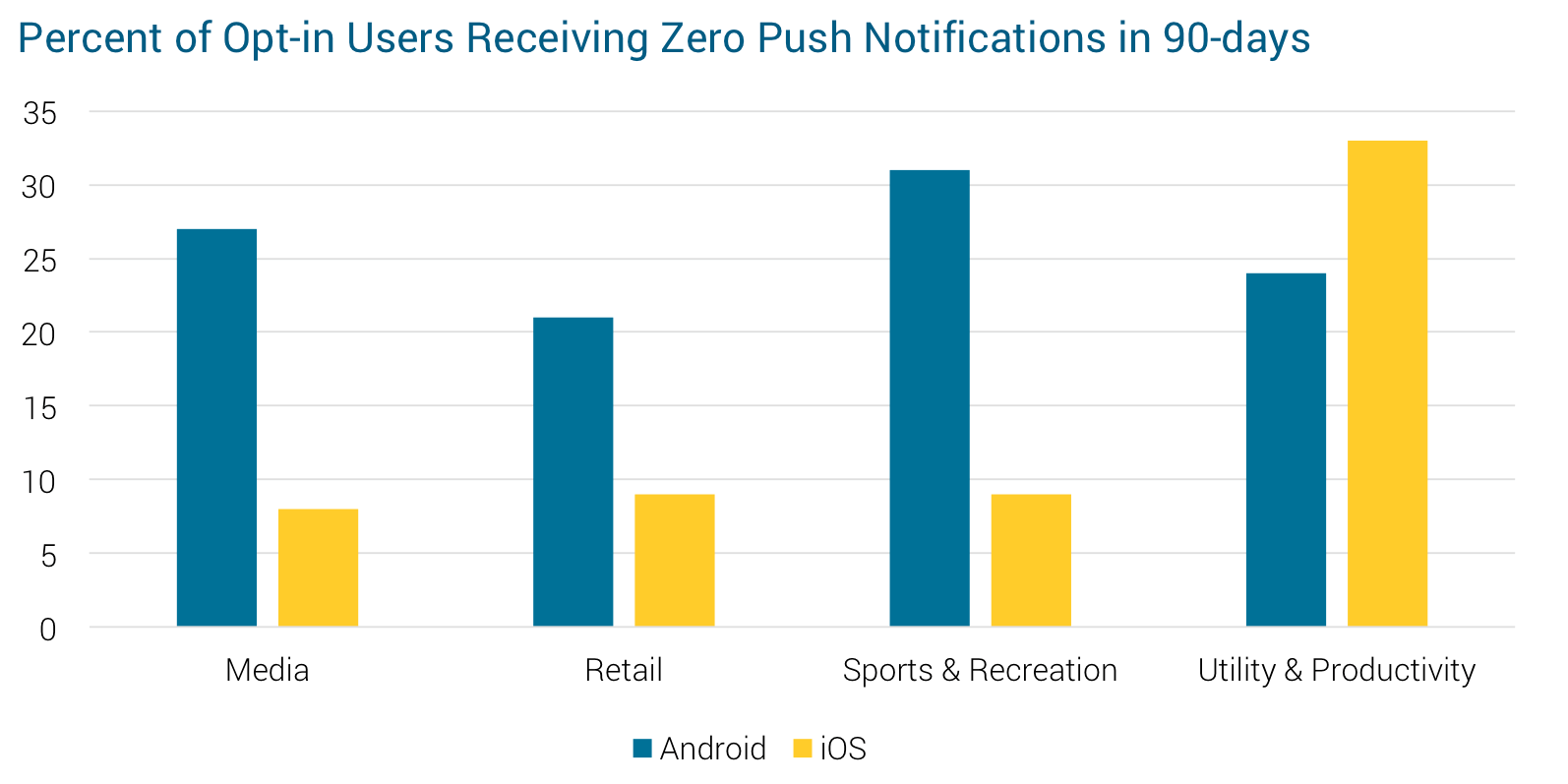 More than one-quarter of the 47 million new app users who were opted in to receive push notifications, received none in their first 90-days of app usage and had lower retention rates than opt-out users.
Retail took the top spot for the lowest share of zero-send users at 18 percent of all opt-in users, followed by Media at 22 percent, Sports & Recreation at 24 percent and Utility & Productivity at 25 percent. For Android apps, zero-send users are the single biggest cohort in every vertical analyzed.
Taking into consideration average retention rates of opt-out and zero-send audiences, app users who receive any amount of notifications in their first 90-days have an average retention rate that's nearly 3X higher (190 percent). Within the four verticals, this retention gain is highest for retail at 212 percent more on Android and 110 percent more on iOS.
Concerns about sending too many notifications are unfounded.
The general trend shows a very strong correlation between greater notification frequency and greater mobile app retention rates. Across all verticals and mobile platforms, users who received messaging at daily+ frequency also had the highest 90-day retention levels. While it's true the longer and more frequently someone uses an app the more notifications they are likely to receive, the data accounts for users that may have opted out of notifications or deleted apps at different frequency levels, and more importantly, the last time they opened the app. The trend of greater retention with greater messaging frequency is unmistakable.
For retail, moving from zero notifications sent to weekly notifications is a 5X multiplier on 90-day retention rates for Android, and 2.5X greater on iOS retail. Retailers moving from zero notifications to a greater than daily frequency improve 90-day retention rates 3.5X on iOS and 6X on Android.

The frequency of push notifications received by a new retail app user strongly correlates to higher 90-day mobile app retention rates.
For retail apps, both Android and iOS show two strong groupings for 90-day retention levels that point to the need to move to weekly, daily and daily+ messaging. In contrast, media apps don't see significant retention gains until moving to daily or greater frequency. Media app users who received one notification in 90-days had higher retention rates than weekly and 2X/month frequency cohorts, suggesting that while a welcome message is appreciated, media users expect as-it-happens information and sporadic or even weekly messaging doesn't meet this need.
The balance of app publishers' attention must shift from user acquisition to retention.
The zero-send issue, where apps ignore new users raising their hands for communication and as a result see the lowest retention rates nearly without exception, is a clear sign that apps are more focused on user acquisition than user engagement and retention. As it stands now, overall results show marketers lose 95 percent of new users within 90 days when they fail to message those who have opted in. Considering the high cost of mobile app user acquisition, as well as the loss of future potential customer value, this "APPathy" becomes expensive and unsustainable very quickly.
Even at a daily+ messaging frequency, retail apps see 50 percent of new iOS users churn 90-days after first app open, while for Android it's 62 percent of new users. Marketers now have a solution to help identify users that are at risk of churning with Urban Airship's Predictive Churn Analytics. Based on a proprietary machine-learning model, Predictive Churn Analytics analyzes user patterns for each app and classifies users into three risk profiles—Low, Medium and High—making it easy to take action in Urban Airship or any other business system.
"Our data study findings clearly show that many apps are missing out on the single biggest opportunity to improve user retention by not messaging users that have opted in, which is incredibly easy to address," said Erin Hintz, CMO, Urban Airship. "Once the basics are tackled, apps can zero in on customer-centric engagement strategies that produce optimal messaging frequencies for their industry to multiply retention rates. In addition, new machine-learning predictive capabilities can identify users at risk of churning while there's still time to drive preemptive action."
"Most consumers today start their shopping journey on a mobile device while most purchases still happen in-store," said Marissa Tarleton, chief marketing officer, RetailMeNot, Inc. "Mobile push is an opportunity to reach the right shoppers, at the right time, in the right place, with the right content. Growth opportunities via mobile push are centered on the importance of affinity targeting, contextual relevance and personalization efforts. By focusing on these three things, we have more engaged users, which are the most valuable to our business."
Visit Urban Airship's Shoptalk booth #1225 for demonstrations of new solutions including an Urban Airship Reach integration with Apple Pay for automatic rewards enrollment at checkout and ongoing customer engagement.
Complete mobile app retention study results
For an in-depth analysis of results and differences across industry verticals, download the data study, How Push Notifications Impact Mobile App Retention Rates.
Methodology
Urban Airship analyzed customer data in aggregate to identify apps with at least 5,000 downloads that had sent at least 1,000 cumulative push notifications in one month. Analysis focused on 63 million app users that first opened an app in September 2016, tracking their notification opt-in status, app open behavior and volume of notifications received through December 2016.
About Urban Airship
Urban Airship is trusted by thousands of businesses looking to grow with mobile. Every day, marketers and developers depend on Urban Airship to deliver billions of mobile moments that inspire interest and drive action. Urban Airship's mobile growth platform is used by many of the world's most admired retailers including Adidas, GameStop, REI, Shop Direct, The Home Depot and Walgreens.
For more information, visit www.urbanairship.com, read our blog and follow us on Twitter or LinkedIn.
Media Contact
Media Kit
Follow Us