Urban Airship's Landmark 2013 Good Push Index Offers an Expansive View of Push Notification Impact Across Vertical Industries
Third Good Push Index study offers first-available vertical opt-in rates, as well as engagement and retention data comparing industries
PORTLAND, Ore., – December 5, 2013 – On the heels of delivering its 100 billionth push notification, Urban Airship shared results of its most expansive Good Push Index (GPI) study evaluating the engagement and retention lift that push notifications deliver to mobile apps. Six-month analysis from more than 2400 apps and 500 million push messages found that users opted in to push notifications are retained at nearly double the rate of users opted out and are much more engaged with 26 percent more average monthly app opens per user. Results were even greater for many of the six industry verticals categorized from the sample—Retail, Media, Games, Entertainment, Sports and Gambling—with significant engagement and retention differences highlighting unique characteristics of push messaging across different industries. Complete results of Urban Airship's latest GPI study, as well as an infographic, are available for download.
Users receiving push notifications from Retail, Gambling and Entertainment apps had twice the retention rate of opted-out users. In addition, opt-in audiences for Retail, Gambling and Games apps were at least 35% more engaged than opt-out users based on average monthly app opens per user. This study offers the mobile app industry its first quantitative view of push notification opt-in rates, finding that nearly half of all app users opt in to push messaging for most verticals.
Key vertical industry findings include:
Retail leads the pack for both retention and engagement improvements, keeping an average of 116 percent more opt-in than opt-out users each month, with 40 percent higher average monthly app opens per user
Gambling apps (restricted to users outside the U.S.), have the second highest retention and engagement lifts, keeping 109 percent more opt-in users each month with 36 percent higher average monthly app opens per user
Media apps have the highest six-month ending retention rates of all verticals—50 percent opt in and 31 percent opt out—but they have the lowest average engagement lift of all industries with monthly app opens per user only 4 percent higher for opt-in audiences
Sports apps have the second highest six-month ending retention rates—27 percent opt in and 14 percent opt out—but they have the second lowest engagement lift with opt-in users generating only 19 percent higher average monthly app opens per user
Entertainment apps have the third highest retention improvement with an average 100 percent more opt-in users retained each month than opt-out users, but engagement improvements are relatively low with only 21 percent more average monthly app opens per opt-in user
Games apps have the lowest six-month ending retention rates at 14 percent of opt-in users and 9 percent of opt-out users—the lowest range of retention improvement among all industries—but Games have the third highest engagement lift with 35 percent more average monthly app opens per opt-in user
Across the board, opt-in audiences open apps more frequently. Due to greater retention of opt-in users, the vast majority of an app's total opens over time will be from users that receive push notifications. Urban Airship's past GPI study, which gauged the additional lift of a best practice push messaging approach, found that apps practicing High Push Engagement received 83 percent of their total app opens from opt-in users—388 percent more total engagement than opt-out users.
"Having delivered our 100 billionth push message last month, we can offer deep and expansive views into the dramatic and essential improvements that push messaging can provide to mobile apps," said Scott Kveton, CEO and co-founder, Urban Airship. "While industry average metrics offer useful points of comparison, wild differences between apps within the same verticals reaffirm that push messaging is as much skill and art as it is a technology and best practices are critical to realize maximum returns."
Methodology
Urban Airship analyzed its customers' data in aggregate to identify apps with at least six-months of opt-in and opt-out user data that had sent at least 100 cumulative pushes in one month during the time period. Analysis included more than 2,400 apps that had collectively sent 500 million pushes. For industry-specific insights more than 1,000 of the most adopted apps were manually categorized into industry verticals. The vertical with the fewest apps—Gambling—still represented more than two million users offering a high-degree of confidence in results.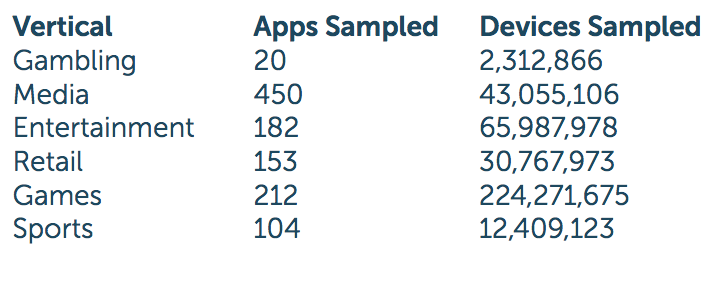 About Urban Airship
Urban Airship enables brands to build relationships with their constantly connected customers through Mobile Relationship Management. Its solutions streamline the creation, delivery and management of highly targeted cross-platform mobile push messages, in-app messages, rich app pages, Apple Passbook passes and Google Wallet cards. With billions of messages and tens of thousands of passes delivered each month, Urban Airship's technology sparks exceptional consumer experiences, drives app engagement and increases customer loyalty and lifetime value for leading brands such as CBS Interactive, Cinemagram, ESPN, Groupon, Walgreens and Warner Bros. For more information, visit www.urbanairship.com and follow us on Twitter @urbanairship.
Media Contact
Media Kit
Follow Us