Urban Airship Study of Retailers' Apps Highlights Holiday Mobile Growth
Fourth consecutive study features key year-over-year holiday trends in mobile engagement
PORTLAND, Ore., – November 29, 2016 – As holiday shopping results are tallied from the Thanksgiving to Cyber Monday time period, early results show it was a banner year for mobile. The National Retail Federation found more people shopped online than in stores for the second year in a row, and mobile drove the majority of visits to retail websites on Black Friday per Adobe. Impact to offline sales is also massive with Deloitte finding digital influences 56 cents of every dollar spent in retail stores and mobile accounts for two-thirds of that $2.1 trillion impact. To add depth to the details, Urban Airship today released preliminary results of its fourth annual Cyber Week study on mobile app engagement using aggregate data from hundreds of retailers' apps.
The data study, Mobile Retail Trends Report: Mobile Shopping & Influence During Cyber Week 2016, is now available for download.
Analysis shows retailers promoted holiday deals earlier and at greater scale than years prior, significantly ramping up mobile app messaging two weeks in advance of the big holiday shopping weekend.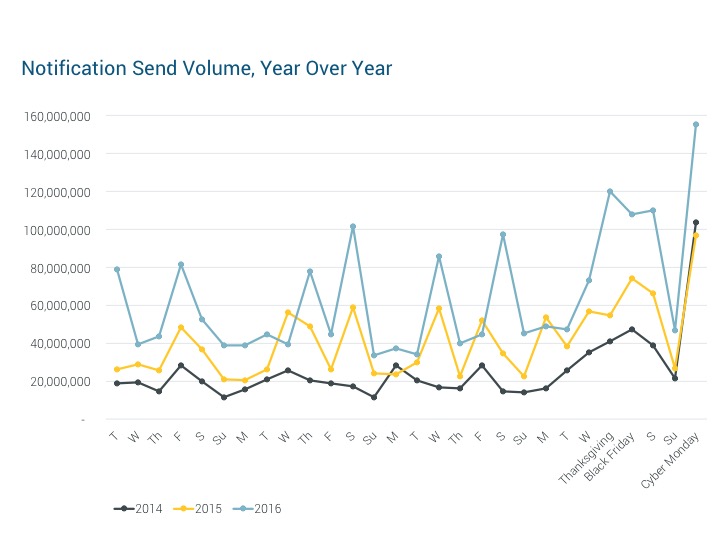 Retailers sent 56 percent more holiday notifications in 2016 than 2015, and 2015 was a 63 percent increase over 2014 volumes. The big difference this year: retailers embraced targeting. Preliminary Android analysis found 88 percent of notifications were highly targeted to shoppers' location, preferences and behaviors and only 12 percent of messages were broadcast to everyone. These highly targeted notifications saw engagement rates that were more than three times higher than broadcast messages.
With notification volumes growing each year, consumers have responded with higher average notification engagement rates, reaching 19 percent in 2016, up from 18 percent in 2015 and 16 percent in 2014. In addition, average notification opt-in rates for iOS apps have continued to grow, reaching 41 percent in 2016, up from 39 percent in 2015 and 38 percent in 2014.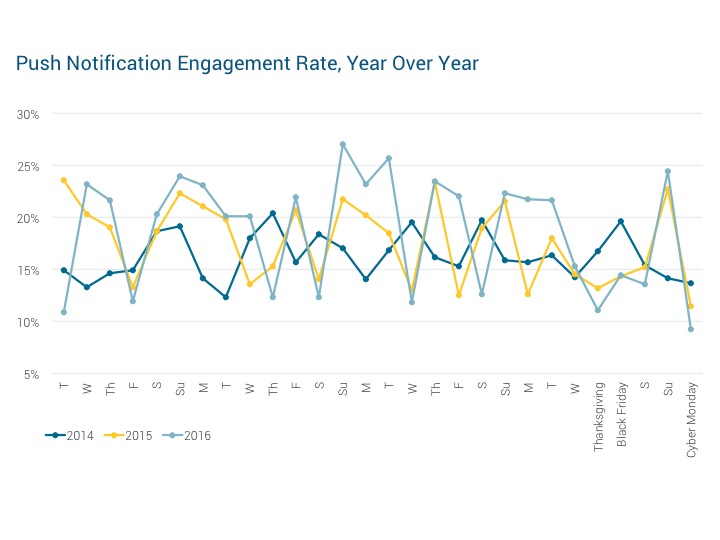 Throughout November, notification engagement rates exhibited a similar pattern as past years, where shoppers are most engaged with messages in advance of big shopping days rather than during those days. This year-over-year view vividly shows mobile's role in pre-shopping research.
Other core findings:
Daily app installs averaged more than 696,000 per day in November, up 24% from the average daily rate in October.
Retail app installs spiked above 900k on Thanksgiving and the following Saturday, with Black Friday peaking at more than 1.2 million app installs.
The gap between high- and low-performing apps is widening. 90th percentile iOS apps see 58 percent of users opted in to receive notifications, while 10th percentile apps have 21 percent of users opted in.
Similarly, high-performing apps see more than five times greater notification engagement rates than average apps.
"Whether it's the growing percentage of online sales completed on mobile devices, or mobile's broader influence on all offline sales, it has never been clearer that mobile is changing how retailers market and how consumers buy," said Erin Hintz, CMO, Urban Airship. "We're pleased to see retailers thoughtfully expanding their direct reach to customers and placing more emphasis on mobile, and we look forward to partnering with them on additional mobile growth best practices."
Methodology
Urban Airship analyzed aggregate mobile app engagement data from more than 200 retailers throughout November 2016. Engagement trends were calculated using the same retailers year-to-year to provide a truly comparative view of mobile's growth. Analysis included retail apps that had at least 5,000 unique opens in the three months leading up to the study period to ensure a focus on active apps. The data study, Mobile Retail Trends Report: Mobile Shopping & Influence During Cyber Week 2016, is now available for download.
About Urban Airship
Urban Airship is trusted by thousands of businesses looking to grow with mobile. Every day, marketers and developers depend on Urban Airship to deliver one billion mobile moments that inspire interest and drive action. Urban Airship's mobile growth platform is used by many of the world's most admired companies, including Forever 21, GameStop, Redbox, Shop Direct, The Home Depot, Tory Burch and Walgreens.
For more information, visit www.urbanairship.com, read our blog and follow us on Twitter or LinkedIn.
Media Contact
Media Kit
Follow Us