Urban Airship Kicks Off the Summer of Push
PORTLAND, Ore., – June 25, 2013 – Urban Airship, the global leader in mobile solutions to build relationships with connected consumers, today announced a summer-long educational effort to deliver easily consumable daily insights on how to better engage mobile audiences. As people's attention shifts to summertime activities they leave laptops, offices and televisions behind, making mobile apps and push messaging an increasingly critical method for brands to engage and keep in touch with their customers wherever they may be. Mobile is top of mind for businesses too with device adoption growing 10 times faster than personal computers and twice as fast as the Internet, and time spent in apps rivaling time spent watching television. While keeping with the spirit of summer fun and simplicity, Urban Airship's Summer of Push will offer actionable mobile insights including best practices, customer stories, tips & tricks, advanced use cases and lessons from global brand leaders. Businesses can sign up for daily email alerts by visiting the Summer of Push microsite.
Since mobile is the ultimate personal utility, customized to serve an individual's needs throughout his or her day, people are also invited to participate in the Summer of Push Longboard Contest by becoming a fan of Urban Airship's Facebook page and entering the soon-to-launch contest. Each week, a different question will be asked with a winner chosen either randomly or through Urban Airship's assessment of the best response. Participants can earn more chances to win the drawing to be held in the final week of the contest by participating in each week's question and by sharing the contest with their social networks. Brands and marketers will also benefit from the valuable perspectives mobile users share, keeping everyone rolling through summer.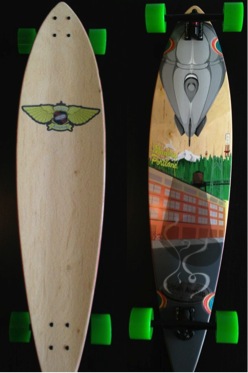 Urban Airship's custom longboard keeps brands rolling in mobile and pushing themselves to new places
"For many people the perfect summer is more time outdoors and less indoors, making mobile strategies and push messaging all that much more important as the one way to engage them wherever they are," said Brent Hieggelke, chief marketing officer, Urban Airship. "The Summer of Push will keep it light and fun for marketers, while delivering the insight to help them achieve the next level in their mobile strategies."
About Urban Airship
Urban Airship enables brands to build relationships with their constantly connected customers through Mobile Relationship Management solutions that streamline delivering highly targeted cross-platform mobile push messages and creating and managing Apple Passbook passes and Google Wallet cards. Billions of push messages and tens of thousands of passes are delivered each month, sparking exceptional consumer experiences, driving app engagement and increasing customer loyalty and lifetime value for leading brands such as CBS Interactive, Cinemagram, ESPN, Groupon, Walgreens and Warner Bros. The company's solutions manage the end-to-end process of high-performance push messaging, location-targeted messaging and digital wallet management. For more information, visit www.urbanairship.com and follow us on Twitter @urbanairship.
Media Contact
Media Kit
Follow Us