Urban Airship Integrates with Apple Pay to Support Automatic Rewards Enrollment at Checkout and Ongoing Customer Engagement
New support for mobile wallet loyalty passes offers consumers seamless rewards experiences and businesses instant enrollment
PORTLAND, Ore. — February 23, 2017 — Mobile growth company Urban Airship today announced that Urban Airship Reach will support enhanced rewards experiences with Apple Pay, bringing loyalty rewards together with a business' support for Apple Pay to offer consumers the ability to earn and redeem rewards, and pay, with a single tap.
Businesses can now automatically update loyalty points or serve up a pre-filled rewards enrollment form at the point of sale when customers use Apple Pay at the register, on the web or in apps.
The complete solution will be demonstrated for the first time at Mobile World Congress, February 27 – March 2, booth #8.1C14, in collaboration with USA Technologies ("USAT") and its MORE. loyalty program integration with Apple Pay. In the coming months, USAT will introduce these new enrollment capabilities and loyalty rewards to select unattended retail locations nationwide among its 300,000 participating self-serve machines connected to its cashless payment platform, ePort Connect®.
The stakes are high. Forrester forecasts in-store mobile payments will grow to nearly $34 billion in 2019 from about $4 billion in 2014 (Forrester Research, Inc., Executive Q&A: How US Merchants Should Unlock More Value From NFC Payments In 2016, 3/2/2016). In addition, new findings from a survey of 1,000 U.S. and 1,000 U.K. adults reveal that 82% of consumers are more likely to join a loyalty program if they can automatically enroll at purchase with no forms to complete. By streamlining rewards with mobile payments, Urban Airship is helping retailers easily grow loyalty program membership and fully take advantage of the dynamic communications opportunities Apple Pay offers.
"Apple Pay is unlocking massive marketing value for brands as loyalty cards top the list of things consumers want in their wallets and provides a dramatically easier and speedier checkout experience that extends reach well beyond the register," said Brett Caine, CEO and president of Urban Airship. "The opportunity for growth could be as monumental as the Web, or apps, or email coming into existence, and Urban Airship is on the frontlines of helping businesses of all sizes fully realize the promise of dynamic mobile wallet marketing with Apple Pay."
Leveraging businesses' support for Apple Pay and integrating value added service (VAS) protocols for Apple Wallet, Urban Airship Reach now supports a payment-to-loyalty checkout experience in seconds:
As consumers tap their iPhone at checkout, the brand's loyalty card and the user's preferred payment method can be automatically displayed in Apple Pay.
A single tap handles both mobile payment as well as applying or updating loyalty rewards earned.
If the user doesn't currently have the brand's loyalty card, they are instantly served an enrollment form pre-populated with information from their iPhone.
A personalized loyalty card is then automatically generated to add to Wallet.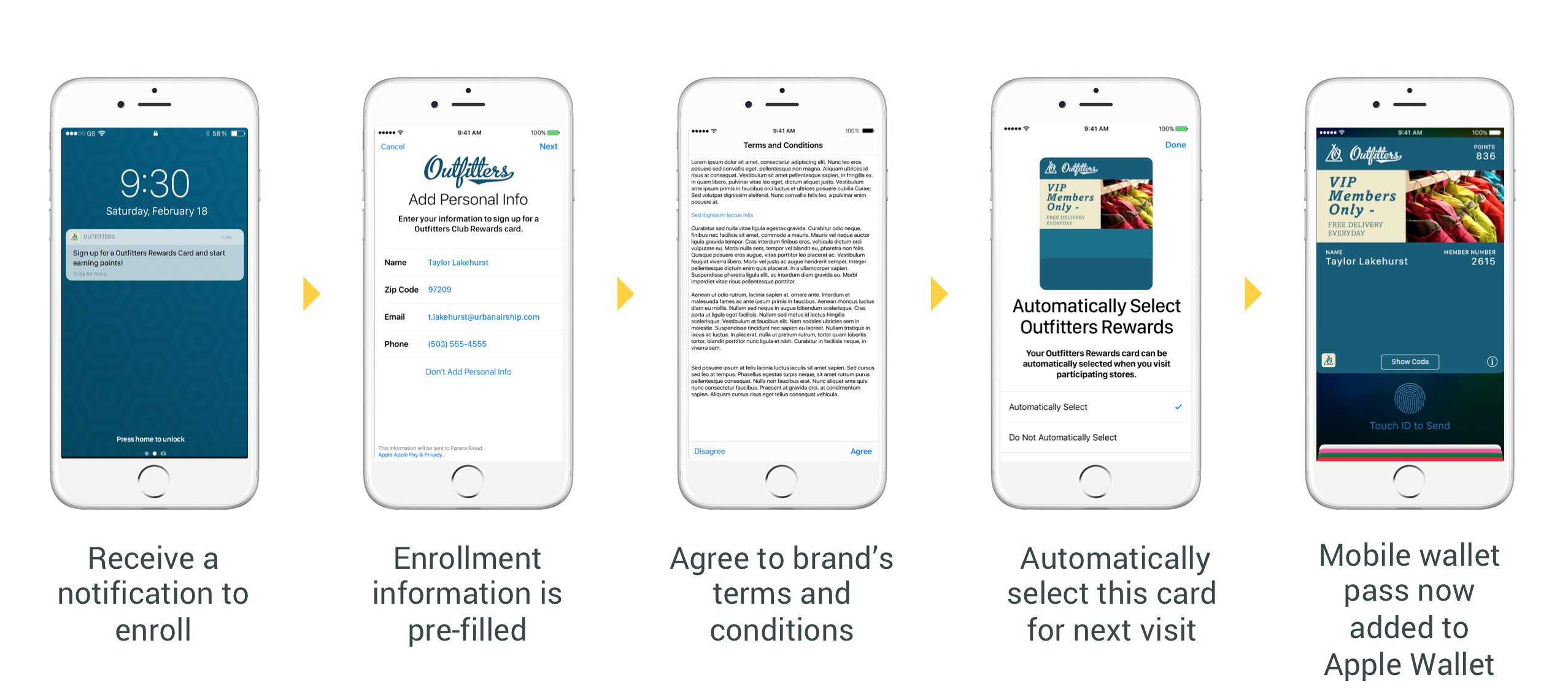 Once the mobile loyalty card is added to Wallet, businesses can use Urban Airship Reach to:
Sync with their loyalty system and update loyalty balances/rewards automatically.
Send targeted notifications for expiration alerts, new loyalty status and bonus loyalty promotions.
Change pass graphics and hyperlinks en masse or for targeted passholders.
Trigger passes to display on entry to a specific location or beacon zone.
"We believe the ability to integrate loyalty programs with Apple Pay offers an enhanced experience for consumers at the point-of-sale which builds loyalty, repeat visits and sales," said Maeve McKenna Duska, senior vice president of sales and marketing, USA Technologies. "Looking ahead, as Apple Pay usage continues to grow, this technology lays the foundation for next generation loyalty programs that will only enhance the way retailers engage with loyal customers and add value. We are thrilled to be working with Urban Airship to bring it to market."
Availability
Brands interested in early access to these new capabilities can contact Urban Airship here.
Learn more about NFC taps and auto-enrollment here.
Learn more about consumers' attitudes, expectations and adoption of mobile wallets in The State of Mobile Wallet Marketing.
USA Technologies:
USA Technologies, Inc. is a premier payment technology service provider of integrated cashless and mobile transactions in the self-service retail market. The company also provides a broad line of cashless acceptance technologies including its NFC-ready ePort® G-series, ePort Mobile™ for customers on the go, ePort® Interactive, and QuickConnect, an API Web service for developers. USA Technologies has 77 United States and foreign patents in force; and has agreements with Verizon, Visa, Chase Paymentech and customers such as Compass, AMI Entertainment and others. For more information, please visit the website at www.usatech.com.
About Urban Airship
Urban Airship is trusted by thousands of businesses looking to grow with mobile. Every day, marketers and developers depend on Urban Airship to deliver billions of mobile moments that inspire interest and drive action. Urban Airship's mobile growth platform is used by many of the world's most admired companies, including Adidas, Alaska Airlines, The Home Depot, NBC Universal, Sky Media, and Zillow.
For more information, visit www.urbanairship.com, read our blog and follow us on Twitter or LinkedIn.
Media Contact
Media Kit
Follow Us