The Body Shop Taps Urban Airship's Mobile Wallet Engagement to Amplify its Forever Against Animal Testing Campaign
Supporters can add a Forever Against Animal Testing wallet pass to their smartphone, share it with friends, and get the latest news and progress
LONDON, UK and PORTLAND, Ore. — 20 September 2017 — The Body Shop announced today alongside digital growth company Urban Airship that it will launch a mobile wallet pass with the latest news and signature counts for its Forever Against Animal Testing campaign. Launched in June alongside Cruelty Free International, the Forever Against Animal Testing campaign aims to end cosmetic animal testing worldwide, through a petition that will be taken to the UN. The campaign will use mobile wallet passes to deepen ongoing engagement with supporters and help grow the 2,800,000+ signatures already collected online and in-store.
"Mobile wallet passes offer us the perfect vehicle to spread the word and grow support for our efforts to end cosmetic animal testing globally once and for all," said Harriet Williams, Chief Digital Officer, The Body Shop. "The ease of creating, distributing and updating mobile wallet passes, combined with the high rate of social sharing, will help finish what The Body Shop started when we began campaigning against animal testing in the 1980s."
Upon signing the petition online, people will be directed to a landing page where they will have the option to add the Forever Against Animal Testing wallet pass to their device. The wallet pass will also be linked in a thank you email, promoted by The Body Shop on social media channels and will provide regular news updates direct to users. Those receiving the pass from friends sharing it will have a link where they can go to sign the petition. Supporters can also use the campaign hashtag #ForeverAgainstAnimalTesting on social media to raise awareness of the issue.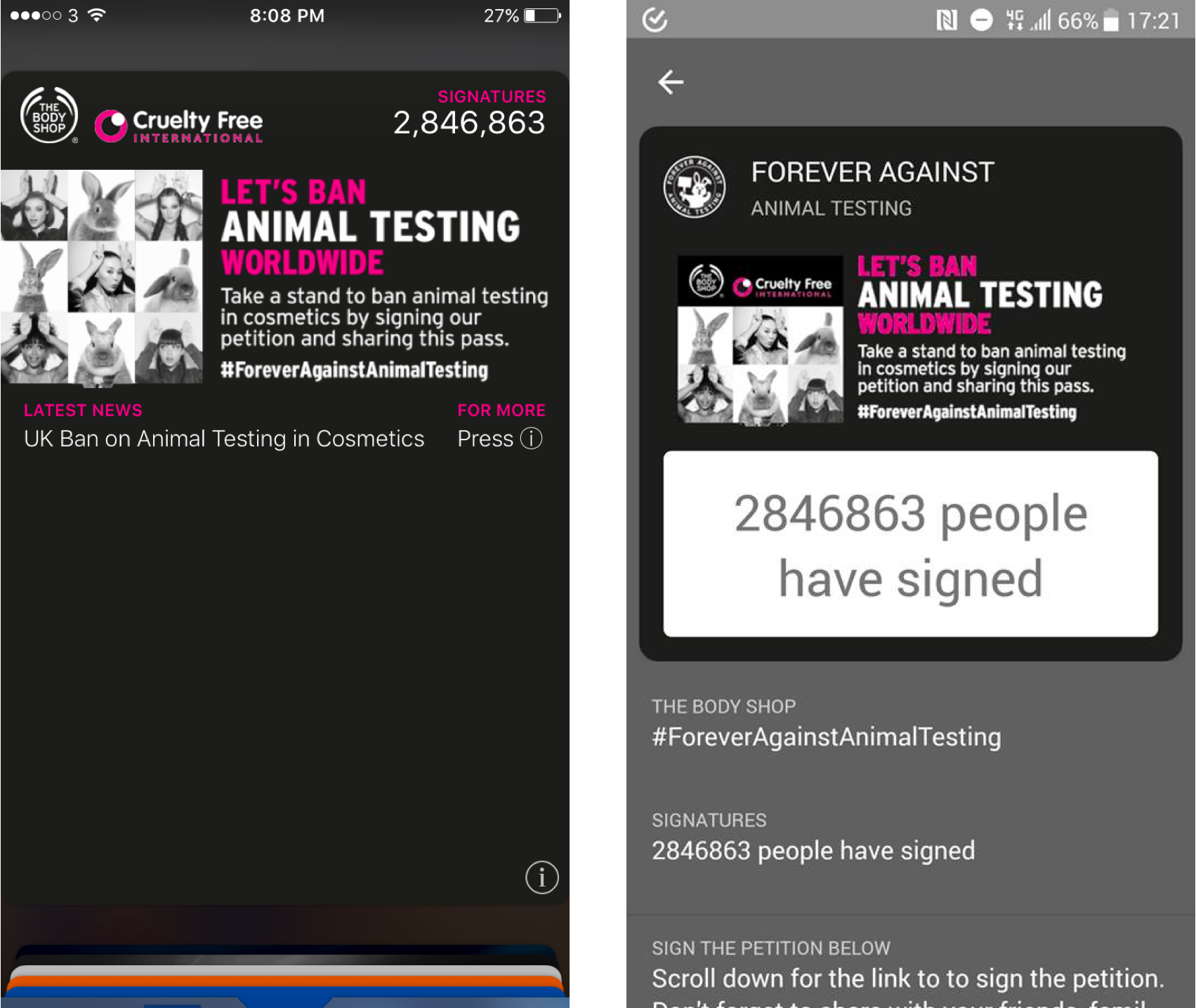 The Forever Against Animal Testing wallet pass for iOS (left) and Android (right) will deepen ongoing engagement with supporters and help grow the number of petition signatures collected.
A recent Urban Airship study of one million Apple Wallet coupons and loyalty cards of major retail brands found that more than three-quarters of passes installed were the result of sharing rather than being distributed through a brand's channels. Apple Wallet coupons had the highest rate of sharing, each one being added to 4.3 other devices on average, which The Body Shop's cause-related campaign is expected to eclipse.
"We're proud to be lending our expertise and mobile wallet engagement solution, Urban Airship Reach, to this largest and most ambitious attempt to put an end to cosmetics animal testing globally," said Brett Caine, CEO and president, Urban Airship. "The Body Shop's effort will offer a textbook example of how easily and flexibly mobile wallets can be used to inform, inspire and activate audiences for a limitless range of purposes."
About Urban Airship
Urban Airship® (www.urbanairship.com) is trusted by thousands of businesses to drive growth with mobile. Every day, marketers and developers depend on Urban Airship to deliver billions of digital moments through personalized, interactive notifications that inspire interest and drive action. Urban Airship is used by many of the world's most admired companies, including Adidas, Alaska Airlines, The Home Depot, NBC Universal, Sky Media and Zillow.
For more information, visit www.urbanairship.com, read our blog and follow us on Twitter or LinkedIn.
About The Body Shop
Founded in 1976 in Brighton, England, by Anita Roddick, The Body Shop is a global beauty brand. The Body Shop seeks to make a positive difference in the world by offering high-quality, naturally-inspired skincare, hair care and make-up produced ethically and sustainably. The Body Shop pioneered the philosophy that business can be a force for good and this ethos is still the brand's driving force. The Body Shop has more than 3,000 stores in more than 60 countries.
The Body Shop and Against Animal Testing
The Body Shop was the first international beauty brand to campaign against the practice of animal testing in cosmetics in 1989, leading the way to a European Union-wide ban on animal testing in 2013. Their Forever Against Animal Testing campaign, in partnership with Cruelty Free International, was launched in June 2017 and achieved 2 million signatures in its first two months.
About Cruelty Free International:
Cruelty Free International is the leading organisation working to create a world where nobody wants or believes we need to experiment on animals. One of the world's longest standing and most respected animal protection organisations, it is widely regarded as an authority on animal testing issues and called upon by governments, media, corporations and official bodies for advice and expert opinion. Educating, challenging and inspiring others across the globe to respect and protect animals, Cruelty Free International investigates and exposes the reality of life for animals in laboratories, challenges decision-makers to make a positive difference for animals, and champions better science and cruelty free living.
Media Contact
Media Kit
Follow Us