Highly Targeted Push Notifications Drive Nearly 300 Percent Greater Response than Messages Broadcast to All App Users, According to Urban Airship's Latest Good Push Index Study
PORTLAND, Ore., – May 22, 2014 – Urban Airship, the global leader in Mobile Relationship Management, today detailed findings from its latest Good Push Index (GPI) data study examining response rates of highly targeted push notifications compared to messages broadcast to most of an app's audience. Analysis of more than 1,000 apps and 3.8 billion push notifications shows that highly targeted messages drive 293 percent more influenced app opens on average than broadcast messages, solidifying the critical importance of a segmented approach to push messaging.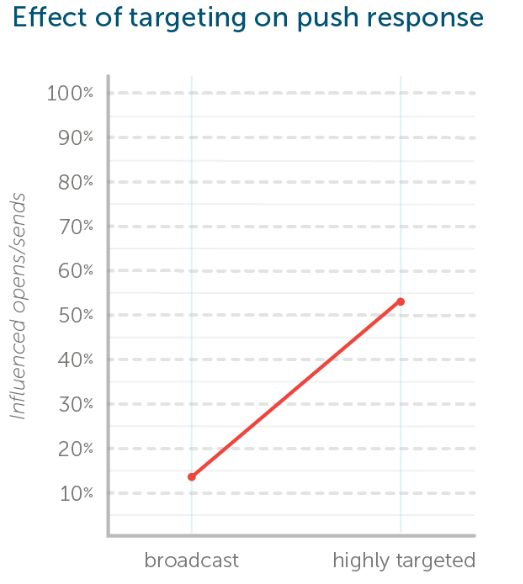 The complete GPI study, including findings broken out by six industry verticals—Retail, Media, Games, Entertainment, Sports and Gambling—is available for download.
The Glaring Gap in Mobile Targeting
While targeted push messages drive massive performance improvements, other recent data suggests the industry is in early stages of using mobile to establish deeper relationships through personally relevant messaging and app experiences. More than 500 mobile leaders completed Urban Airship's Mobile Maturity Self- Assessment (MMSA) with results showing that 85 percent have adopted mobile apps, which were identified as the most "essential channel" for engagement above all other common mobile tactics. However, the majority of apps deliver the same messages and app experience to all users; and, more shockingly, more than one-third of companies that collect user preferences, behaviors and location data don't actually use the insight to tailor content and messaging (Urban Airship's Mobile Maturity Benchmarks Report, February 2014).
"Most companies have the mobile foundation necessary for more sustained and valuable relationships with their key audiences, yet there are dramatic differences between those leading and lagging," said Scott Kveton, CEO and co-founder, Urban Airship. "We've always known mobile is different, it's more personal than any other channel or screen. The companies that understand this and focus on more responsive, personalized and relevant mobile interactions will seize massive advantage over those that do not."
Even One Level of Targeting, like Location, Can Quadruple Response
"REI's core purpose is to inspire, educate and outfit for a lifetime of outdoor adventure and stewardship, which makes it critical to tailor messaging to our customers' interests and deliver to them in a time and place that's relevant," said Chris Marley, mobile program manager, REI. "We recently ran a test in most of our retail markets, targeting users who had been near a store in the prior three months to notify them of a local in-store GoPro training class. Response rates to these messages, and similarly targeted REI Garage Sale notifications, were four times greater than non-targeted messages.
"As the U.K.'s largest betting company, William Hill Plc. (LON:WMH) has thousands of retail locations, not to mention the stadiums, playing fields and racecourses where betting occurs," said Alex Rutherford, head of mobile sportsbook. "After seeing William Hill's location-targeted push messages achieve 400 percent greater engagement than non-location-targeted messages, we're evaluating getting even more granular with proximity-targeting through beacons."
Methodology
Urban Airship analyzed its customers' data in aggregate to compare push influenced open rates for messages sent to more than 95 percent of an app's active audience (broadcast) versus messages sent to less than 5 percent of an app's active audience (highly targeted). The broader report categorizes results by six industry verticals.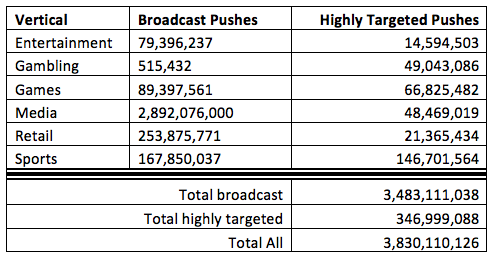 About Urban Airship
Urban Airship enables brands to build relationships with their constantly connected customers through Mobile Relationship Management. Its solutions streamline the creation, delivery and management of highly targeted cross-platform mobile push messages, in-app messages, rich app pages, Apple Passbook passes and Google Wallet cards. With billions of messages and tens of thousands of passes delivered each month, Urban Airship's technology sparks exceptional consumer experiences, drives app engagement and increases customer loyalty and lifetime value for the world's largest retail, media & entertainment, sports and travel & hospitality brands. For more information, visit www.urbanairship.com and follow us on Twitter @urbanairship.
Media Contact
Media Kit
Follow Us