Urban Airship Study Reveals Strong Consumer Acceptance of Mobile Location-Sharing, a Prerequisite for Beacon Interaction
High location opt-in rates of 60-80 percent suggest privacy advocates' concerns are overstated
PORTLAND, Ore., – June 5, 2014 – Urban Airship, the global leader in Mobile Relationship Management, today released expanded location-based marketing insights focused on consumer receptivity to sharing location information with mobile apps. Initial analysis in its latest Good Push Index (GPI) data study was expanded to more than 70 apps that ask users to share their location, finding 60-80 percent of users commonly allow it with an average location opt-in rate of 62 percent.
Opting into both location and push notifications are necessary in order to receive messages based on beacon proximity, current location or location history. With an average push notification opt-in rate of 51 percent, most apps this sample can reach more than half of their users with location- and proximity-triggered push messages and in-app content.
OPT-IN RATES FOR PUSH NOTIFICATIONS AND LOCATION-SHARING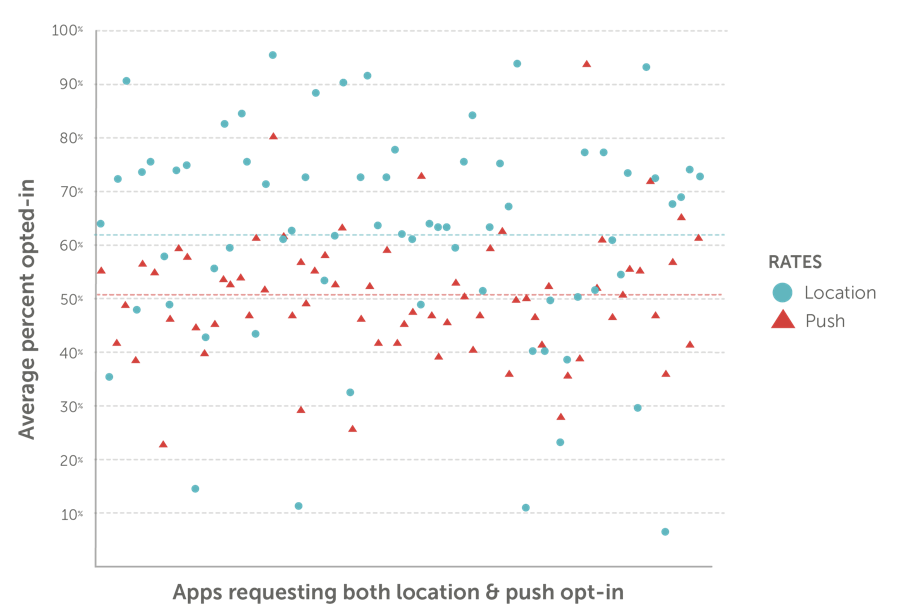 Each app's average opt-in rate for location and push notifications are plotted above showing a high-degree of acceptance that signals a bright future for location-based marketing
"Customers' successes using location-targeting and our aggregate data analysis show that assumptions around consumers being reluctant to share location are false and massively short-sell mobile's unique opportunity," said Scott Kveton, CEO and co-founder, Urban Airship. "Users obviously value apps' location-based functionality to earn the opt-in, just as the best apps do with push notifications by explaining its value and using it in personally relevant ways."
"We're consuming media in all forms but mobile ties it together. Mobile is at the center as far as how we engage. We use it everywhere," said Asif Khan, founder and president, Location Based Marketing Association. "I think that location is the new cookie we're all familiar with from the online world, only it goes beyond tracking user activity to add powerful, contextual user-centric information including beacon proximity."
Currently Urban Airship is working with partner Eventbase Technology to power beacon engagement experiences at an upcoming global industry festival following a successful partnership on beacons and push messaging for SXSW and its official mobile app.
Other Customers Quadrupled Response with Location-Targeting
"REI's core purpose is to inspire, educate and outfit for a lifetime of outdoor adventure and stewardship, which makes it critical to tailor messaging to our customers' interests and deliver to them in a time and place that's relevant," said Chris Marley, mobile program manager, REI. "We recently ran a test in most of our retail markets, targeting users who had been near a store in the prior three months to notify them of a local in-store GoPro training class. Response rates to these messages, and similarly targeted REI Garage Sale notifications, were four times greater than non-targeted messages."
"As the U.K.'s largest betting company, William Hill Plc. (LON:WMH) has thousands of retail locations, not to mention the stadiums, playing fields and racecourses where betting occurs," said Alex Rutherford, head of mobile sportsbook. "After seeing William Hill's location-targeted push messages achieve 400 percent greater engagement than non-location-targeted messages, we're evaluating getting even more granular with proximity-targeting through beacons."
About Urban Airship
Urban Airship enables brands to build relationships with their constantly connected customers through Mobile Relationship Management. Its solutions streamline the creation, delivery and management of highly targeted cross-platform mobile push messages, in-app messages, rich app pages, Apple Passbook passes and Google Wallet cards. With billions of messages and tens of thousands of passes delivered each month, Urban Airship's technology sparks exceptional consumer experiences, drives app engagement and increases customer loyalty and lifetime value for the world's largest retail, media & entertainment, sports and travel & hospitality brands. For more information, visit www.urbanairship.com and follow us on Twitter @urbanairship.
Media Contact
Media Kit
Follow Us