New Urban Airship Study Finds Android Users Respond to Notifications at More than Twice the Rate of iOS
Across 15 industries there is a massive and growing gap between notification engagement rates that top-performing apps see versus all others
SAN FRANCISCO – May 28, 2015 – Urban Airship, the leading mobile engagement platform, today at Google I/O released its second Mobile Engagement Benchmarks report detailing notification engagement rates for Android and iOS apps. Using the industry's largest data set of nearly 3,000 apps and 100 billion push notifications sent to more than 500 million users through all of 2014, high, medium and low notification response rates were calculated for 15 industries using the performance of apps in the 90th, 50th and 10th percentiles. Key findings include:
Overall, medium-performing Android apps have an average notification engagement rate of 20 percent versus 8 percent on iOS
The rate at which consumers engage with notifications from medium-performing apps is holding relatively steady year-over-year: +1 percent for iOS and -8 percent for Android
High-performing notification engagement rates grew +24 percent on iOS and +13 percent on Android year-over-year
Medium Notification Engagement Rates by Industry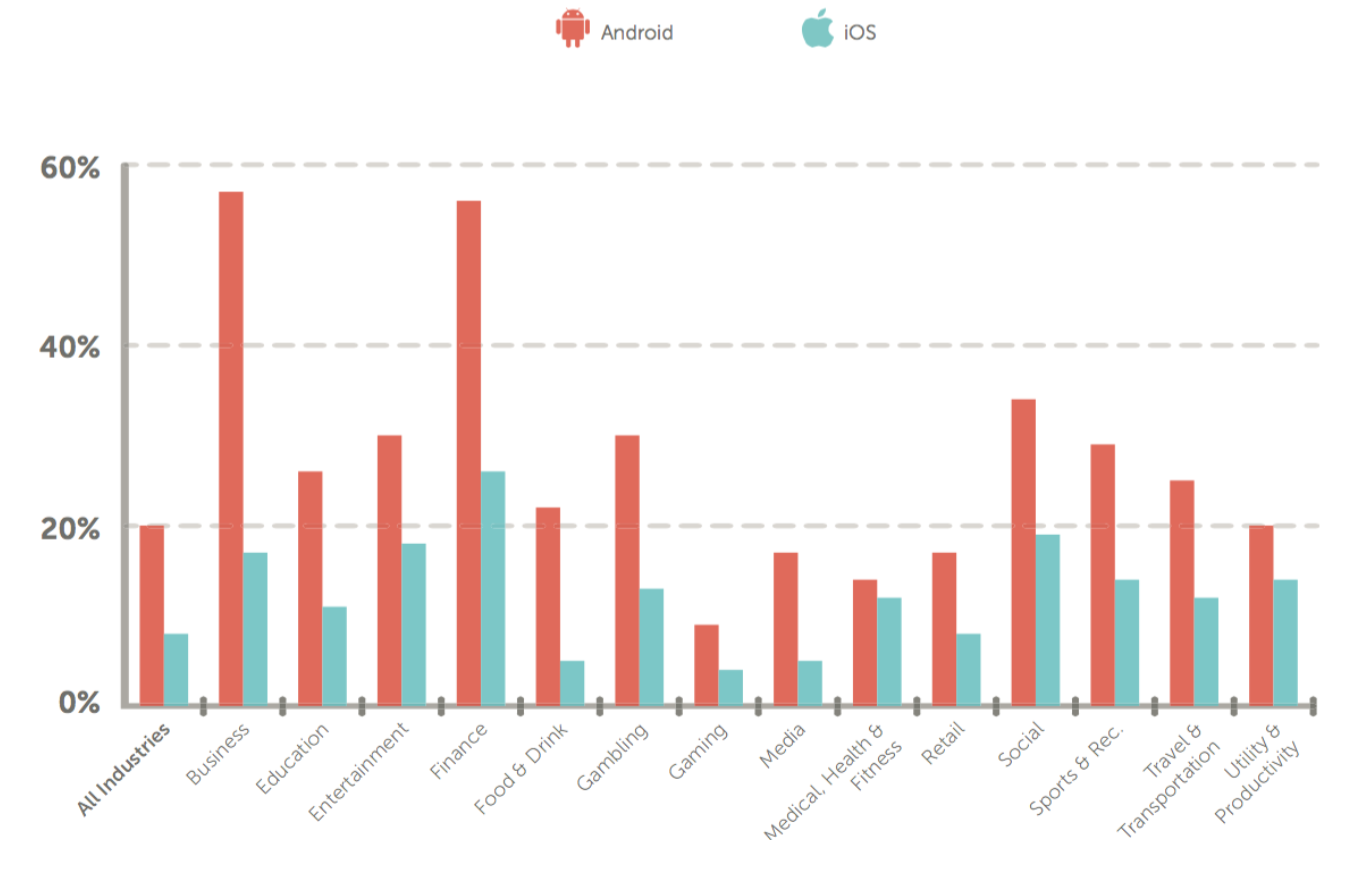 Understanding and Improving the Engagement Gap
Similar to Urban Airship's first benchmark report on notification opt-in rates, analysis discovered a significant and widening gap between the notification engagement rates of high-performers versus the medium—it's a bigger difference than what separates the medium-performers from the low. High-performing apps on iOS get six times more engagement with notifications than medium performers; on Android, it's nearly four times more than medium rates.
Medium-performing apps should focus on implementing greater targeting, rules-based automation and general message optimization to attain greater notification response rates. Apps in the 10th percentile of notification engagement rates—5 percent on Android and 2 percent on iOS—should consider re- architecting messaging strategies immediately before users generally tune out, or, at worst, delete the app.
Best practices and complete high, medium and low notification engagement rates for each industry are available for download.
Mobile Operating System Differences Drive Notification Engagement Behaviors
Both Android and iOS have elevated the visibility of notifications to the phone's lock-screen, but that is where the consistencies in notification handling end. The primary reason Android notification engagement rates maintain a wide lead over iOS is because it's easier to find notifications later. On Android, notifications persist on the lock screen until dismissed. When Android devices are unlocked, notifications are easily accessible from app icons in the Notification Status bar on the home screen. Android also supports enhanced notification formats in Android 4.1 and above that could continue to grow comparatively greater notification engagement rates, as more devices adopt its latest operating systems.
Notifications are more ephemeral on iOS. Once a user unlocks an iOS device, all the notifications previously seen on the lock screen are moved to the Notification Center and grouped by app rather than chronologically, making it difficult to determine which notification just arrived moments before. iOS also extends controls to users to select how notifications will appear (alert box or banner) and if their arrival will be accompanied by sound, versus Android's binary choice of Show/Do Not.
"A core advantage of apps is the ability to reach out beyond their confines to engage people on device home screens and smartwatch faces—the only always-on screens that are never more than a glance away," said Brett Caine, president and CEO, Urban Airship. "Data shows the difference between good and great mobile engagement is only getting bigger, making it critical that brands treat mobile engagement as a personal experience for their users."
Register to receive all forthcoming Urban Airship Mobile Benchmark reports as soon as they are available.
Methodology
Urban Airship analyzed customer data in aggregate to identify apps with at least 5,000 downloads that had sent at least 1000 cumulative pushes in one month. Analysis included 2,946 apps that had collectively sent more than 93 billion notifications to more than 533 million users. For industry-specific insights apps were manually categorized into 15 industry verticals. To offer performance benchmarks, results were grouped into High, Medium and Low ranges using 90th, 50th and 10th percentiles.
Notification engagement rates are based on push influence, which calculates the 12-hour influence of a notification on app opens. A baseline for each app's past 45 days of activity and direct user response to push notifications is established and constantly updated to determine the likelihood that an opt-in app open was the result of receiving a notification.
About Urban Airship
Urban Airship is leading the movement of mobile innovators. Mobile strategies must extend beyond app acquisition or risk leaving 70 percent of users behind within 30 days after the download. Urban Airship helps brands build high-value relationships from the moment of download, increasing engagement 4X and retention 2X to turn users into loyal brand advocates. The Urban Airship Mobile Engagement Platform arms companies with the broadest set of possibilities for creating rich, interactive experiences that drive new levels of reach, relevance and immediacy with all mobile audiences. Thousands of companies and some of the most demanding brands in retail, media & entertainment, sports and travel & hospitality, trust Urban Airship to deliver the mobile moments that matter to their customers and their business. For more information, visit www.urbanairship.com and follow us on Twitter @urbanairship.
Media Contact
Media Kit
Follow Us