Viddy Socializes Videos with Push
If pictures are worth a thousand words, then video is certainly worth a lot more. Dubbed an "Instagram for video," Viddy makes it easy for people to capture, beautify and share creative, stylized snippets of video from their lives. Since its launch, it has also grown into a great way for celebrities to share moments with their fans, having been adopted by the likes of Linkin Park, Snoop Dogg, Wiz Khalifa, Bill Cosby, and even The Muppets.
Viddy uses push notifications to help users stay connected with one another through messages notifying them when they receive likes, tags, followers, or comments. Additionally, Viddy uses product notifications to promote new production packs, which users can download to add new style filters and effects to their own videos.
"With creative expression at our core, Viddy is an open community of content creators and viewers who enjoy interacting around entertaining, well-produced vignettes from around the world. Social notifications help everyone stay connected with each other – through following, feedback and promotions. By giving users the flexibility to choose what notifications they want to receive, and when–including the ability to specify quiet times–we're able to keep community engagement fresh and interactive."– JJ Aguhob, Co-Founder & President, Viddy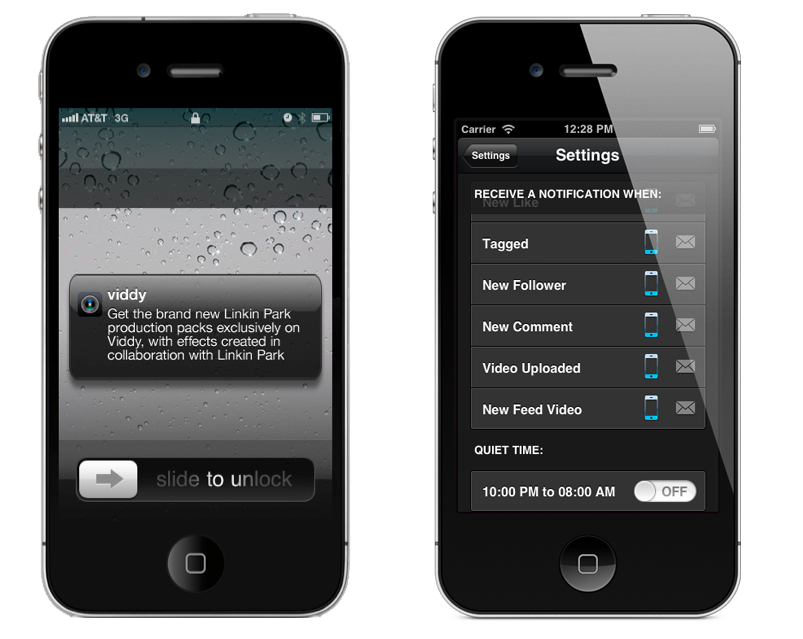 Download the free Viddy app for iPhone, iPad or iPod touch
Subscribe for updates
Categories