Urban Airship Spotlights Innovations and Innovators Transforming the Mobile Experience at Mobile World Congress
We're excited to be in Barcelona this week for Mobile World Congress—the largest mobile event in the world with an expected 72,000 attendees. We've got some "badassary cooking" as our SVP of Product & Engineering Mike Herrick said, which promises to transform the types of mobile experiences that brands can provide to their customers. Stop by our booth in App Planet Hall 8.1 – Stand 8.1C14 to hear about the next evolution in push messaging. We're also taking the stage with leading innovators and brands shaping the current and future market for wearables.
First up, we'll take part in a panel discussion moderated by Ina Fried of Re/code on the state of the wearable economy at the sold-out Wearable Wednesday event. We're looking forward to a great discussion with other panelists from Omate, Koru Lab, Rambus and Misfit Wearables.
Then as part of MWC's official programming, we'll moderate our own panel entitled, "Wearables and Apps: the ties that bind brands to fans," taking place from 3:00-3:30pm on February 27. This panel brings together wearable pioneers with those that are deeply engaged in charting the industry's future course through entrepreneurial and advocacy programs. Panelists include:
If you're lucky enough to be in Barcelona at MWC, we'd love to have you join us for what will surely be a lively discussion on the latest wearable trends, strategies and challenges. The mobile devices that billions of us carry around in palms and pockets will be the hub for all sorts of highly personalized wearable devices as well as the "Internet of Things," revolutionizing traditional products and creating entirely new markets.
Keep an eye on our blog and social channels for additional Urban Airship news coming out of MWC or find us at our booth (construction shot from last night below) to hear about the latest and greatest first-hand.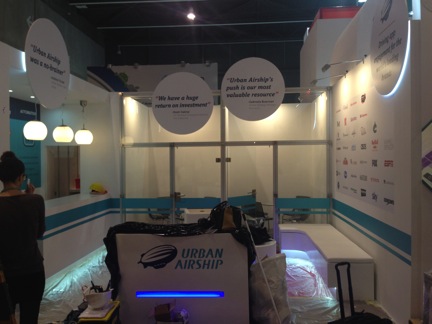 Subscribe for updates
Categories