The Carrier launches as first original graphic novel for iPhone
The Carrier, a complete original graphic novel by Philadelphia creator Evan Young, is now available (iTunes download) worldwide. This marks a watershed moment for the American comic book industry: The Carrier is the first graphic novel to be published exclusively on the iPhone.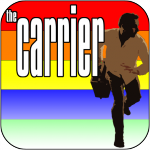 The Carrier.app from StopWatch Media is the first complete graphic novel to be published exclusively on the iPhone. On one hand, Evan Young's story is an action adventure about a man with a briefcase attached to his wrist. On the other hand, the app, developed by StopWatch's Geoffrey Young, represents a groundbreaking shift for the comic book industry. The Young brothers have built the app to utilize the iPhone's geo-location and Push capabilities, deliver emails, and tell the story of The Carrier in a real-time format. The entire package serves up a series of unique digital extras in what is, essentially, the first mobile comic book experience.
"Urban Airship provides what Apple should have given developers in the first place: a clean and simple Push interface, free from hoops, hurdles, and caveats. With any serious engineering effort, there is always the question of how to best utilize finite resources – should I spend my valuable and limited time reading Apple documentation and wrestling with APNS via low-level network and authentication protocols, or should I use the straightforward JSON API from Urban Airship and leave the interface complexities to them? Of course, the choice was an easy one, and one that I'm glad we made for our application. The Push Notification service from Urban Airship is a stable and well engineered product that has proven to be both time and cost effective for us. Urban Airship is top notch, both from a technical and support perspective, and I'd use them again in a second" said Geoffrey Young, lead developer of The Carrier.
Subscribe for updates
Categories