Subscriptions With No Content Downloads: The Guardian iPhone App
Our friends over at the Guardian U.K. released two new iphone apps last week. The Guardian integrated Urban Airship's subscriptions library, which is built on top of Apple's in-app purchase capability. Our Subscriptions solution enables end users of the app to purchase and pay for subscriptions via their iTunes account and supports the app by providing the ability to track subscription length, make subscription content available to the end user on up to 5 devices that are associated with that user, and provide a "restore content" workflow in the event that a device is lost, reset, etc.

What's cool about the Guardian's use of Subscriptions is that there is no actual content download. Instead, content is unlocked to subscribers. Our offering is a simple turnkey user-management layer that sits on top of in-app purchase to offer a monetization workflow. This is where we see the market headed – as it becomes easier to make feeds "unlockable" to paid subscribers, subscriptions are a realistic and viable model for any app.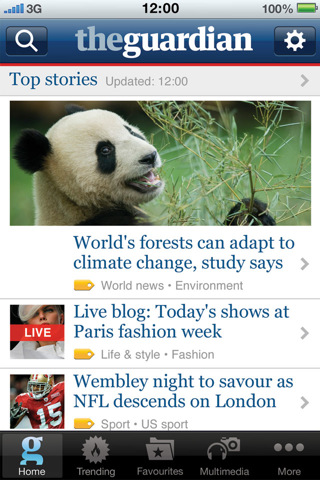 As we have written before, we are seeing tons of interest in the subscriptions model across all types of apps; this revenue model is not limited to traditional publishers or content providers. We are getting many inquiries from app publishers looking to monetize their app via subscriptions and we're pleased to be able to help. Note: stay tuned because this capability is about to get even easier.
We're increasingly seeing our customers in need of more than just one component of the Urban Airship platform. In addition to subscriptions, The Guardian also integrated push notifications giving them the ability to engage their users even if the app isn't open. This creates a feedback loop, complete with user call to actions.
The Guardian iPhone app is pretty slick. The U.S. version is advertising-supported and offered as a free download. If you live outside the United States, the app is a subscription-based service without advertising, and is available for £2.99 (roughly $4) for six months and £3.99 (roughly $6) Initially, you will need to download the "intro" app which appears in the "free" category and offers you a taste of the new-look app and the option to subscribe for the full service. Users downloading the subscriptions version will be asked to provide their email address but this is optional. An email address enables users to restore content to new devices, should they lose or upgrade their iphones. The app will also function on iPads, though it is not optimized for this device.
Subscribe for updates
Categories