Our AppsWorld London Wrap-up
By Catherine Picknell, Senior Marketing Manager, EMEA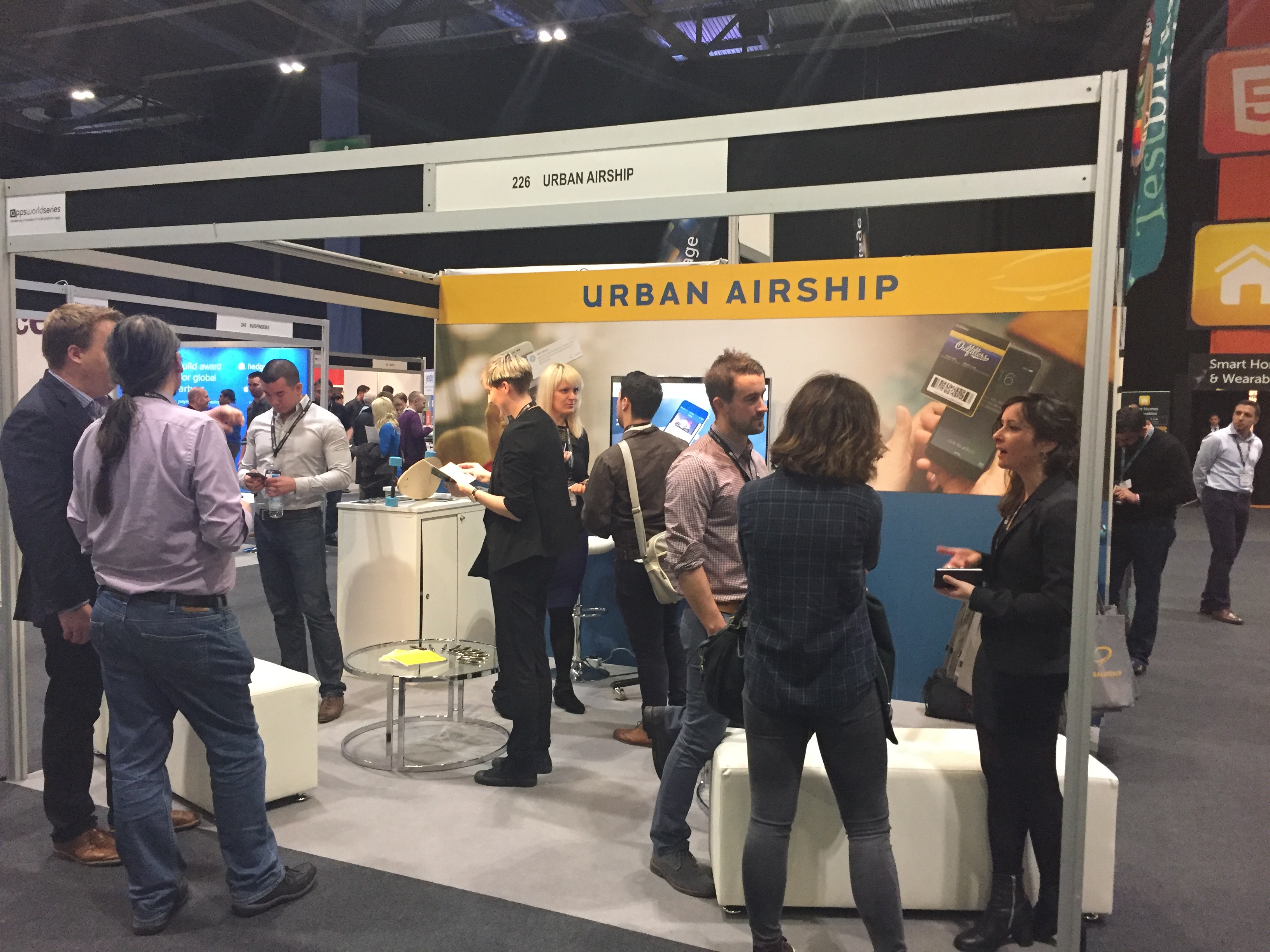 This year's AppsWorld conference in London drew huge brands such as Google, Uber and GlaxoSmithKline to the event. With record-breaking visitor numbers over the two-day event — estimated at 30% higher than last year — it's a testament to how many brands are taking mobile seriously.
Urban Airship's Chief Mobile Evangelist, Brent Hieggelke, spoke at AppsWorld this week about the prevalence of mobile in our everyday lives. He stated that people look at their phones a staggering 26 times per hour on average. 87 percent of time on the phone is in apps, and people now spend more time on their mobile device than watching television.
At AppsWorld there was a wide variety of apps and industries represented — from apps that connect to your car to give you journey details, fuel consumption and security features at your fingertips (Jaguar Land Rover) to apps that get you from A to B on public transport in emerging markets (TRAFI).
The hot topics amongst the crowd this year were connectivity, user experience and most of all, data, which goes hand-in-hand with the first two topics. To make people feel connected and provide personalised, unique app experiences with a brand, data is key.
In a panel with Josh Shaeffer Vice President of Business Development at Runtastic, and Denise Parkinson, Entertainment Director at Telegraph Media Group, Hieggelke said, "Nothing is in isolation, everything has to work together." And this sentiment was echoed by all panelists.
On the wearables/mobile marketing landscape panel, Shaeffer shared how in the Runtastic app, 1:1 user level data on runners provides extremely relevant, personalised, timely messages about their workout. He also argued that they shouldn't even be described as 'push notifications,' as that implies you are pushing a marketing message on to the wearer that they don't need but rather 'personal notifications'.
Parkinson chimed in with a personal example about how she would love a nudge from her wearable device about ten percent off a green detox juice if she happened to pass by her favorite juice bar. This kind of 'personal notification' can be achieved with real-time data, location technology and a great engagement platform.
An open, omnichannel approach to data was a common theme among speakers over the two-day event. Ruth Harrison-Wood, Group Marketing and Customer Director at National Express discussed, "delivering the information customers need at the very moment they need it, measuring their sentiment and responding proactively," while Dave Cook, Chief Digital Officer at Time Out emphasized, "making it easy for users to take action and discover the latest information on events." Again, it all comes down to data and using it to fuel a superb experience for customers.
Historically, using data across different channels has been a challenge for marketers. Urban Airship Connect helps brands unite their data across business systems to provide richer insights for a better customer experience. Urban Airship Connect is now available with 13 partners, who have connections to more than 50 business systems, with the goal of helping marketers and data analysts put mobile user-centric insights to work in minutes.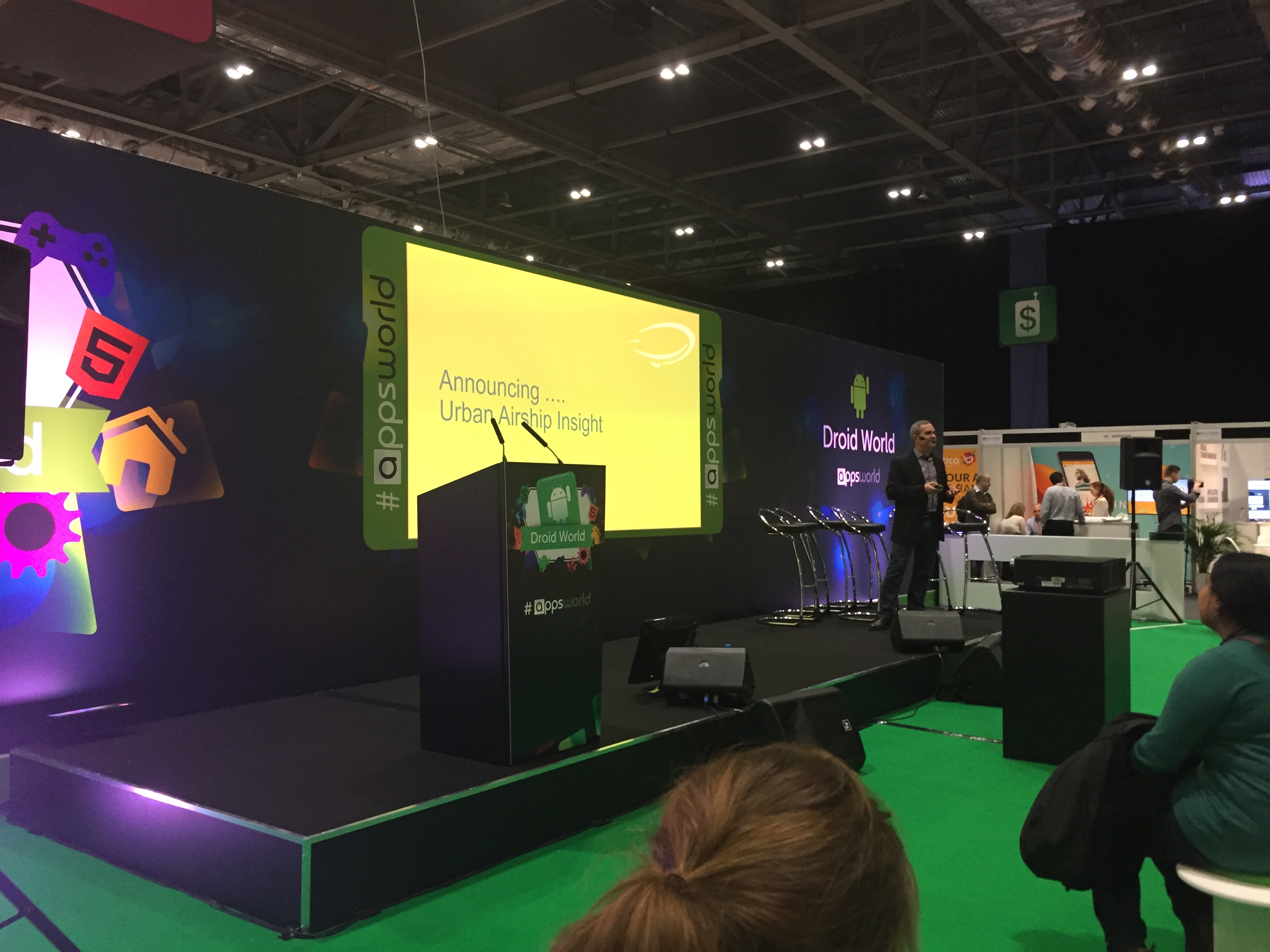 And this week at AppsWorld London, we also announced our new data analysis tool, Urban Airship Insight, to help give Marketers the 'why' behind the ROI. The fact that data was one of the main talking points of the show explains why the launch of Connect and announcement of Insight have been received so well. When brands can drill down to 1:1 user-level insight they can drive real-time personal experiences and grow the relationship between brand and customer.
With a 30% increase in attendees year over year, this was the biggest and best AppsWorld yet — and we're already looking forward to seeing everyone next year at AppsWorld London 2016!
Subscribe for updates
If the form doesn't render correctly, kindly disable the ad blocker on your browser and refresh the page.
Categories