Now+Next Highlights: Girls Hear About — and Talk About — Tech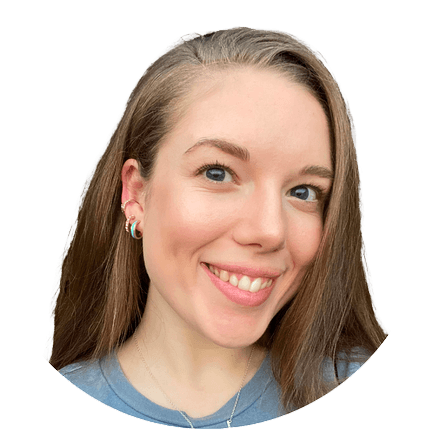 Earlier this month, Airship hosted its second Annual International Women's Day event with Now+Next, tailored to inspiring young women to explore pathways into STEM industries.
Walking through Spitalfields, the lively heart of London's East End, you can't help but feel a strong sense of community. As a creative hub of markets and independent vendors, Spitalfields is steeped in history, modern art and a fusion of Eastern and Western cultures. Its diverse international community reflects the vibrant group of individuals attending the Now+Next event — they're brimming with new ideas.
Entering the open foyer of Fora, the flexible workspace venue for the event, there's a sense of calm excitement (along with the smell of fresh coffee). Gradually the space fills with the chatter of reunions and introductions. It's a whole room of women and girls (and a number of male colleagues too) coming together in a powerful collaboration of school and industry. Then a hush. The welcome speech begins.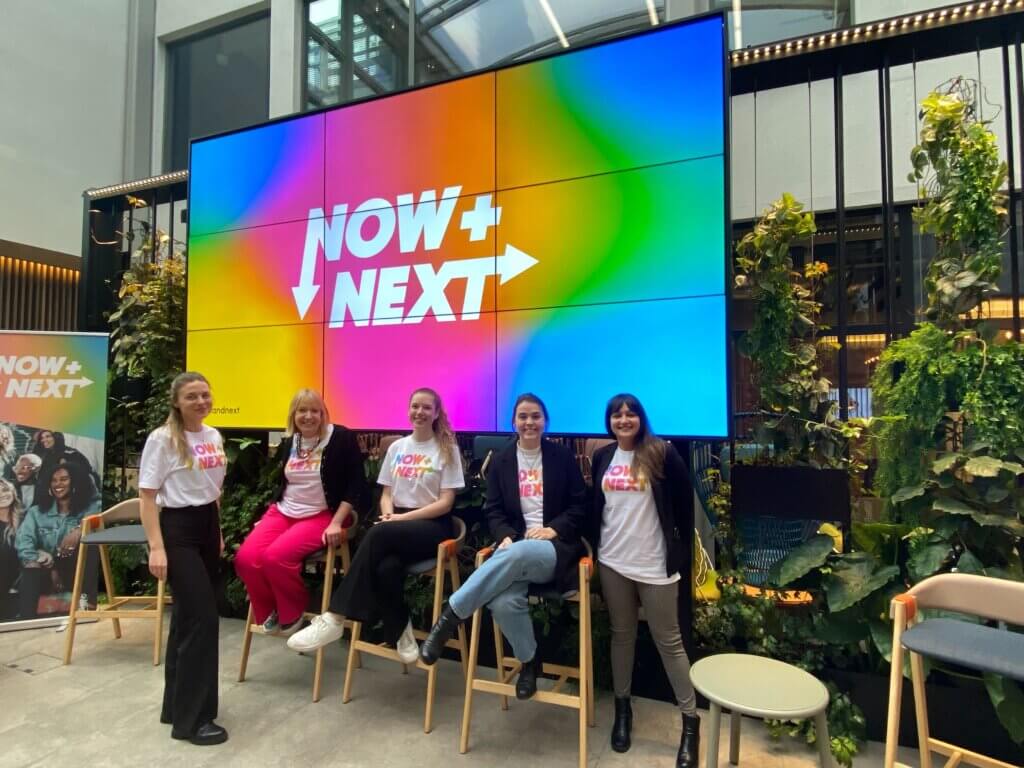 STEM and Career
Gabrielle James, Diversity & Inclusion Manager, Mixpanel, and Maria Williams, Head of Delivery, Candyspace, set a raw and heartfelt scene of the tech industry — specifically, its gender gap. Historically, the industry has been unable to retain women employees due to fundamental issues — from inclusivity to opportunities for growth. But this has become an even bigger problem as businesses have digitized their operations and the demand for technology-specific skills has sky-rocketed.  
The students, all young girls, head to their first workshop session, led by Airship. We present an overview of organizational ecosystems, including the wide range of roles available in tech. Based on the audible reactions, some of these roles — such as marketing, branding, and graphic design — come as a surprise to the girls.
In an interactive session, the girls explore their interests and aspirations. Many are drawn to creative fields, including interior design. Several make sardonic comments about boys. One or two girls, confidently outspoken, raise their hands at the first opportunity, eager to share their thoughts. Others require gentle coaxing, but progress to actively volunteering their opinions.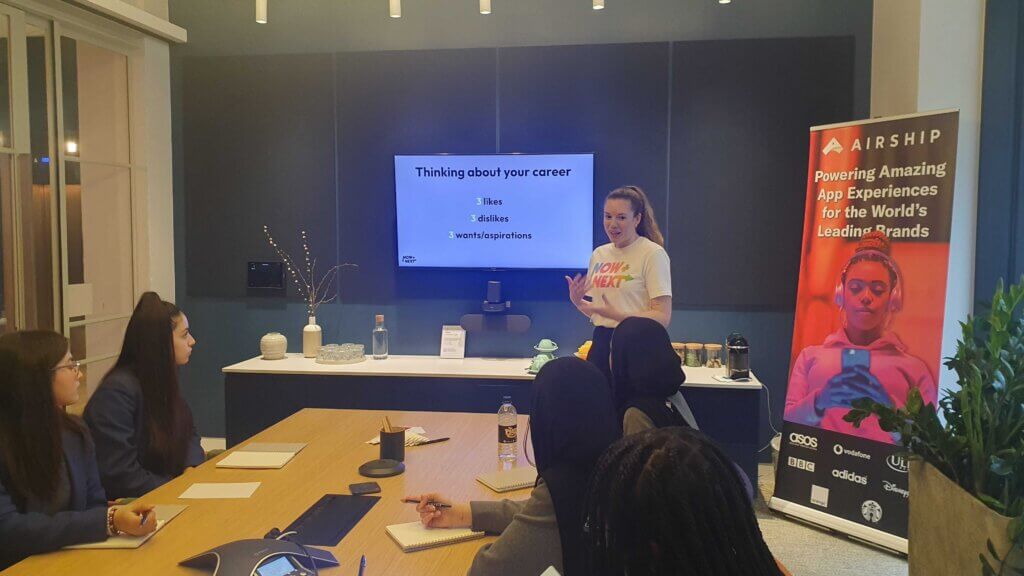 The path to tech is not linear. I remind the girls that their decisions about what to study now are not limiting, but can have an impact on what they choose to do later in life. One student comments, "This has been so helpful. I didn't really know what 'tech' truly meant before."
I take the girls through my own school and career background — a mix of science and creative — to highlight the many different paths toward STEM careers. Despite my formal STEM training, I had no experience of the tech world until last year. It has been a steep learning curve and my aim is to share it honestly with the girls.
"Today has made me think," says one student. "Before this [event], I was set on going into teaching. Now I see there's so many more opportunities." The girls may be learning a lot from us, but I find myself learning a lot from them too — such as the importance of keeping an open mind and being receptive to change.
Airship's women inspire me on a daily basis, so it feels rewarding to be able to take that energy and channel it into inspiring a younger generation. I want to help them understand what they're really capable of — which is often much more than they think.
Diversity and Inclusion 
As energy levels dwindle between workshops, we lead the girls in a stretching exercise to get our bodies moving and minds refreshed. We end the day with an engaging panel discussion featuring women in leadership roles who are performing at the top of their game.
The panel stresses that having more women in organizations is not only important within tech — it's vital across all industries. With millions of girls without access to education across the world, it's our responsibility to support and inspire those who do have this educational opportunity. "Bringing people together from different backgrounds and genders helps organizations think differently and enriches the experience for all team members," says Natalie Kouzeleas, RVP and GM, Mixpanel.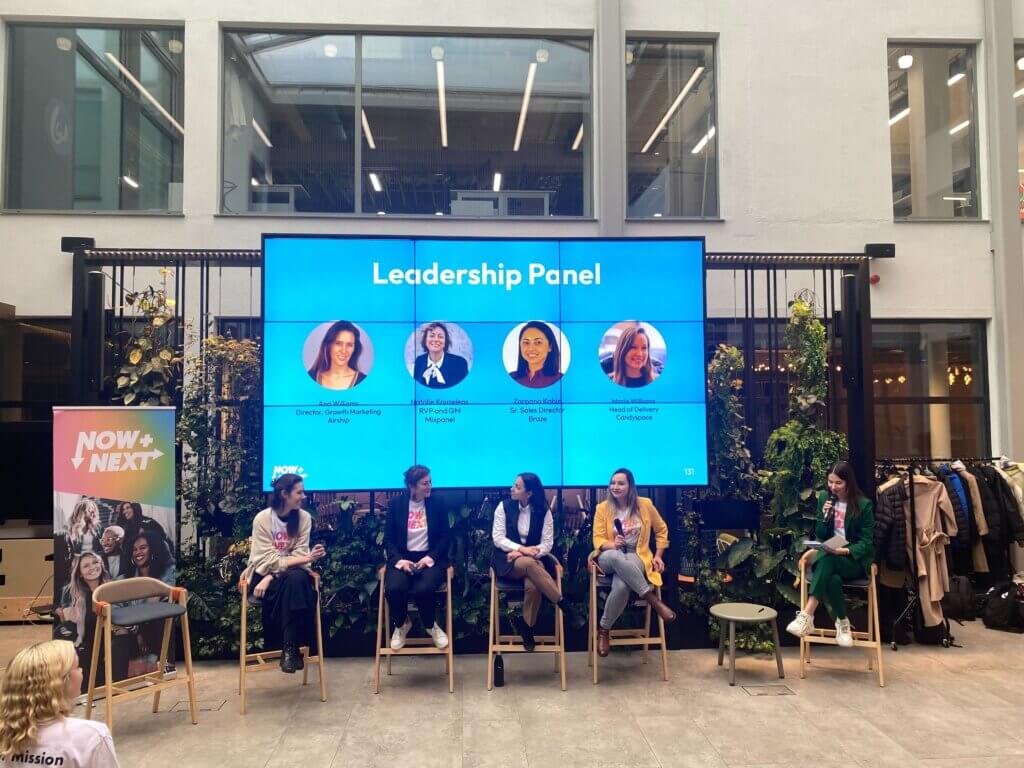 Historically, the tech industry has been challenged in retaining women employees. A diverse workforce is paramount in tech organizations, but inclusion is required to retain and empower that workforce. And it is most powerful when embedded within an organizational vision and mission — such as Airship's, which affirms that diverse individual experiences, perspectives and backgrounds make us better.
We all have biases, but it's our self-awareness and collaboration that make the difference. As individuals, we each bring energy to a company and impact the overall energy. When it comes down to it, we're all responsible for empowering ourselves and co-creating inclusive cultures.
The digital workforce is male-dominated — and female students simply do not receive as much encouragement as their male counterparts do to take STEM subjects leading to technology jobs. Although the situation is improving, women make up only 35% of higher-ed STEM students, and less than 30% of STEM workers. According to the American Association of University Women, gender stereotypes, male-dominated cultures and limited role models perpetuate the disparity. Previously, I have heard the observation that "Female role models are just not front and center in the industry." But as the Now+Next panel continues, Airship's Marketing Director Ana Williams, notes, "With every advancement in the female workforce, the tech industry becomes more welcoming."
When panelists are asked to give one piece of advice to young women considering careers in tech, they cite the importance of showing up with intention, speaking up and not undervaluing themselves. They discuss the most important traits for women in tech when it comes to progressing through positions of leadership — resilience and persistence, adaptability, empathy and agile decision-making. They also mention positivity, goal-setting, comfort with change and the ability to trust oneself. I take these to heart and hope the girls do too.
Equity and Equality
There is much conversation around equality, but less so around equity and its application in female advancement in tech and beyond. Equality aims to provide all genders with equal opportunities on a level playing field, but women need to belong to a global space — one of equity — that promotes and supports their inclusion, from early education to the workplace. 
Not a single country in the world has achieved gender equality, and according to the United Nations, it could take another three hundred years to remove discriminatory laws for women and girls. Where we are in a position to create equity now, we must do so.
"Initiatives like Now+Next are providing a positive change for women in tech by promoting the industry and showing that women can succeed in STEM," says Kirstin Milne, Senior Account Manager at Airship.
Diversity, Inclusion and Equity at Airship
This is not about men supporting women — it's about people supporting people. For women to be empowered in tech, I believe that we need to reach a point where gender inequity no longer exists. That's something I think we do really well at Airship. Today, out of 371 employees, Airship employs 149 women. That's 40%. With one quarter of our executive leadership team identifying as women, we still have some way to go. The industry is changing and women are coming through. But creating an inclusive culture must be top of agenda for all.  
As part of our Women's History Month celebration our ERG, Airship FIRE (Female Inclusion, Resilience, and Empowerment) hosted a coffee hour chat on the importance of empowering all women within our communities. Our DEI work is focused on three areas: Talent, Workforce Culture, and Community Impact. The Now+Next initiative fits well into our Community Impact work by reinforcing Airship's DEI commitments and year-round efforts to #uplift the industries and communities we serve across the globe, says Airship's Senior Director of DEI, Temidayo Afonja.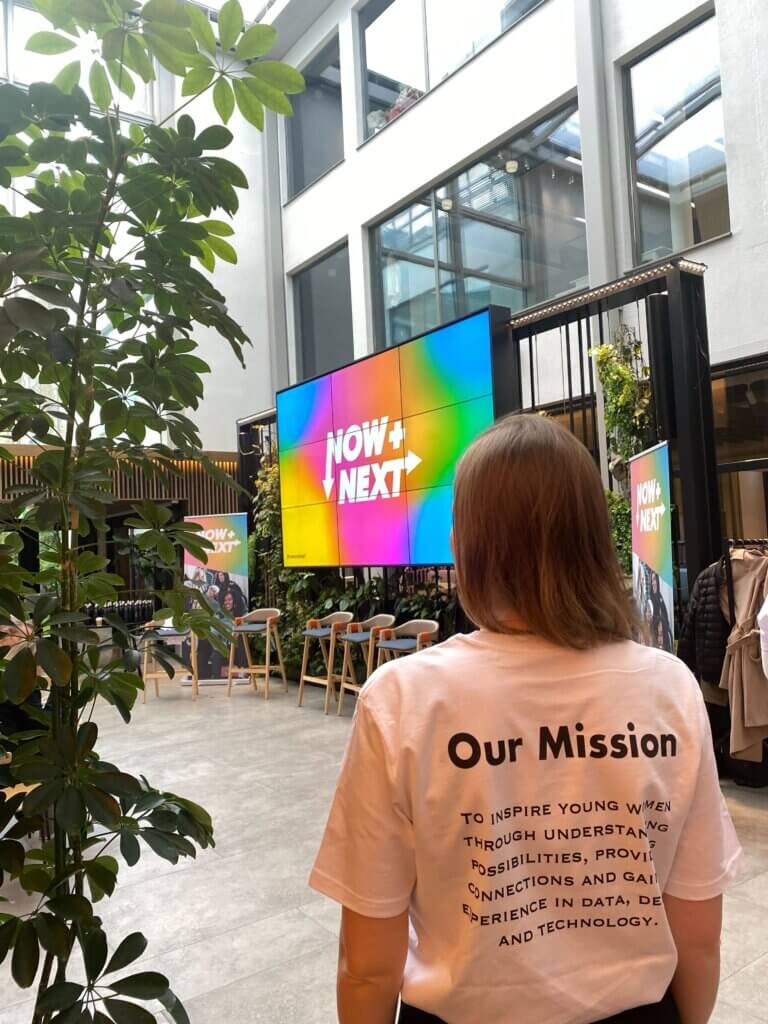 As a founding member of the Now+Next association, Airship's mission is to inspire young women by helping them understand possibilities, providing connections, and supporting experiences in data, design and technology. We aim to drive affirmative action and create an environment that better supports and encourages young women interested in pursuing a career in technology. Since the association's launch in 2022, Now+Next has connected with 3,792 female students across the UK.
How does your organization shape up in terms of gender equity? Let us know if we can help share ideas or resources.
Subscribe for updates
If the form doesn't render correctly, kindly disable the ad blocker on your browser and refresh the page.
Categories