New Products: Push Composer & Reports, Embedded Push & In-App Purchase for Android
It's been a very busy week at the Airship. In addition to spending the week immersed in push notifications at WWDC and chatting about mobile at numerous events over in London, we're now live with a bunch of new products and tools to help you optimize your mobile apps. We are excited for you to get your hands on these products – Push Composer and Reports, our new Embedded Push and In-App Purchase for Android.
Try Push Composer & Reports for Free
We've gotten nice response from Beta testers and have incorporated their feedback. In appreciation of all our customers, we're giving away Push Composer & Reports for free for 45 days.
Urban Airship Push Composer offers a clean, simple, web-based dashboard where you can craft, configure and activate your mobile messaging campaigns. Deliver messages to specific groups of users with our tag system. You can also schedule messages to go out at a time and date in the future or in real-time.
Urban Airship Reports provides quantitative data on user engagement with your apps. With the metrics now available, you can figure out how many times your users open your app, how push notification campaigns trigger app usage and how much time users are spending within the app. Presented in easy-to-interpret graphics, you can quickly and effectively monitor engagement metrics.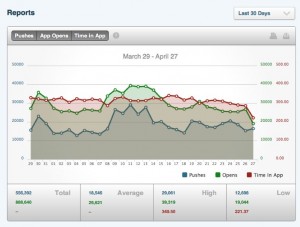 Sign Up Now to pump up your push.
Android Client Library, including Embedded Push and In-App Purchase now available to all. We also offer C2DM push and other cool stuff for Android.
We want to say thanks to the hundreds of developers who've worked with us to test and refine the latest in our Android lineup. With your feedback, we've streamlined integration, put together sample apps, and refined our documentation for developers. We've taking off the wraps and invite everyone to give the new library a try. Both C2DM + Helium Push and In-App Purchase are included in the client lib, giving you a platform for push, purchase, and engagement in just a few minutes. Our sample apps and docs should get you started; help is a click away if you need to get in touch.
More about our Android offerings:
• Embedded Push / Helium. Urban Airship's Embedded Push operates entirely outside the Google stack, allowing mobile developers to offer richer features and reach more devices. Now that this release is out, we're continuing to work on new features including "quiet time" customization, an inbox of past notifications, guaranteed Quality of Service and return receipt. Additionally, Urban Airship's Helium solution gives each app its own secure connection that is optimized to minimize battery impact. The direct end-to-end connection between each app and devices allows near-instant message delivery.
• C2DM Push Notification Support. We've also created an option for developers who send limited numbers of push messages to use Google's C2DM service. Developers who choose to use this tool will need an account with Google. Please refer to the plans and pricing page for plan options.
• Urban Airship Push Composer & Reports is now available on Android as well.
Subscribe for updates
Categories