Mobile Saturday Becomes Second Highest Trending Topic at SXSW Interactive
Sign up here for video recaps of the panels!
We're coming off a pretty huge weekend here at the Airship with most of the crew now back from SXSW where, for the second year in the row, we delivered the festival's only daylong track dedicated to mobile. Not only did our packed house and all-star line-up of customers and mobile experts help make Mobile Saturday (#MobileSat) a top trending topic, we powered push for the official SXSW® GO app for the third year in a row and worked with partner Eventbase Technology Inc. (formerly Xomo) to deliver some of SXSW's first iBeacon experiences.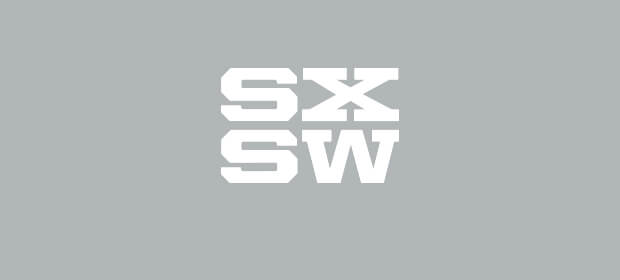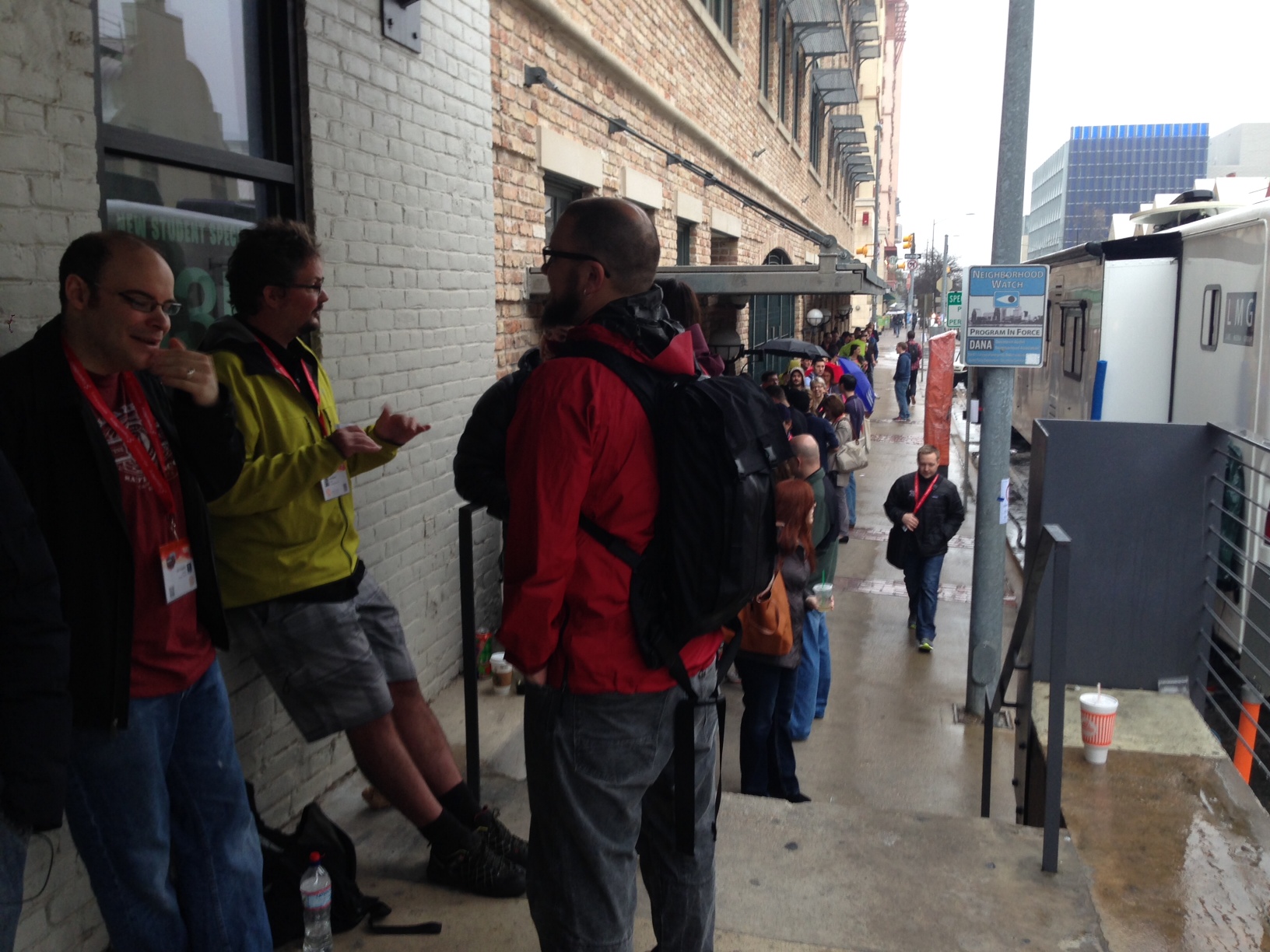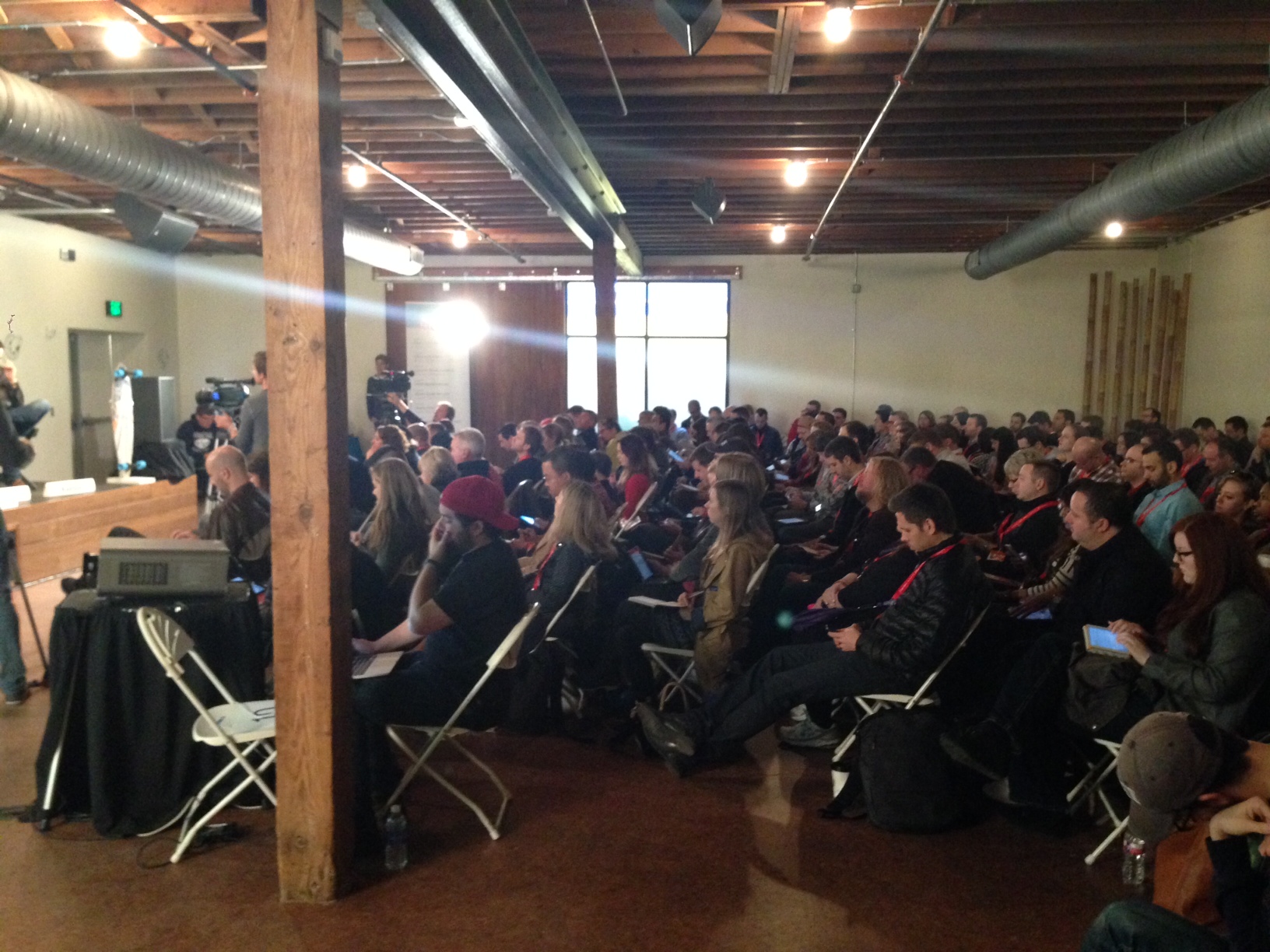 Attendees who braved the rainy weather to stand in long lines for Mobile Saturday, were greeted by a couple of different iBeacon-triggered experiences (assuming they also had the SXSW app, opted in to push, agreed to share their location and had Bluetooth turned on—essentially a triple opt-in process). The first of these triggered a notification and in-app landing page with the day's agenda: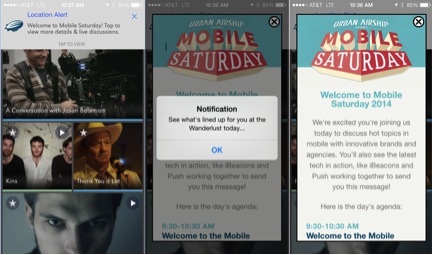 The second iBeacon experience reached people who not only crossed the event's threshold, but were near one of the main stage iBeacons. They first received what looked like a standard SXSW push notification, which led to a rich landing page with instructions on entering our longboard giveaway.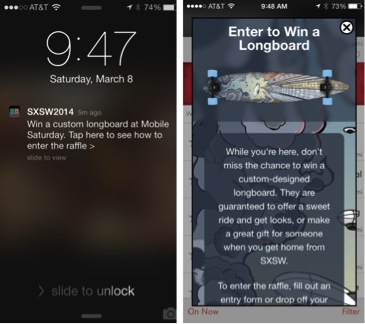 Beyond the industry's growing fascination with iBeacons as the key to delivering contextually relevant, proximity-based mobile experiences, the range and caliber of conversations was superb. We owe a huge thanks to panelists including ABC News, Atimi, Backcountry.com, Bottle Rocket (WPP's OgilvyOne), eBay, Eventbase Technology, Forrester Research Inc., Golf Channel, The Location Based Marketing Association (LBMA), News International, NFL, R/GA, REI, Showtime Networks and Starwood Hotels and Resorts Worldwide.
At the highest level there's a growing realization that mobile isn't the new thing, it is everything. Mobile goes beyond a channel focus to enable ubiquitous customer experiences; and in terms of mobile expectations, consumers are moving faster than brands. eBay, which started experimenting with mobile seven years ago, says mobile now accounts for $22B in transactions. eBay's big aha mobile moment—adding push notifications to its traditional auction model to make sure losing bids didn't miss out on their last chance.
There was a huge amount of discussion around personalization and respecting users' preferences, trust and time by making mobile experiences as relevant as possible. Mobile requires brands think about the mobile moments they can own in their consumers' lives, while religiously ensuring an appropriate privacy value exchange. A speaker from the NFL disclosed that while their app's traditional use of push and location opt-in requests covered its iBeacon deployment at the Super Bowl, they decided to explicitly ask users for permission resulting in an opt-in rate north of 80%.
With mobile, consumers are more in control than ever before and loyalty is being redefined. Loyalty used to mean consumers being loyal to a brand, but now a brand must be loyal to its customers and mobile is unlocking the ability to deliver hyper-personalized services that will surpass traditional rewards programs.
There was so much content covered at Mobile Saturday that this post barely scratches the surface. We're working hard to get complete recaps and full videos up for each of the sessions—sign up to be among the first to see them here—and in the meantime you can take a look at attendees tweets that capture their reactions and sentiment to what was shared:
A 'mobile-first approach' is too basic. Companies should devise their 'mobile brand' for real customisation #sxsw #MobileSat

— Deloitte Digital AU (@DeloitteDIGI_AU) March 8, 2014
#MobileSat @MobileSaturday "mobile moments" – use these to figure out the who, what, why, and how of the mobile space

— Alex Kenyon (@AKs47th) March 8, 2014
Mobile is no longer a channel, it's a holistic experience #MobileSat #cscsxsw

— Zach Barkus (@zachbarkus) March 8, 2014
"Mobile is not just a shrunken PC." – Kevin Hurst, @eBay #MobileSat #SXSW14

— Jared Harding (@jaredharding) March 8, 2014
Focus on doing core products really well but leave time for big innovations each year, says @StarwoodBuzz's Arlie Sisson. #mobilesat

— eBay Inc. (@ebayinc) March 8, 2014
By 2017, digital touchpoints like mobile will influence 50% of US retail sales. #mobilemindshift #sxsw #mobilesat http://t.co/yod9Ez7jkX

— Forrester Research (@forrester) March 8, 2014
#MobileSat @MobileSaturday @TedSchadler mobile moments represent a shift like this image pic.twitter.com/Mg1hLcQd8J

— John Yurcisin (@johnyurc) March 8, 2014
One of our takeaways: "Notifications are just as important as the app itself." @urbanairship @mobilesaturday #mobilesat

— Quietly (@QuietlyApp) March 8, 2014
Relevance trumps personalization: just because someone watched Dora on netflix, that's not a great suggestion at 11pm #mobilesat #sxsw

— tony felice (@tonyfelice) March 8, 2014
#MobileSat tidbit: the Brand needs to be loyal to the user – not the other way around. #DAdoesSXSW

— Roxana Shershin (@RoxShershin) March 8, 2014
Brands should now work to be loyal to their customers, then leverage it to create customized experiences @mobilesaturday #mobilesat #sxsw

— Patrick Dohan (@PatrickDohan) March 8, 2014
Reward a consumers propensity to become loyal to get them to be loyal. Don't reward then after they become loyal. #cscsxsw #MobileSat

— Rob Walker (@robcwalker) March 8, 2014
"Hyperpersonalized customer service will kill traditional rewards programs" @MobileSaturday

— Bill Gravette (@bgravette) March 8, 2014
So far @MobileSaturday location based marketing panel has been the best sess for me #mobilesat The bar has been set. Step it up #sxsw!

— Eric Gohs (@ericgohs) March 8, 2014
Try not to think about location as an ad unit or impression, think in terms of integrated experiences. #mobilesat #sxsw

— tony felice (@tonyfelice) March 8, 2014
Beacons are becoming the talk of #sxsw2014 they can't just be another talking head, they need to be strategic #mobilesat #sxsw

— tony felice (@tonyfelice) March 8, 2014
More: iPhone Replaces Hotel Room Keys in New Pilot Program http://t.co/TiyY2ERVAc @StarwoodBuzz #mobilesat #SXSW

— Kate Lattuca (@katelattuca) March 8, 2014
On wearables, "we've experimented with any screen you can imagine," says eBay's @folleywater. #MobileSat pic.twitter.com/OOTpESjdzi

— eBay Inc. (@ebayinc) March 8, 2014
You still talking about #wearables?! We're talking about #digestables. That's right. Digestables. #SXSW14 #MobileSat

— Jared Harding (@jaredharding) March 8, 2014
"@MobileSaturday: Add yourself to the list at http://t.co/Iz6dqSc3tk to get session videos ASAP. #MobileSat"

— Dave Gavette (@davegavette) March 8, 2014
Subscribe for updates
Categories