It's Time: Get Moving With Mobile Wallet Marketing (Part Two)
The State of Mobile Wallets. Part two of our two part series.
By Judy Chan, Senior Product Marketing Manager
Unlocking the Advantage
Demand for mobile wallet capabilities beyond just payments is here and now, and it's poised for tremendous growth. In fact, the top things consumers want in their mobile wallets are loyalty program points and rewards and coupons and special offers — with payment credentials actually rounding out the bottom of the list1. Your brand can set itself apart by leveraging the native ecosystems (Apple Wallet and Android Pay) pre-installed on the vast majority of mobile devices.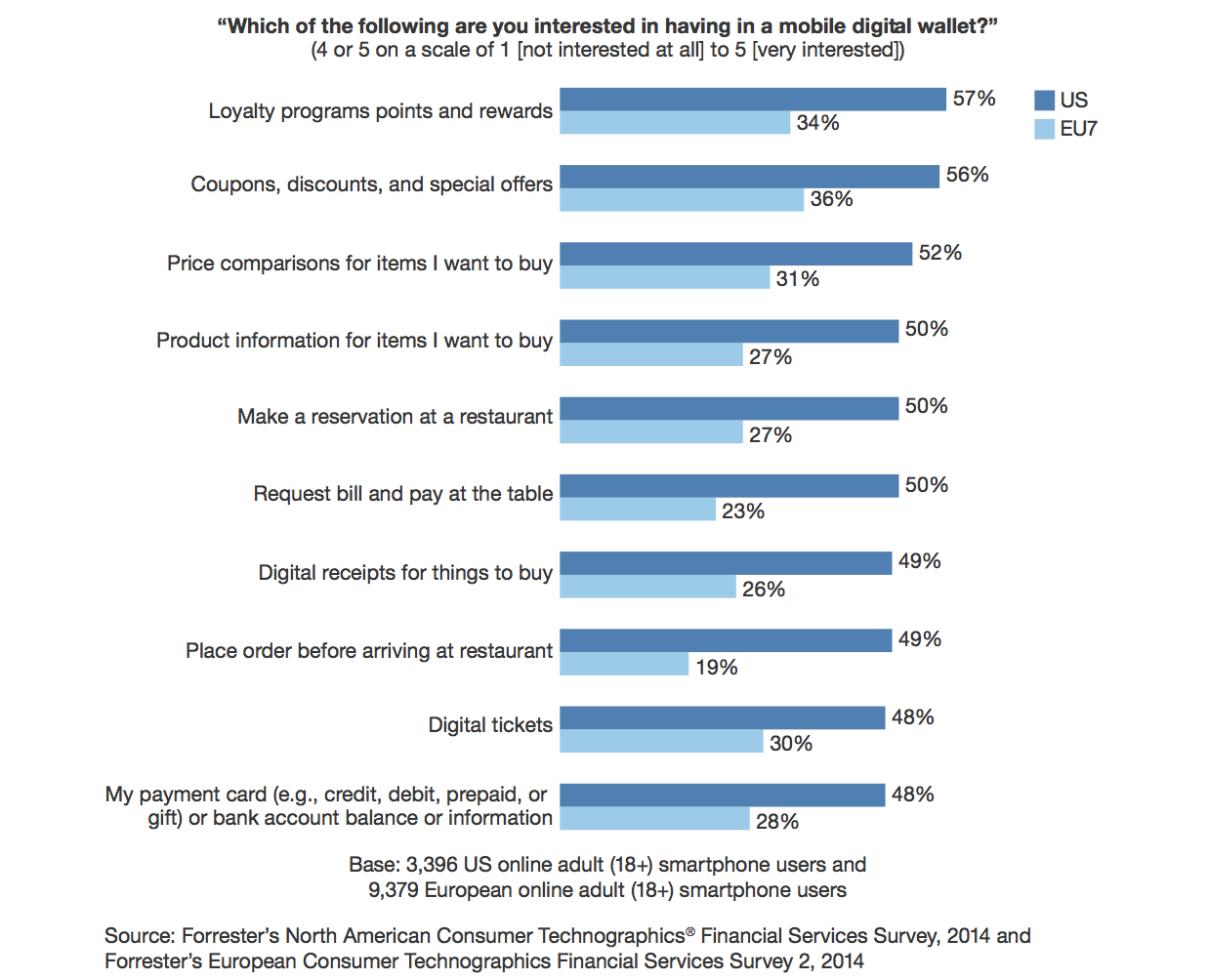 With the ability to not only manage mobile payments, but to house money-saving offers and reward customer loyalty, Apple Wallet and Android Pay are becoming the central hub for the shopping experience. Besides opening up a brand's app, consumers can turn to Apple Wallet or Android Pay to see all their downloaded offers, coupons and earned rewards in one centralized repository. Then, a customer can easily apply their coupon and tap to pay.
Mobile wallets complement mobile payments — and vice versa. Together, they will change shopping behavior forever, offering seamless, simple and convenient experiences. For brands, mobile wallets offer a simple way and effective way to engage customers. Combine this with more advanced time-aware notifications and location-targeting capabilities like geofences and beacons, and the potential to elevate shopping experiences and business results is within easy grasp, without even having to build an app.
The Hockey Stick
The national credit card system formed in 1966, but it took the next 20 years for it to go mainstream. Mobile payment adoption will likely follow a similar, but much quicker trajectory (as all things mobile tend to do). The need is accelerating, evidenced by the results our clients are seeing.
Our customers have seen install rates for targeted mobile wallet campaigns up to 80 to 90 percent, with nearly the same percentage retaining the wallet item after the promotion ends.
The secret is out. Mobile wallets are proving to heighten customer experiences and deliver great results. For mobile wallets, the future is bright and "up and to the right." In the very, very near future, we expect the growth will look like a hockey stick.
To learn more about how your brand can seize the mobile wallet opportunity, check out our Urban Airship Reach product page.
---
1 Forrester Research Inc., The Future of Mobile Wallets Lies Beyond Payments, February 2015
Subscribe for updates
Categories