Get Organized and Connected with SXSW GO
Each year, tens of thousands descend upon Austin for the SXSW Interactive festival to attend more than 1500 sessions spread across 15 different interactive campuses. We'll be there with Urban Airship's Mobile Roundtable. And then there's the Film and Music Conferences too.
To help you get the most out of your time, SXSW has teamed up again with Xomo Digital to bring you SXSW GO, the official event app. You can view all the keynotes and sessions, build your schedule, get maps and directions to all the venues, have all of your social media streams in one place and discover what's near you. This year you can also login to search thousands of SXSocial Registered Attendees, browse by category, view profiles and make connections from within the app.
We're excited to see how the app will use push notifications again, as with a festival this huge, dynamic and disperse its important to stay in close contact with shifting events, rooms, pop-ups and parties too.
Mobile apps and push notification are a perfect combination for events as real-time information can be delivered right to your device's home screen. Happily, we've had a long partnership with Xomo powering push messaging for events around the world including the Vancouver 2010 Winter Olympic Games, Lollapalooza, London Jazz Festival, Austin City Limits and Hard Rock Calling.
If you want to meet up with Urban Airship at SXSW, we'd love to see you. You can catch us presenting a couple of panels—When Your API Is Your Product and SoLoMo Redefined—partying it up at Get.Down, or, of course, launching the Mobile Roundtable from The Screen Porch at the W on Saturday and Sunday, March 10-11.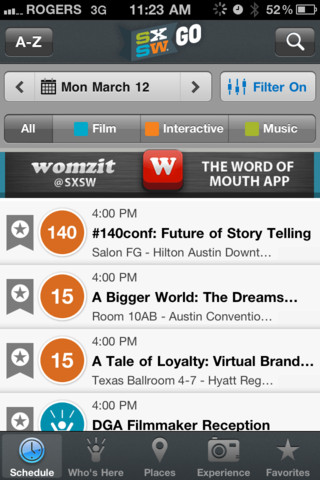 Subscribe for updates
Categories