Customer Spotlight: Onavo and Push Help Friends Save Friends Money
Perhaps you and your phone were roaming, or you downloaded a new data-hogging app and forgot to use WiFi, but if you've ever gone over your smartphone data plan limit it's likely a pain you won't soon forget.
Our customer Onavo has gained a lot of attention and venture funding for its compression utility app for smartphones and tablets that puts users in control of their data plans by compressing data, tracking usage, and saving them money. However, the benefits delivered by the app were not being recognized as its magic simply happened in the background, whether users were actively engaging with the app or not.
Onavo turned to Urban Airship to power push notifications and after a few A/B tests decided to message users when they had saved certain amounts of data. Onavo's push notifications are easily shareable anecdotes, which not only increased retention and app opens, but drove a 30% increase in shares and mentions across social networks. So now, when friends see friends save money, Onavo's right there to welcome new users. Download the full case study.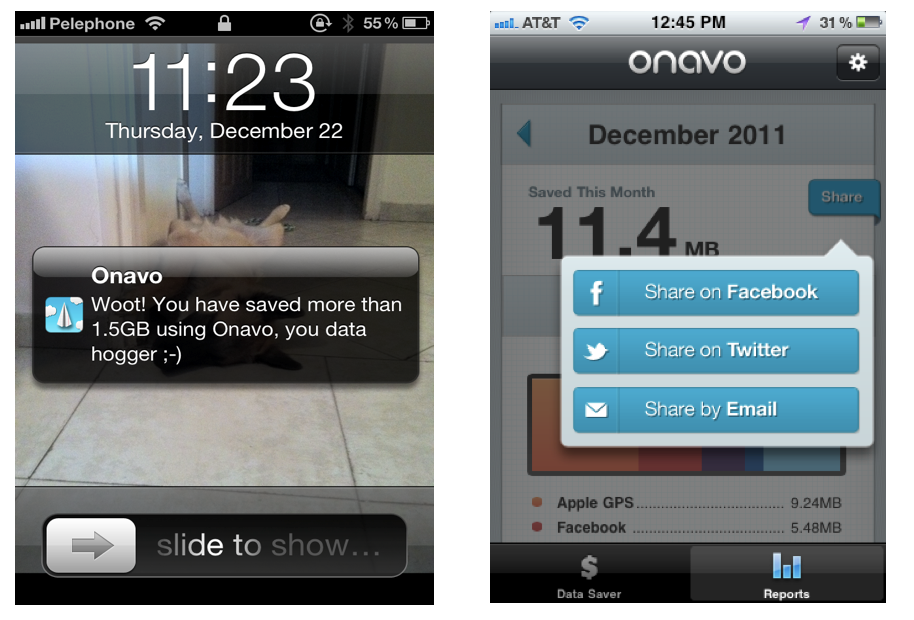 Download the free Onavo app for iPhone/iPad or Android.
Subscribe for updates
Categories