comScore Celebrates Push Notifications to Apps
The mobile app is getting some notice because it delivers a big impact.
After a few years of the daily deal emails owning your inbox, it looks like mobile is growing up and immediacy around push notifications is being broadly adopted by the consumer audience. Digital research and reporting companies, including comScore are starting to notice the impact as well. TechCrunch had a nice write up on the results two of our customers are seeing as a result of using push in their mobile apps. According to comScore's State of Retail Webinar, push notifications are driving significant sales for Groupon and Living Social. We are thrilled to see in the report that 14% of subscribers engage with the app after receiving a Push Notification.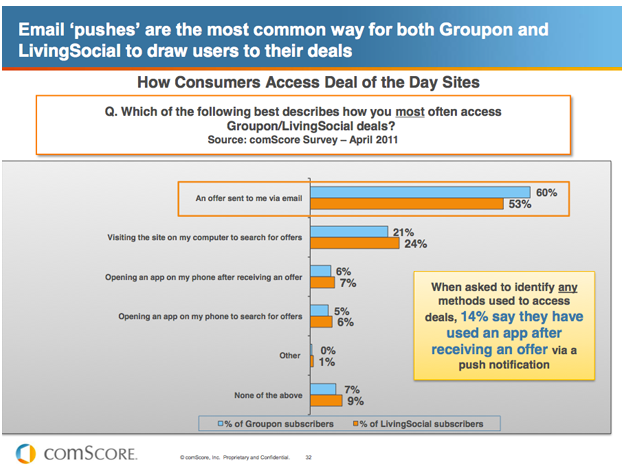 Personally, I am not surprised. I spent years developing email and marketing campaigns for start ups to major brands. And while email is still the leading driver, well executed apps, with their ability to get offers into the "hands" of targeted buyers, will continue moving the needle in the app direction.
It is not just in these daily deal or flash shopping businesses where we are seeing this trend, but all over the app ecosystem. I have watched some amazing enterprise and start-up brands develop a serious channel in a short amount of time using user-centric push strategies. Mobile and apps are about delivering valued relationships that are intent-driven by the user and not by the brand. Retention in apps starts at hello and not at please come back. Retention is not back loaded in this world nor an afterthought. This is a powerful medium that is quite personal and taking the right approach from install to open is all about the delivery. That is what push notifications are delivering.
Approaching this with user-defined and controlled communications up front, coupled with "quiet time" systems layering additional control while not losing the message helps tip that balance. I can only imagine the impact our rich push and future product releases will bring.
All of us Urban Airship are proud to be the Push engine behind Groupon and LivingSocial, as well as many of the leading apps on your iPhones, Android and Blackberry devices. Check out the article to learn more about this comScore report.
Engagement is everything. Without it your app sits idle and is just one step closer to a hold and delete.
Push Start.
Subscribe for updates
Categories