Push messaging adoption continues to skyrocket due to the benefits it provides both apps and users. It's an infinitely customizable, immediate and rich communication channel. And don't just take our word for it: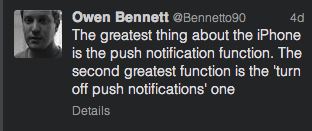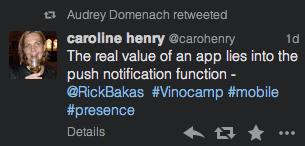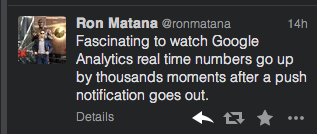 As push messaging pioneers, we spend a lot of time evangelizing Good Push best practices. But to truly help the industry understand the rewards and risks of marketing's newest channel, we turned to Twitter to find out what real people say about push notifications.
The bottom-line: you've never had an opportunity to so thoroughly delight or piss off users as you do when you light up the home screen of their constant digital companion. It only takes one Bad Push to risk deletion by your most loyal customers.
Let us know what you think of our Bad Push Booklet and learn from others' mistakes to avoid the 14 faults of #BadPush.
It's truly amazing how much emotion is packed into 140 characters when app users become motivated to share their Good Push and Bad Push experiences with thousands of friends and followers. Reactions ranged from "seriously?" "ugh," "abuse," and "deleted," for Bad Push brand fails, to "amazing," "saved my bacon," "pure awesome," and "genius!" for brands giving Good Push.
As brands battle for a mobile app audience, it's easy to see why apps with Good Push are earning a permanent place on mobile devices while push abusers lose market share.
Ask yourself how many times you've seen someone tweet about getting spam email. It's par for the course. Then spend one day monitoring "push notifications" on Twitter, and you'll start to get a better idea of the powerful connection this channel offers with your very best customers, and how personally users take it when the privilege of push is abused.
The good news is that inspiring raving fans with push messaging is easier than you might think, and well-documented in our Pocket Guide to Good Push and The Pocket Guide to Mobile Relationship Management. Here are some of the top tips that would have transformed these cringe-worthy brand fails into mobile moments of delight:
Understand that mobile is personal and demands relevance
Allow app users to fine-tune which push notifications they get and which they don't. Less is more. Use everything they choose to share with you—preferences, behaviors, location profiles—to ensure messaging delivers personally relevant value every time.
Realize that not every push deserves a shove
Not every message needs to stop users in their tracks, lighting up their mobile home screen. In some cases, your goals are better served by sending targeted in-app messages and adding a message badge (the small circle indicating a new message) to your app icon.
Meet the immediacy of push with instant gratification
Your business model might suggest that more app opens or more page views are better, but don't be a needy app. If you send a headline, make sure the push is linked directly to the story so users don't have to search for it. When possible, deliver insight through push that instantly cements your value in the user's mind, even without requiring them to open the app. Similarly, don't just sell, sell, sell—take an informative approach to messaging that provides users value.
Subscribe for updates
Categories