App Q&A: Newport Folk Festival Creates the "Being There" Mobile Experience
Urban Airship chats with Steve Benoit (@studionumber9), about his latest mobile app, for the Newport Folk Festival. This companion app includes event alerts, performance schedules, customizable schedule, artist profiles, a venue map and the latest updates about this year's Newport Folk Festival – all right in the pockets of festival-goers. In the words of one reviewer, "like being there when you are there."
UA: Tell us about your app. It sure makes us wish we were going to Newport.
The Newport Folk Festival is one of the premier folk festivals in the country, and one thing that sets it apart from the others is the feeling that everyone in attendance is sharing something special and unique. The festival organizers go out of their way to encourage that feeling of community and sharing by providing once-in-a-lifetime opportunities for the artists and their fans. Pop-up performances and guest appearances are just a few of the pieces of the puzzle for Newport Folk.
The goal of this app was not only to be a companion to festival-goers in a traditional sense (with schedules, artist bios and festival map) but also to be that little angel on their shoulder that lets them know their favorite artist just grabbed his or her instruments and is playing a few acoustic tunes down by the water's edge.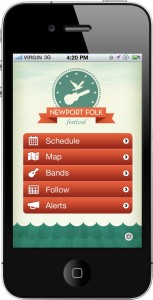 Can you describe how you used our products in your app. What were you trying to do or solve?
Newport Folk Festival is the grand-daddy of folk festivals, and one of the most endearing traits of the weekend-long celebration is the spontaneous and organic way in which things happen. You could be watching a set from one artist and another decides to jump in and join. Or one of the groups could decide to pass some time by playing a few songs from the top of a construction crane. The main goal of this app was to let people know when one these one-of-a-kind events is happening, so UA's push notifications became the cornerstone of our development.
What level of engagement do you think that push notifications will provide to your app? Will it help to drive better use?
Festival apps are a fickle beast to begin with; we really don't want people staring at the application the whole time! A festival app is really only aimed at being used for that time during the festival when people are walking around and taking in the entertainment, so we've been focused on making the app as useful for that time as possible. We know that if everything goes well the push messaging we've instituted, we may draw the users' attention away from the music for a brief moment but with a reason that hopefully allows them to enjoy the festival on an entirely new level.
Why did you choose Urban Airship?
At the beginning of the process we were faced with a decent-sized smartphone project with little time to complete it. We ended up choosing PhoneGap as a platform to save development cycles and UA is a featured partner of PhoneGap. Our app's differentiating feature is the frequent updates sent during the festival, and after reading about UA and the ease of integration, the choice was a no-brainer.
To quote Gabi Schaffzin, our developer:
HighHolburn "Things that make my life better: @phonegap, @urbanairship, and this sunshine. My wife is probably on that list somewhere, too. I guess."
Ed note: aw-shucks.
What goals you were trying to achieve by integrating with us?
We had about a month and a half to design and build the application. Given that tight turn, we needed to leverage as many good partnerships as we could to make sure the app maintained value for the user. The app would have been half as useful without the functionality UA put at our fingertips.
Going to the festival? Download the free iOS app right now.
Have an app you'd like to chat about for our blog series? Drop us a line to sign up for a Q&A.
Subscribe for updates
Categories