ABC News Lights Up Election Night with its App
U.S. election races and results are closely followed nationally and even globally, and the combination of mobile apps and push notifications have fundamentally changed how many people stay abreast of the latest information. However, not every race matters to everyone. As such, one of the major innovations pursued for the mid-term elections by the ABC News app (iOS, Android) was giving users greater control to receive more of what they want and less of what they don't.
The ABC News app is already known for enabling consumers to personalize the stories they follow and the results they receive by starring articles of interest. With the midterm election approaching, the ABC team wanted to create a similar experience catered to election news, so users could deeper engage with the races and results that matter to them most.
In the weeks leading up to Election Day, ABC News prompted app users to opt-in to receive alerts for key election results only, or all updates related to election night. In addition, these web-based preference buttons were replicated on its mobile website, offering a cohesive experience that drove respondents to download the app if they didn't already have it. Users could also select the congressional and gubernatorial races by state that they wanted to be notified of in real-time.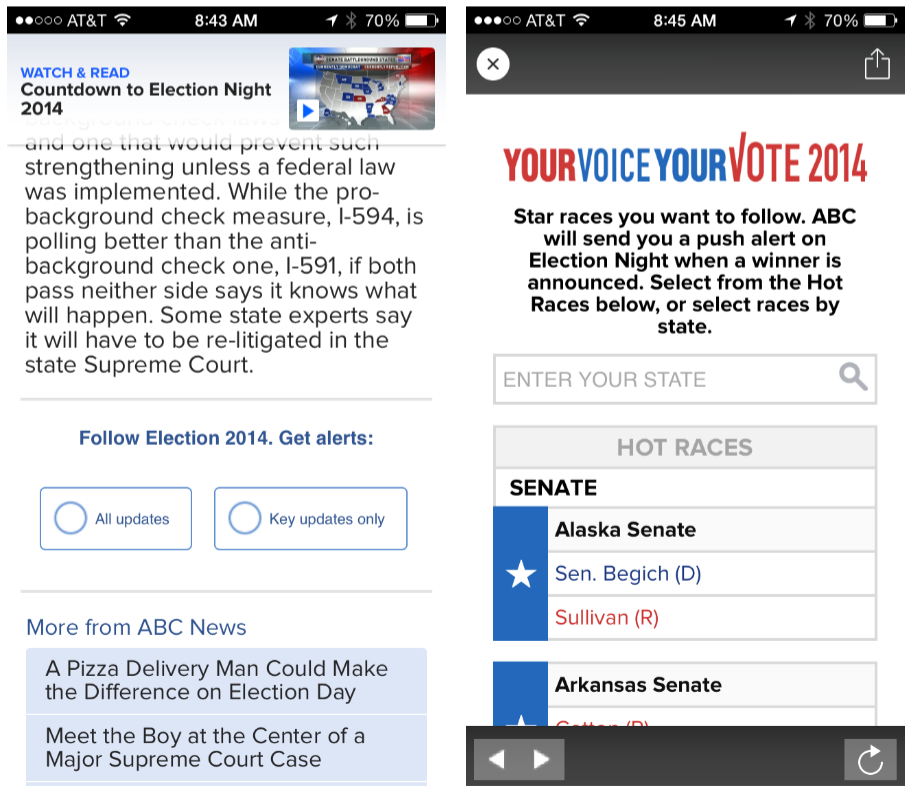 ABC News was able to craft more than 500 distinct notifications and send more than 10 million alerts to ABC News app users on Election Day. This volume would have been extreme overkill for news organizations employing a one-size-fits-all push notification approach. ABC News app users were almost evenly split between the two options, with 51% selecting key updates only and 49% selecting to receive all updates.
"Users who told us they wanted everything received about 45 alerts to their phone's lock screen informing them the instant the ABC News Decision Desk projected a key race, when we had live video starting of victory or concession speech, or when we determined a race would go to runoff," said Peter Roybal, Head of Mobile at ABC News. "Users who told us they wanted a key update alerts got an editorially curated subset of about 30 alerts. As always, we also looked out for the general interest user and sent four 'everyone' alerts for the biggest moments, like the GOP taking the Senate majority. We even sent alerts based on the user's location for statewide races. When users tapped the alerts, they were linked straight into the app to see the continually updating vote counts, exit polls and county-level results."
The use of Election Day video-streaming grew 3X over 2012 elections and nearly half of app video was live. "People have an insatiable appetite for video and Urban Airship's push message alerts paired with our live-streaming video has been a huge success and a main focus for us in the app overall," Roybal said. The app had election-based live-streams such as Kentucky Senator Mitch McConnell's victory speech, or when a determined race would go to runoff.
Key Senate races were the most followed alerts, such as Colorado, Georgia and Kentucky. High interest House races such as Florida District 2 and Illinois District 10 were also highly followed. The most engaged states overall were Georgia, Florida, Colorado, California and Texas.
Systemizing the news cycle for automated, instant alerts
Behind the scenes, ABC's decision desk integration contributed to the election night success, as the team wired its mobile push alerts into its internal ABC Vote system. Once a projection on a certain topic had been cast, a user then received a push message instantly after the Decision Desk released the information.
"The competition's alerts lagged behind ours because as soon as we made a projection, we immediately put it in the hands of our users without the manual publishing process that our competitors generally face," said Roybal. "We believe the ABC Vote integration is an industry first and brings the decades of know-how that goes into a broadcast decision desk system into the mobile era."
Wiring the race results into ABC Vote not only distributed the race results faster, but freed the Digital newsroom team to focus on adding additional editorial value for users–keeping them updated on live video, ballot measures and the overall balance of power.
New mobile innovations enabled and amplified efforts
In the past, gathering users' preferences for the type and volume of alerts they want would have required hard-coding preference controls into an app and issuing an app update. New functionality resulting from an Urban Airship Hack Week project, enabled ABC News to add web controls to its app on-the-fly with button-clicks setting users' election preferences. This same technology was extended to ABCNews.com, enabling its mobile web site to feed sign-ups for app-based alerts and drive acquisition of new app users.
"For us, it was a really unique use case and opened a new way to gain and engage users. It helped draw in and convert new users who may not have downloaded the app previously," said Peter Roybal, Head of Mobile at ABC News. "New app downloads were triple the volume we normally see."
Sharing capabilities in iOS 8 interactive notifications also shaped user interaction in the ABC News app. Notifications included buttons like Share, enabling users to quickly share content to their social networks with a couple of clicks. "We're seeing a lot of users downloading the app as a result of seeing a friend's link to an ABCNews.com article," Roybal said. "Users can swipe an alert directly from their lock screen and share it on Facebook or Twitter—this interactivity is ideal for today's world of real-time social," he said.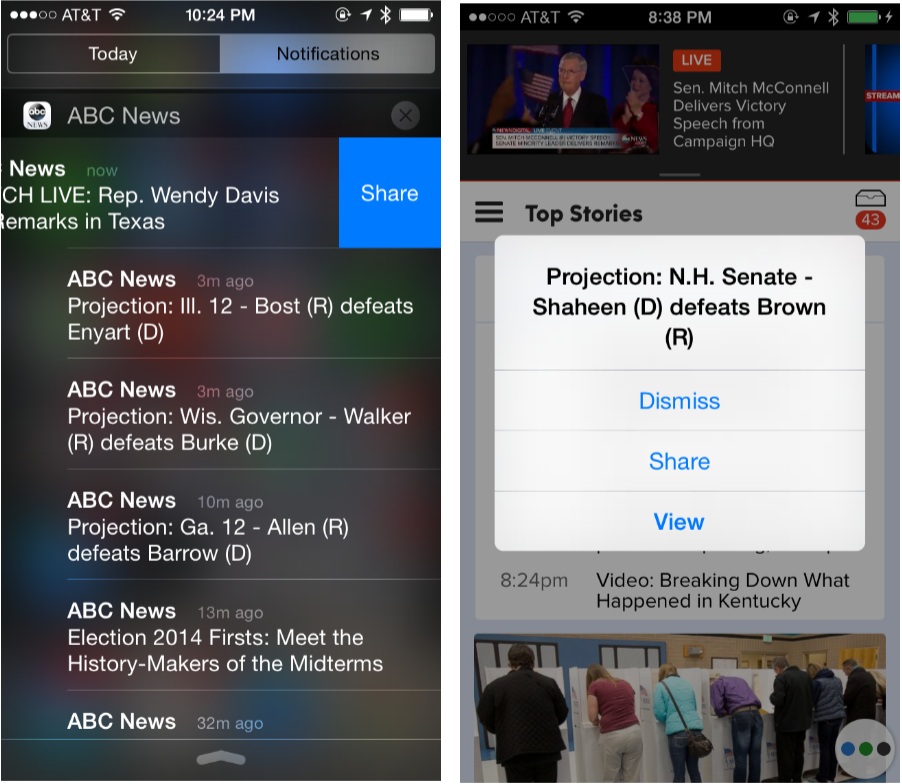 Subscribe for updates
Categories