Customer Spotlight: ABC News Keeps You Updated On Your Terms
People rely on their mobile devices to stay connected, and nowhere is this more apparent than with news organizations battling to deliver you the latest breaking news headlines faster than competitors' mobile apps. Trouble is, what's valued news to one is not always valued news to all. Look no further than our Bad Push booklet for proof.
Last week ABC News Digital launched new ABC News apps for iOS and Android, becoming the first major news organization to introduce personalized push alerts. More than just a visual-heavy list of endless headlines, the ABC News app combines a best-of Top Stories experience with unique, customized features including personalized push alerts and individual inboxes that enable users to follow the stories they care about most.
Built on Urban Airship's latest rich in-app messaging and in-app inbox capabilities, users can simply "star" a story of interest and ABC News will alert them to related follow-up stories through push notifications linked to a personalized News Inbox that keeps the news that matters the most at the forefront. A simple swipe is all it takes to un-follow a story and continue to curate this personalized news feed. ABC News executives joined Urban Airship on-stage at the Mobile Marketing Association's SM2 event to preview this new capability.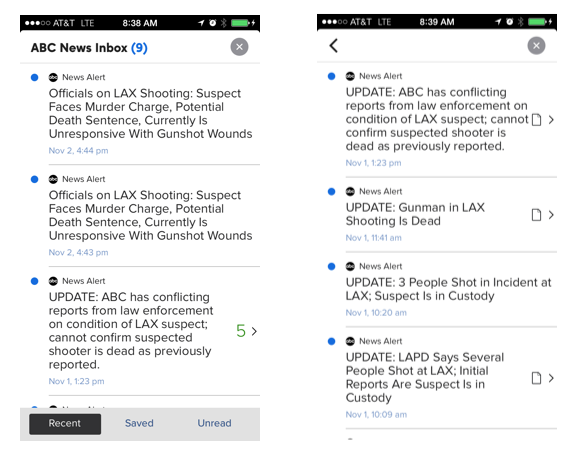 The app also features enhanced navigation built around three key areas of interest:
"Top Stories" enable users can stay connected to breaking news, view full screen photo slideshows and use swipe gestures to easily navigate to their favorite content
"Best Reads" curates the most compelling features and unique news stories of the day.
"Daily Rewind" features a new, evening-focused video experience
In addition to more up-to-the-minute news coverage, live streaming video, exclusive interviews and in-depth reports, the app also includes new audio features with ABC News Radio for a quick, hands-free hit of news any time of day and the ability to scan the text of a story while watching a related video.
Subscribe for updates
Categories