All About AXP
By Michael Lavoie


AXP was designed to enable you, the mobile app evangelist, to address the mobile imperative of creating meaningful app experiences, which result in the high value actions that drive your business.
As someone responsible for the success of your mobile app, you also know that targeted, personalized experiences can be hard to produce at scale. We've designed AXP to address the core executional challenges you've been sharing with us over the past year:
Access to meaningful data that enables personalized mobile app experiences
Ability to acquire, manage and leverage data properly in an evolving data privacy landscape
Tools to rapidly implement mobile app experiences that don't rely on lengthy development cycles to deploy or update

Let me walk you through AXP and describe how it addresses these challenges: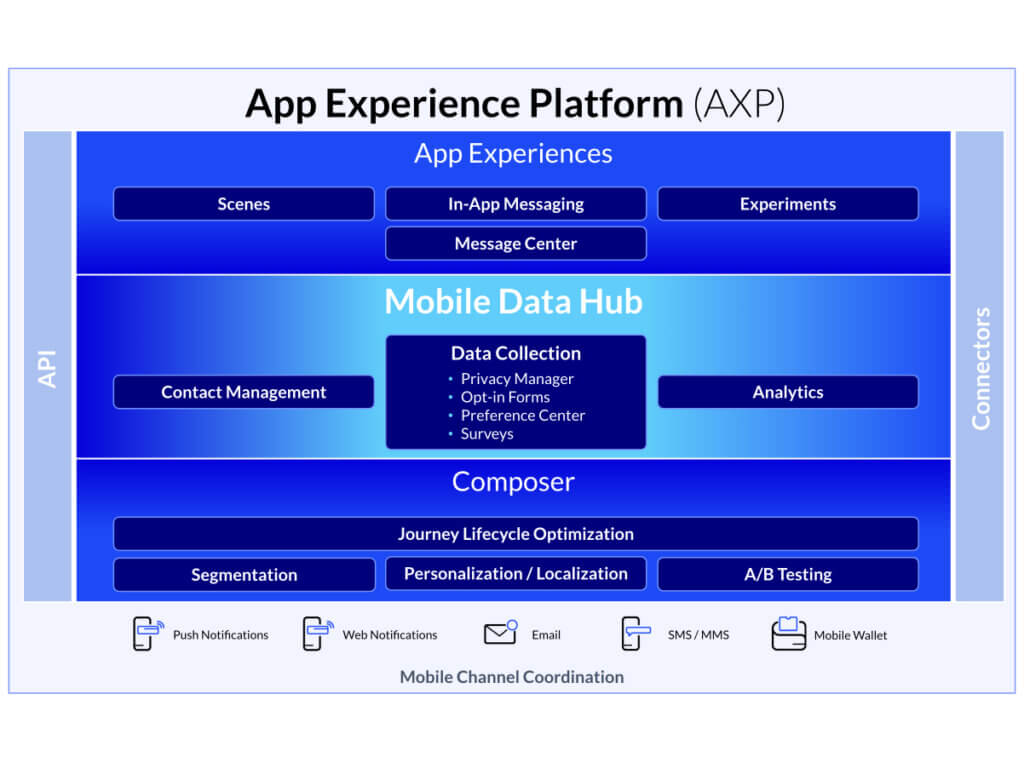 AXP contains all of the functionality you've come to rely on from our Customer Engagement Platform (CEP). That includes the ability to use our robust Composer layer (now called Customer Journey Optimization) to design and deploy experiences within the app or through one of the many traffic-generating channels.

It also includes our Journey tool, which enables single or multi-touch interactions that can be targeted to your customers based on the deep data available in the Airship SDK. These attributes and segments are the basis for your audience definition, which, when combined with AXP's advanced, WYSIWYG design functionality, you can create robust, personalized experiences that can be tested and analyzed for maximum business impact.

New in AXP is our Mobile Data Hub – now under the heading of Next-level Personalization – which we created specifically to address the need for mobile teams to collect and manage zero- and first-party data about customer preferences, interests, disposition, satisfaction and intentions. The Mobile Data Hub provides out-of-the-box, template-based tools that you can modify and deploy within the AXP UI – no development resources required. Use the data on its own or combined with purchase and behavioral data to enable powerful, contextual and personalized customer experiences.

A key component of the Mobile Data Hub is the Preference Center for collecting and managing customer preferences and opt in/out status for interactions with your brand. Designed and deployed from the UI, the universal Preference Center can be set to collect and manage data from the app only, or it can be integrated with other preference and opt data within your enterprise. Data collection, supported by our Surveys and Forms capabilities and deployed from the UI, enable both standard format and free form text capture and come out of the box with NPS surveys templates.
In addition to collecting zero- and first-party data, you also get the ability to view and manage that data directly from the UI, as well as in our reporting suite to analyze the information. And to integrate and exchange data between the Mobile Data Hub and other sources within your tech stack, we offer a robust library of bi-directioinal connectors and APIs.
Lastly, the App Experience layer allows you to create memorable native app experiences from the Composer functionality, and leveraging the Mobile Data Hub contents, as well as the data within the Airship SDK and any other data source you choose to integrate.

You are already familiar with AXP In-App Messaging and AXP Message Center functionality. Within AXP, we are adding AXP Scenes, so now you can build and deploy multi-visual native app messages. Perfect for new customer onboarding or highlighting new app functionality, Scenes can also be used to highlight products, promotions, events, trends or anything else you want a customer to see while they are in the app. And AXP Scenes doesn't require development or hard coding. Scenes are built entirely within the UI in a visual editor, so you can design, launch and modify rapidly.
The mobile app imperative is about creating mobile app experiences that drive more customer activity, loyalty and ultimately higher app monetization. AXP is the foundational platform for enabling mobile app experiences at scale. All of us at Airship are committed to helping you become a master of it all.
For more information about AXP you can contact your account manager or email us at team@airship.com and we'll contact you.